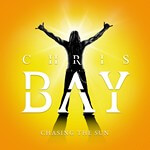 Všetci, čo sledujú dianie okolo nemeckých happy metalistov Freedom Call, určite vedia, že frontman Chris Bay je tak trochu hyperaktívny. Často napr. tesne po skončení koncertov uteká do štúdia nahrávať nové skladby. (,,Mám rád situácie  – návrat z turné a nahrávanie nových skladieb pre album na ďalší deň. Môžem odovzdať energiu z pódia do záznamu v štúdiu" – prezradil v staršom rozhovore pre Metalmania-Magazín). Ako býva zvykom u takých umelcov, podarilo sa mu nazhromaždiť  aj skladby nehodiace sa pre jeho domovskú kapelu a výsledkom je sólo album Chasing The Sun.
Na úvod treba spomenúť jednu zaujímavosť. Väčšinu nástrojov na tejto platni nahral sám Chris. Maximálne bicie mal na starosti Ramy Ali (Freedom Call) a nejaké ďalšie nástroje si zobral na starosť Achim Köhler (Martin Kesici, The Hooters). Prvý singel – klipovka Radio Starlight vzbudil pomerne kontroverzné reakcie. V diskusiách mu bola vyčítaná prílišná ,,popovitosť",  presladenosť a podobne… Samozrejme, celý album nebude žiaden ,,drsný metal" (a ani death, ani power, ani heavy 🙂 ), je to skôr moderný pop rock, občas pop metal (sem – tam s prvkami elektroniky). V niektorých piesňach sa nájdu určité znaky FC – napr. folkové prvky v Light My Fire a melódie v Misty Rain a Move On (tá pripomína zatiaľ posledný album FC – Master of Light).
Vôbec to však nie je na škodu. Aj táto poloha Chrisovi celkom svedčí. Výhrada by bola azda len trochu k prvoplánovým textom v Radio Starlight a Hollwood Dancer.
Čiže, ak vložíte toto CD do prehrávača a odhodíte predsudky nebudete sklamaný. Určite, nie je to síce nejaká svetoborná muzika, no ani príjemný melodický pop – rockový album niekedy nie je na zahodenie.
Lineup:
Chris Bay – všetky vokály, väčšina nástrojov
Ramy Ali – bicie
Achim Köhler – ostatné nástroje
Tracklist:
Flying Hearts
Light My Fire
Move On
Radio Starlight
Silent Cry
Hollywood Dancer
Keep Waiting
Misty Rain
Where Waters Flow In Heaven
Bad Boyz
Love Will Never Lie
Rok vydania: 2018
Vydavateľstvo: Steamhammer / SPV
Youtube ukážka:

Linky:
http://chris-bay.com/
https://www.facebook.com/ChrisBayOfficial/
Hodnotenie: 4/6