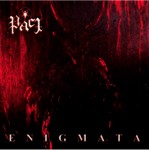 Americké vydavateľstvo Moribund Records patrí od roku 1993 medzi topku na poli svetového black/death metalového undegroundu. Medzi albumy, ktoré vydali tento rok patri aj novinka blackošov z Pensylvánie  Pact – Enigmata. Táto banda pôsobí na scéne od roku 2006, súčasný názov dostala v 2014-tom.
Jeho zarytý a zemitý zvuk osloví nielen black metalových fanúšikov. Disponuje podobným mixom a masteringom ako počin od poľskej kapely Behemoth – "Pandemonic Incantations ".  Základnú konštrukciu skladieb tvorí gitara a bicie… basa slúži len na zdôraznenie špecifických momentov v piesňach. Spev je pridaný, kde je ho potreba – texty sú o skaze sveta spôsobenej satanom.  Nemôžem tvrdiť, že celkový zvuk Pactu by nebol black metalový, ale majú v sebe vplyvy death metalu (percentuálne vyjadrené –  70% black, 30% death, chýba mu tá typická špinavá produkcia blacku).
Popravde, po prvom vypočutí mi pripadali jednotlivé piesne doslova ako z jednej, rovnakej výrobnej linky….  neberte to ako finálny verdikt, boli to prvotné dojmy. Po druhom začali dostávať hĺbku, stále zostanete zatlačení do rohu, kvôli prehusteným vokálom, a celkovému masteringu. Po treťom vypočutí, som objavil ich rýdzi zvuk. Som zvedavý ako budú znieť naživo.
Hlavným pokladom tohto CD je doslova smršť smrtiacich riffov. Tie nájdete hlavne v songoch "Stalking From The Shadows"; "Son of Cush"; "Call of The Wild" ; "Sorrows Embrace". Okrem toho svedčí im aj spomalenie – napr. "Cradle of Decay", "Sorrows Embrace" alebo Sorrows Embrace" .Osobne ma najviac oslovila posledná "Of Erebus" , hlavne svojou ,,zlovestnou atmosférou". Ak by takých bolo viac, máte porciu prvotriedneho smrtiaceho black metalu, ale bohužiaľ nie je tomu tak.
Ak to bol zámer kapely takto zmixovať a zmasterovať CD, tak sa im to veľmi nevydarilo, pretože pôsobí dosť prehustene a  môže za následok to, že poslucháč sa  stratí v skladbách. Ľudia si ani neuvedomujú ako mix a mastering sú dôležité časti postprodukcie. Strach a hrôza.
Obal –  ešte pekne dlhú dobu Vás tento obal bude strašiť.  Toto je black metalový obal pravého rangu/úderu.. Takto abstraktne vyobrazený diabol je jedným z vrcholom tvorby artworkov!
Zhrnutie:
 Neortodoxný black metalový album 2018.  Ak ste otvorený metalový fanúšik, ktorý sa na veci a žánre nepozerá fundamentálne, tak Vás toto CD osloví, neurazí, ale pozor, ani neohromí. Prajete si dávku tvrdej rytmiky, rýdzeho prejavu spevu, tak práve Pact- Enigmata je pre TEBA.  Pri takomto hodnotení nie je možné prihoršiť alebo prilepšiť tejto kapele, bolo by to nefér.
Lineup:
Thoth Atlantean- Spev
Wretch – Gitara
TJ Prazer – Bicie
Tracklist:
Dark Templar
Son of Cush
Edict of Anu
Hag and the Sleeper
Cradle of Decay
Stalking From the Shadows
Call of the Wild
Collider
Eternal Keeper of the Black Flame
Sorrows Embrace
Enigmata of Erebus
Rok vydania: 2018
Vydavateľstvo: Moribund Records
Youtube ukážka:

Linky:
https://www.facebook.com/pages/PACT/222722964605519
Hodnotenie: 3,5/6