Mob Rules – chystaný album
11.7.2018
Foto: Martin Huch
Nemeckí melodici Mob Rules vydajú 24. augusta nový album Beast Reborn.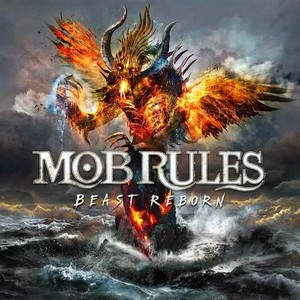 Tracklist:
Beast Reborn
Ghost Of A Chance
Shores Ahead
Sinister Light
Traveller In Time
Children's Crusade
War Of Currents
The Explorer
Revenant Of The Sea
Way Back Home
My Sobriety Mind (For Those Who Left)
Linky:
http://www.mobrules.de/
https://www.facebook.com/mobrulesband/
Zdroj: Steamhammer/SPV
Dee Sinder – ukážka z chystaného albumu
9.7.2018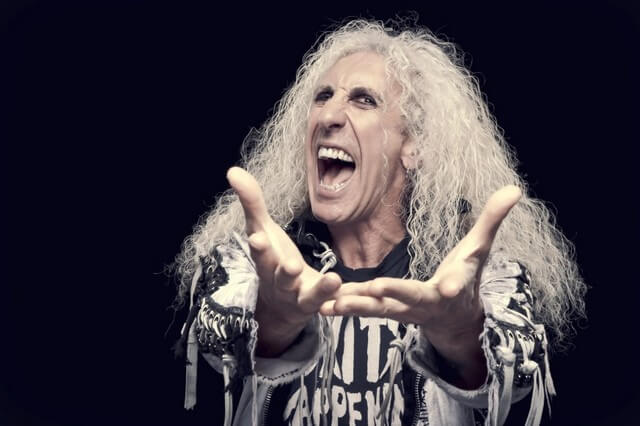 Foto: Tim Tronckoe
Legendárny Dee Sinder zverejnili videoklip k skladbe Become The Storm, ktorá sa objaví na jeho chystanom albume For The Love Of Metal. Ten bude vydaný 27. júla.
Okrem iného na albume budú hosťovať ľudia ako Howard Jones (ex-Killswitch Engage), Mark Morton (Lamb of God), Alissa White-Gluz (Arch Enemy) a ďalší…
Linky:
http://www.deesnider.com/
https://www.facebook.com/facedeesnider/
http://napalmrecords.com
Zdroj: Napalm Records Promotion Team
TZ
Českobudějovický zpěvák a muzikant Janchi představil debutový singl V dobrej viere
10.7.2018
Jihočeská pop/rocková scéna se může pochlubit novou nadějí. Je jí zpěvák a muzikant Janchi, jenž se dostal do povědomí díky kapele Quiet, ve které působil šest let. Nyní se vydává na sólovou dráhu, z níž prezentuje první vlaštovku – písničku V dobrej viere, ke které pořídil i klip.
"Video je z dílny studentů z FAMO Písek, přičemž o scénář a režii se postaral Jan Adam Václav. Zmínit musím také skvělou práci kameramana Ondřeje Kymla. Myslím, že se výsledek povedl, klip příjemně koresponduje se samotnou skladbou, na které se zvukově podepsal Ondřej Žatkuliak z Roof top studia," říká Janchi.
Mladý interpret žije dlouhé roky v Českých Budějovicích, ale původem je ze Slovenska. "První texty k písničkám jsem psal slovensky a za jistou dobu jsem se v tom cítil jako doma. Začal jsem chápat a cítit melodii tohoto jazyka, tak jsem u něj zůstal. Je to pro mě přirozené," vysvětluje a dodává, že žánrově víceméně nemá hranice. "Nechávám se inspirovat i funky, bluesem, folkem R&B nebo dokonce rapem. Vše mě nějakým způsobem ovlivňuje a mou vlastní tvorbu obohacuje."
Janchi už má na kontě i první koncerty. "K mému překvapení jsem stihl i první letní akce, rozjelo se to skutečně rychle a musím říct, že vystoupení dopadla na výbornou. Určitě fajnový start. Těším e na další koncerty, které jsou přede mnou," uzavírá.
Facebook – www.facebook.com/janchi.official
E-mail – janchi.lev@gmail.com
Václav Votruba (www.votrubapromotion.cz)
TZ
Avidity For… pokřtí své nové album v Plasech. Společnost jim budou dělat Interitus, After Rain a Abyss
10.7.2018
Plzeňští metaláci Avidity For… mají na kontě novou dlouhohrající desku Restart, kterou pokřtí 18. srpna v Knížecím pivovaru Plasy na minifestivalu 4Fest open air vol II. Kromě nich zahrají plzeňští průkopníci symphonic metalu Interitus, českobudějovičtí doom/blackoví After Rain a západočeští deatheři Abyss.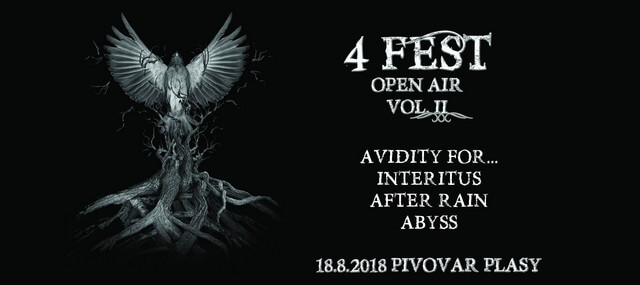 Program odstartují v 19 hodin After Rain, kteří pro letošní rok chystají své páté řadové album. Původně čistě studiový projekt se konečně přetransformoval v plnohodnotnou kapelu, jež má za sebou první koncerty. V sestavě působí známí muzikanti tuzemské undergroundové metalové scény, kteří prošli například Dark Angels, Avenger, Törr nebo Isacaarum.
Od 20.30 přijdou na řadu Interitus. Letitá kapela, která stále patří ke špičce svého žánru, tedy symfonického metalu. Interitus platí za vyhlášenou koncertní smečku, ostatně zkušenosti získávali hraním například se Scorpions či Helloween. Stejně jako v případě After Rain jsou postaveni na kontrastu mužského a ženského vokálu.
Avidity For… na scénu nastoupí ve 22 hodin. Stále úspěšnější metalová mašina se dnes raduje z nové řadovky, na které se prezentuje nový zpěvák Lukáš Joy Justich. Jejich muzika je přímočará, moderně znějící, s jasným tahem na branku. Novinka Restart má u fanoušků výbornou odezvu, bezesporu se jedná o jejich nejvyspělejší a nejkvalitnější dílo.
Jako poslední zahrají od půlnoci Abyss, kteří hrají extrémní metal na pomezí doomu, blacku a deathu, přičemž poslední zmíněná škatule u nich vítězí. Kapela je známá především aktivním koncertováním v domažlickém regionu, avšak pravidelně vystrkuje růžky i do ostatních koutů republiky.
FB událost 4Fest open air vol II. –https://www.facebook.com/events/382013898947201/
Avidity For… – www.avidityfor.cz
Václav Votruba (www.votrubapromotion.cz)