POWERWOLF Premiere Music Video For Title Track"The Sacrament Of Sin"!
23. October 2018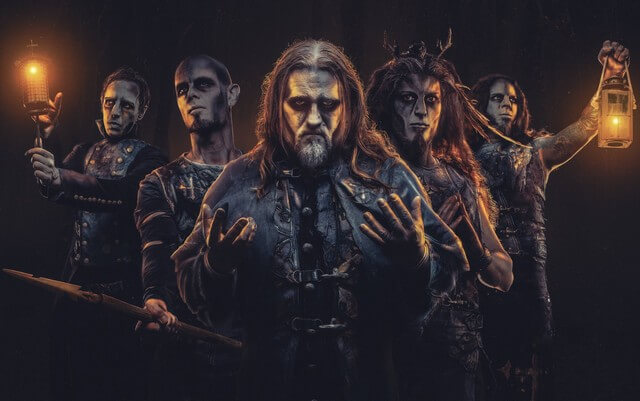 POWERWOLF is THE most successful band in Germany and definitely one of the hottest acts in metal! Their  #1 chart entries, gold records and numerous sold out headlining shows on their upcoming tour speak for themselves.
Their latest studio album The Sacrament Of Sin cannot be ignored! Today one of their catchiest songs is being released as a powerful music video as only POWERWOLF can!
Links:
http://www.powerwolf.net
http://www.facebook.com/powerwolfmetal
Source of Information: Napalm Records Promotion Team
Sodom – new lineup, upcoming EP
22. October 2018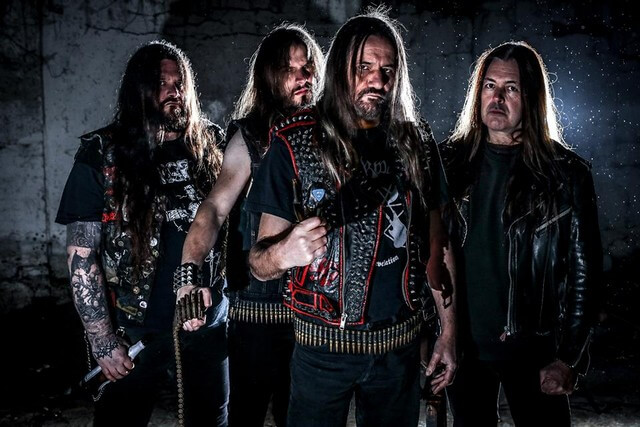 Attention all Sodom-Fans, there's a number of exciting news from Tom Angelripper & Co! On the one hand, the band are currently at the studio to record new material, on the other their next shows are scheduled for early September, and the end of November will see the start of their extensive "TV Headbangers Ball Tour 2018" alongside Exodus, Death Angel and Suicidal Angels. And as if that wasn't enough great news, the best bit of intelligence comes directly from the thrash metal act's inner circle: "We're a real family again," enthuses frontman Angelripper following the band's line-up change in spring 2018.
"We all really enjoy the new line-up consisting of Frank Blackfire (guitar, ex-Sodom, ex-Kreator, Assassin), Yorck Segatz (guitar, Beyondition), Husky (drums, Asphyx, Desaster) and myself. There's a real team spirit again, we're having a great time together, every one of us is interested in everything and – really important! – everybody is there for everybody else. Obviously that kind of atmosphere is bound to have a positive effect on the songwriting." Examples? Sodom's new EP 'Partisan' will be out on 23 November 2018, featuring three tracks including a live recording from this year's Rock Hard Festival. The new line-up could hardly present itself in a more impressive manner!
Here are a few details about the new EP, which will be available on Digi-CD EP and on 10" vinyl: 'Partisan' is the current Sodom line-up's mission statement, indicating which course they are set to follow from now on.
The song's main riff was composed by guitarist Frank Blackfire and defines the future parameters of Sodom's sound. Angelripper: "Frank has his very own guitar style, as we all know from our time together on Agent Orange and Persecution Mania.
That's something that's very distinct on 'Partisan', the only difference being that the degree of toughness on our new material raises hell even better than our early stuff. And as always with Sodom, the chorus part really gets down to business and is thoroughly catchy." The 'Partisan' lyrics were penned, as always, by Angelripper himself: "That unique aura that surrounds a lone warrior in a battle, that unconditional relentlessness against yourself and the enemy, have always fascinated me. Partisans fight uncompromisingly for their goals. In a way, it's the same with Sodom."
The second song on the 'Partisan' EP is also brand-new. It's called 'Conflagration' and was written by guitarist Yorck Segatz – another typical Sodom number that shows just how much positive energy and zest the band currently has. 'Conflagration' sees Tom Angelripper analyse in his usual unmistakable way that the world is coming apart at the seams, the way it presents itself at the moment. "I've sketched a pretty apocalyptic scenario, but as often in my lyrics with fantasy elements."
The two numbers were produced by Sodom's regular sound engineer Cornelius 'Corny' Rambadt, who made sure that the dynamic songwriting is also reflected in the songs' sound. Tom: "We consciously recorded the drums old-school style and experimented with different sounds to come up with a dynamic and vibrant product, in contrast to the usual sterile productions released by other bands which have unfortunately become the order of the day.
The sound of our new EP perfectly fits our aim to combine the compositional class of recordings such as Agent Orange and Persecution Mania with the hardness of, for example, Tapping The Vein."
And last but not least: Song no. 3 on the 'Partisan' EP is a live version of 'Tired & Red', recorded on 18 May 2018 during the Rock Hard Festivals at the Gelsenkirchen Amphitheater – a track that sees Sodom celebrate the return of Frank Blackfire.
Tom: "As you know, the number is off Agent Orange and represents in a way an era which was very much marked by Frank and his guitar style. On stage you get a lot of added adrenalin, of course." By the way: Sodom will present on all important websites the driving 'One Step Over The Line' off Tapping The Vein, also recorded at the 2018 Rock Hard Festival, as a digital live clip on time for the 'Partisan' release and as an appetiser for their December tour. So there's a lot of oomph in this band at the moment, or, as Tom puts it so aptly: "We'll stay on the ball!"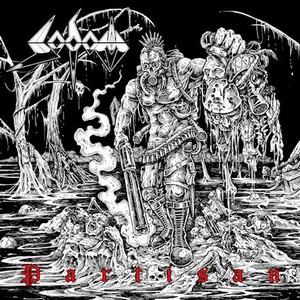 Tracklist:
Partisan
Conflagration
Tired & Red (Live)
Links:
http://www.sodomized.info/
https://www.facebook.com/sodomized/
Source of Information: Steamhammer / SPV
O T T O N E P E S A N T E A P O C A L I P S
AVAILABLE IN STORES AND ONLINE NOVEMBER 2, 2018
on LP/CD/DIGITAL (B.R.ASS)
17. October 2018
Francesco Bucci Trombone
Paolo Raineri Trompet
Beppe Mondini Drums
Recorded and Mixed at Inside / Outside Studios
Recorded by Gianluca Turrini e Matt Bordin
Mixed by Gianluca Turrini
Mastered by Bernie at Eleven Mastering
Produced by B.R.ASS
Artwork, Pics & Video: Ram Das Foschi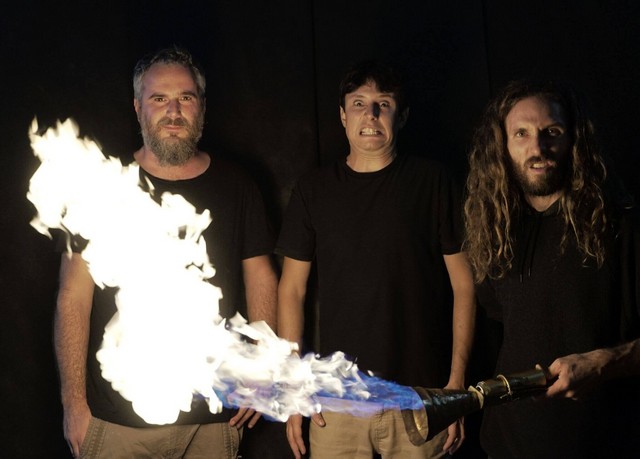 Ottone Pesante – Apocalips
In the book of Apocalypse there are 7 trumpets that announce disasters, sufferings and death for the entire inhabitants of the world.
This destructive power of Brass has been forgotten by the human being that tried to relegate these instruments for mild and frivolous music genres.
Ottone Pesante has rediscovered the ancient tradition of devastation and with this second album "Apocalips" (two years later "Brassphemy set in score") want to show that its obscure and relentless soul is ready to bring us to the abyss once again.
So "Apocalips" means destruction of eardrums, but also self destruction of Francesco Bucci (trombone) and Paolo Raineri (Trumpet) lips. Those lips that are mistreated and stressed like never before, in order to bring this new way for instrumental music for brass, to the extreme.
In these 9 new tracks, the connections with Metal are stronger and, at the same time, there are connections with others musical worlds like contemporary music, experimental, doom, jazzcore. All the compositions are based on just the 2 voices of trombone and trumpet, but they are morevarious and different.
The sound is more raw and heavier, due to the sound experimentation of the brasses while the Beppe Mondini's drum is still really heavy. You can find the fast, melodic, technical, furious tracks that are already become a brand of this band, or really slow parts full of pathos, some more experimental and dodecaphonic tunes, other "orchestral / progressive" tracks and references to Black Metal.
The connections with Extreme Metal scene, comes out due to the collaboration with Travis Ryan (incredible Cattle Decapitation singer, Death Metal band from California) that makes track number 5 " The Fifth Trumpet", a real Apocalypse.
Prepare your anti-atomic shelter: OTTONE PESANTE, the trio that was able to receive respect from Jazz and Metal scenes at the same time, is about to come back!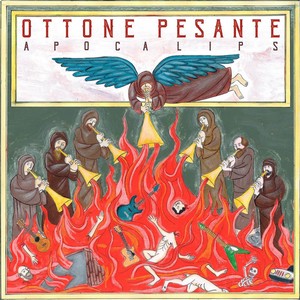 TRACKS

 Shining Bronze Purified in the Crucible
 Lamb with Seven Horns and Seven Eyes
 Bleeding Moon
Angels of the Earth
 The Fifth Trumpet (Ft. Travis Ryan) (videoclip)
Locusts' Army
Seven Scourges
 Twelve Layers of Stones
 Doom Mood
Videoteaser:

Links:
http://www.ottonepesante.it/
https://www.facebook.com/ottonepesante/
Source of Information: Ottone Pesante
POETRY IN TELEGRAMS – new drummer
22. October 2018
Drummer Marco Minnemann (GER/USA) will be play on new album by Slovak musician Johny Stefecek´s project Poetry in Telegrams (Paul Gilbert, Joe Satriani, Tony Levin) .
Links:
www.poetryintelegrams.com
www.facebook.com/poetryintelegrams
https://www.youtube.com/user/poetryintelegrams
Source of Information: https://www.metalscena.sk/, photo: Svetozár Štefeček