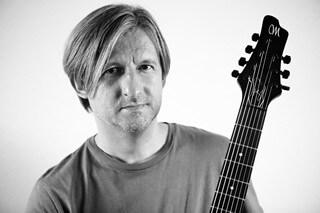 Známy muzikant Johny Štefeček, autor projektu Poetry in Telegrams, nedávno prišiel už so 4. épečkom. To dostalo názov I, Koheleth. Opäť nechýbajú svetoznámi hostia a samozrejme ani veľmi kvalitná muzika. Bližšie info, ako tradične v nasledujúcom rozhovore.
Zdravím Johny, predošlý EP album Melancholy tvojho projektu Poetry in Telegrams sa vyznačoval zaujímavými prvkami ako saxofón, sedemstrunová gitara a podobne. Čo zaujímavé môžeme nájsť na aktuálnom EP I, Koheleth?
Johny Štefeček: Zdravím teba i čitateľov! Sedemstrunka značky Mayones (to je firma, ktorej som hráčom) je príznačná pre každé moje EP, takže tá je samozrejme aj na novinke. 🙂
Saxofón tu tentoraz nenájdeš, ale prvý raz narazíš na inštrumentálku s klavírom a klávesmi (vznikla v spolupráci s Paulom Ortizom) – ide o song S+R. No a čo je vždy iné, je nejaký ďalší hosť…
Dvaja bubeníci
K  Paulovi Ortizovi pribudol aj ďalší bubeník Marco Minnemann. Prečo si sa rozhodol preňho?
Johny Štefeček: Chcel som zasa priniesť nový vietor do rytmiky a asi vieš, že Marco Minnemann je jeden z najlepších bubeníkov na planéte a aj tento rok je nominovaný časopisom Rhythm na najlepšieho prog – bubeníka. Myslím, že si stačí vypočuť náš prvý singel Lip Reader a hneď je jasné, akú ligu tento chlapík  bubnuje. 🙂
K spomínanému EP Melancholy vzniklo aj pár klipov, dokonca minimálne jeden s hviezdnou účasťou. Je v pláne niečo podobné aj tentokrát?
Johny Štefeček: Ku každej nahrávke robíme klipy, pretože dnes je dôležité mať aj zaujímavý obsah na YouTube. K jednotke vznikli hneď dve videá – Juliet and Romeo a Miracles, k dvojke Stargazing, a k trojke Bulgakov.
K štvrtému EP sme na úvod pripravili "official audio video" na spomínaný song Lip Reader, ale určite by som rád zavŕšil celú sériu i príbehovým klipom. Už sme sa o tom bavili s mojím dvorným hercom Gregorom Hološkom a je za. 🙂
Všetky EP, čo si zatiaľ vydal majú na Slovensku veľmi priaznivé ohlasy. Zaznamenal si nejaké aj zo zahraničia? Ak áno, povedz niečo viac.
Johny Štefeček: Napriek pretlaku rôznej hudby si ma našťastie všimli aj viaceré zahraničné médiá a teší ma, že nie iba kvôli hviezdnym hosťom. Napríklad, americký metalový web MetalSucks na Poetry in Telegrams napísal takú ódu (pritom bežne zotrú aj veľké kapely), že som si to musel prečítať viackrát, aby som uveril. 🙂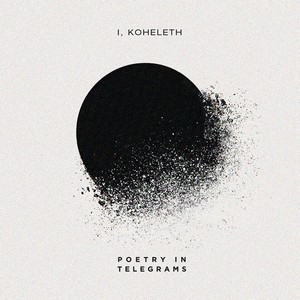 Budúcnosť
Na otázky či budeš niekedy koncertovať, odpovedáš, že iba v prípade keď nájdeš kvalitných muzikantov, ktorí by s tebou chceli hrať. V akom stave to  je?
Johny Štefeček: Nikdy som túto možnosť nezavrhol, ale v ceste stojí viacero problémov. V prvom rade chýba poriadny bubeník, ktorý by zahral party po Langovi, Ortizovi a Minnemannovi. Naozaj to nie je ľahká úloha. Sú tu tiež určité zdravotné záležitosti – mal som trošku problém so šľachami na rukách…  Skrátka, je tu viacero vecí, ktoré tomu zatiaľ bránia, no "never say never", ako vraví Corey Taylor. 🙂
Zatiaľ si vydal dokopy 4 EP- čka. Mohlo by sa stať niekedy v budúcnosti, že vydáš aj samostatný full album, poprípade nejaký ten vinyl alebo, čo ja viem, nejaký veľký box?
Johny Štefeček: Doba je rýchla. Nikto nebude čakať dlhšie obdobie na full album. Navyše tým, že nekoncertujem, musím vydávať materiál častejšie. Ideálnym riešením sú preto EP. A uznaj, Poetry in TELELEGRAMS a ja mám vydať LP (Long Play)? 🙂
Telegramy sú krátke, výstižné a obyčajne ich veľa pokope nevidieť, až na svadby… 🙂
Máš nejakých vysnívaných zahraničných muzikantov, ktorých by si chcel v budúcnosti osloviť?
Johny Štefeček: Viem si ešte predstaviť pár zvučných mien, ale prehnane sa na to nefixujem. Zatiaľ sa mi do rany dostal vždy ten človek, ktorého som práve potreboval. To bol aj prípad Marca Minnemanna na novej nahrávke. Stretli sme sa po koncerte The Aristocrats, ale vtedy mi ešte nenapadlo, že mi bude nahrávať ďalší album. 🙂 Až neskôr mi nejako zasvietilo, že by to mohol byť práve on…
Okrem toho, že robíš zaujímavú muziku si sa podieľal na knihe Etické mosty. Je možné aby si v budúcnosti spravil niečo podobné?
Johny Štefeček: Etické mosty sú dielom troch autorov, pričom ja som v nej písal o mojom obľúbencovi – Sørenovi Kierkegaardovi. Tento dánsky filozof a teológ ma sprevádza na životnej ceste už mnoho rokov, a neprestáva ma fascinovať. Jeho životom a nenaplnenou láskou je inšpirovaný aj song S+R na EP I, Koheleth.
Čo sa týka budúcnosti, mám v hlave 2 – 3 projekty, ale nikdy neprezrádzam vopred niečo, čo má ešte len matné kontúry… 🙂
Bilancovanie
Tvoj projekt Poetry in Telegrams, funguje od roku 2014. V čom je podľa teba najväčší posun od jeho začiatkov?
Johny Štefeček: Ten úplný štart spolu s názvom bol v roku 2013, ale áno, funkčný je v podstate od r. 2014, kedy vyšiel prvý singel – Juliet and Romeo (apríl 2014).
Veľa ľudí nevie, že som chcel najskôr ísť iba cestou singlov, ale čoskoro som prišiel na to, že by to celkom nefungovalo. Preto som v r. 2014 dal dokopy všetky nahraté piesne a vydal debut – Songs for Desperate Lovers. Keď tie začiatky Poetry in Telegrams porovnám so súčasnosťou, nie je to zas tak veľký rozdiel, pretože ja sa hudbou zaoberám celé roky, a tak už presne viem, čo chcem, a čo nie.
Treba však povedať, že s každou nahrávkou sa snažím posúvať niekam ďalej a priniesť prvky, ktoré som predtým nepoužil. Na novinke je to napríklad doteraz najdlhší song Lip Reader (6:33) s gradujúcim koncom a až indie náladou či záverečný "dvoj – song", ktorý je akýmsi finále týchto štyroch EP.
Ok, tak ďakujem pekne za rozhovor a ako je u nás zvykom, poprosím ťa o nejaký ten odkaz pre čitateľov.
Johny Štefeček: Každá muzika potrebuje mať svojich poslucháčov, a tak som vďačný všetkým, ktorí nás za tie roky počúvajú, a podporujú.
Bol by som rád, keby si cestu k mojim minimalistickým pesničkám našlo, čo najviac ľudí, pretože naozaj sa snažím robiť to inak ako ostatní a robiť to najlepšie, ako viem.Vypočujte si naše skladby (na YouTube či streamovacích službách) a ak sa vám budú páčiť, objednajte si naše CDs alebo digitálne albumy cez náš Bandcamp. Vďaka.
Youtube ukážka:

Linky:
www.poetryintelegrams.com
www.facebook.com/poetryintelegrams
www.poetryintelegrams.bandcamp.com
www.youtube.com/user/poetryintelegrams
www.twitter.com/PoetryInT