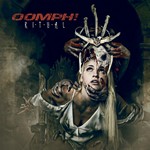 Metalová hudba je skvelá v tom, že ponúka kapelám veľké množstvo žánrov a subžánrov, ktoré môžu hrať. A ak si nevyberú, tak dostanú (tí šikovnejší) možnosť vytvoriť si vlastný žáner. Tak isto, ako to spravili Nemci OOMPH!. Tí sa za roky pôsobenia stali legendou a začiatkom tohto roka si pre fanúšikov prichystali nový album Ritual.
Už prvé dva pilotné piesne potvrdzujú slová speváka Dera o tom, že sa jedná o najtvrdší a najtemnejší album za posledné roky. Tausend Mann und Ein Befehl  ako otvárací song a Kein Liebeslied predstavujú všetko, prečo ľudia majú radi OOMPH!.
Riadna porcia tvrdej muziky skombinovaná s ďalšími žánrami od výmyslu sveta (najmä druhá menovaná predstavuje tradičnú značku kapely), ponurá nálada, hnev, politická nekorektnosť a provokácie. Čo viac si želať? Obzvlášť ak sa všetky spomínané vlastnosti prenesú aj do ďalších songov.
Vo výsledku tak dostávame na hudobné nápady a invencie bohaté a najmä pestré CD. Tým pádom máme všetci možnosť počuť tvrdú, tajomnú Europa, kde si s Derom zaspieval Chris Harms z Lord of the Lords, "dance-elektro-metal" Im Name des Vaters, v podobnom hudobnom duchu nesúcu sa provokatívnu TRRR-FCKN-HTLR, alebo melancholickú (avšak stále tvrdé, predsa to nie sú "piesne o láske") Das Schweigen der Lämmer, Phoenix aus der Asche alebo Seine Seele.
Proste bohatá ponuka, ktorá má čo ponúknuť takmer každému. Môžeme sa len domnievať, aký vplyv mali na nový album dva koncerty odohraté spoločne s orchestrom v Rusku. V každom prípadne OOMPH! predviedli svoju prácu výborne na všetkých frontoch. Opäť sa im podarilo umne skombinovať metal s vplyvom electro, hudobníci hrajú čo to dá.
Dero je stále vo skvelej forme a dokazuje svoje kvality. Zároveň treba oceniť aj emočnú stránku ich tvorby. Slovami samotného speváka, úspechom umelca je, ak znie tvrdo a nahnevane keď sa cíti frustrovaný a melancholicky, keď na jeho dušu sadá smútok.
Ritual je tak zároveň aj prehliadkou širokého záberu ľudských emócii. Chvíľami znie temne, tajomne, inokedy máte chuť kričať, inokedy by ste sa najradšej skryli pred svetom. Nikdy však nezačne nudiť. Samostatnou kapelou sú potom texty. Neboli by to však OOMPH! ak by neskúšali hranice a bol politicky korektní že? 🙂
V každom prípade, skupina oproti predchádzajúcim albumom dostatočne pritvrdila. Stále si však udržala svoj jedinečný rukopis, ktorý ju zdobí už dlhé roky. Nemecká kvalita a precíznosť v najlepšom možnom svetle.
Lineup:
CRAP – gitara, klávesy
DERO – spev, bicie
FLUX – gitara, samply
Tracklist:
Tausend Mann und ein Befehl
Achtung! Achtung!
Keine Liebeslied
Trümmerkinder
Europa (feat. Chris Harms / Lord Of The Lost)
Im Namen des Vaters
Das Schweigen der Lämmer
TRRR – FCKN – HTLR
Phoenix aus der Asche
Lass' die Beute frei
Seine Seele
Rok vydania: 2019
Vydavateľstvo: Napalm Records
Youtube ukážka:

Linky:
http://www.oomph.de
http://www.facebook.com/oomphband/
Hodnotenie: 6/6