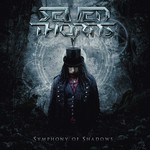 Dáni Seven Thorns stále patria k formáciám, ktoré ešte čakajú na to kým sa dostanú do povedomia širšieho publika. S menšími prestávkami fungujú od roku 1998. Jednou z ich diagnóz sú časté zmeny členov. Z pôvodnej zostavy ostal už iba bubeník Lars Borup.
Predposledný album II z roku 2013 taktiež sprevádzali dramatické okolnosti. Spevy preň naspiseval hosť Erik EZ. Stálym spevákom sa stal Gustav Blide. Neskôr aj on odišiel. Kapele vypomohol Nico Davidsen a nakoniec prijali Švéda Björna Askinga. Odišiel aj gitarista Christian Balslev Strøjer a tak do dnešných dní fungujú iba s jednou gitarou, ktorú obsluhuje Gabriel Tuxen. Vymenil sa aj basák Nicolaja Markera nahradil Mads Mølbæk.
Na prvé vypočutie by sa dalo povedať, že aktuálny počin Symphony of Shadows je pokračovaním predošlého. Aj tu budeme mať melodicky power metal (nie nepodobný kapelám ako Stratovarius, Sonata Arctica) pozostávajúci z gitár doprevádzaných klávesmi. Taktiež v mnohých piesňach nechýbajú neoklasické motívy a progresívne prvky. Z hľadiska rýchlosti aj tu sú všetky väčšinou v stredných (sem tam stredne rýchlych) tempách.
No keď si to vypočujeme viackrát predsa tu nájdeme rozdiely. Ten najvýraznejší je v speve. Björn je oveľa lepším spevákom. Spieva podobným štýlom ako Erik (a nechýba mu ani zaujímavá farba hlasu), no oproti nemu je oveľa presvedčivejší. Druhým rozdielom sú gitarové melódie. Na II kládli na ne väčší dôraz a aj neoklasické motívy boli zastúpené vo väčšom množstve.
Konečný verdikt: Symphony of Shadows si zaslúži rovnaké hodnotenie ako II. Prvý je lepší z ohľadom spevu, druhý z hľadiska melódii. Ak sa Seven Thorns ešte trochu posnažia (a samozrejme ak si udržia zostavu), mohli by sa vypracovať na špičku power metalu a napr. zaujať miesto spomínaných Stratovarius (ktorí už dlho neprišli s poriadnym albumom).
Lineup:
Björn Asking – spev
Gabriel Tuxen – gitary
Mads Mølbæk – basa
Asger W. Nielsen – klávesy
Lars Borup – bicie
Tracklist:
Evil Within
Black Fortress
Ethereal (I'm Still Possessed)
Beneath a Crescent Moon
Castaway
Last Goodbye
Virtual Supremacy
Shadows' Prelude (instrumental)
Symphony of Shadows
Rok vydania: 2018
Vydavateľstvo: Mighty Music
Youtube ukážka:

Linky:
http://www.seventhorns.com/
https://www.facebook.com/seventhornsofficial
Hodnotenie: 4,5/6