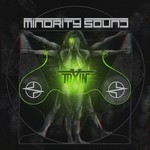 Toxin, po ktorom vám bude zaručene lepšie! 🙂 Minority Sound, u nás menej známa formácia od susedov z Česka vydala svoj štvrtý štúdiový album TOXIN. Dostal sa mi do rúk a svoje názory si nehodlám nechávať pre seba. Pohodlne sa usaďte a prečítajte si recenziu na najnovší album Minority Sound z cyber metalového žánru.
Toxín je niečo, čomu sa my ľudia snažíme vyhýbať. Existujú ale toxíny, ktorým nedokážeme povedať nie. Majú mnoho podôb. Môžu to byť drogy, ktoré sú pre naše telá jedom. V prípade Minority Sound je toxín ponímaný inak. Platňa nemá svoj názov len preto, že to dobre znie. Toxickí sú niekedy aj samotní ľudia. Metafora medzi jedom a toxickým človekom je šikovná a dáva kapele veľký priestor na kreatívne texty plné básnických prvkov a pocitov.
Playlist sa skladá z 8 piesní a celý ho máte vypočutý za 37 minút. To možno nie je veľa oproti veľkým kapelám, ale kvantita nerovná sa kvalita. Stačí sa presvedčiť vypočutím albumu, bude vás to koniec koncov stáť len pol hodinu života. Potom možno viac, ak ste fanúšikmi technickejších žánrov metalu.
Na úvod tu budeme mať pesničku Deeds of Hate, kde sa po prvý krát stretávame so spomínaným toxickým človekom a jeho nekalým a podlým chovaním. Hudobne sa dá považovať za poriadnu koncertovú "rozbíjačku", plnú energie a emócií. Krásny tvrdý zvuk je presne to, čo po ťažkom dni potrebujete. Všetky nástroje spolu ladia a spev núti počúvať ďalej. V takomto duchu sa nesú aj ostatné songy. Príbeh pokračuje titulom Scarecrow, ktorá je hudobne rovnaká ako jej predchodca. Nasleduje Toxin, ďalšia nálož s pomalým gradovaním a epickým vyvrcholením v podobe chytľavého refrénu. Pre mňa je najlepším počinom Sunlight, Be Me! Sunlight Begone! Predstavuje trpký boj s temnou stranou samého seba. Veľmi melodická melódia dotvára celkovú atmosféru melanchólie. Naopak, najmenej ma oslovilo Bipolar. Nie je to zlé, to vôbec nie, ale je to akýsi "polčas" albumu, kedy si poslucháči a aj kapela musia oddýchnuť. Ide o pokojnejšiu pesničku.
Okrem toho tú nájdeme ešte dva songy –  Love & Mayhem, Disconnested Sympathy a nakoniec Empty Sand. Tá pojednáva o snahe o obrodenie nakazeného jedinca, ktorý bol pomyselnou súčasťou celého albumu. Dáva nám nádej, že každý jeden z nás má šancu na pokoj v duši.
Texty sú melancholické a manifestáciou odporu k toxickým ľuďom a vzťahom, ktorým sa však neubránime. Sme ich súčasťou a mnohokrát aj príčinou a dôkazom.
CD je príjemným prekvapením a aj keď Minority Sound ešte nepoznáte, určite im dajte šancu. Miesto na zlepšenie sa nájde vždy a u každého, ale viem, že chalani majú posúvanie vpred stále pred očami. Teším sa na jeho pokračovanie!
Lineup:
Gulesh – spev, gitary
Ozon – basa, gitary, sample
Peter – basa
Dharm – bicie
Tracklist:
Deeds of Hate
Scarecrow
Toxin
Bipolar
Sunlight. Be Me! Sunlight Begone!
Love & Mayhem
Disconnected Sympathy
Empty Sands
Rok vydania: 2019
Vydavateľstvo: MetalGate
Youtube ukážka:

Linky:
http://www.minoritysound.com/
https://www.facebook.com/minoritysound/
https://minoritysound.bandcamp.com/
https://www.youtube.com/user/minoritysoundczech
Hodnotenie: 5/6