Druhý deň festivalu začínal najskôr – dianie na pódiu začalo už o 13:40. Počasie bolo tak akurát – čiže neboli veľké horúčavy, ani veľmi chladno.
Na úvod začala jedna, dá sa povedať  z miestnych ,,klasík" – energická humenská pop punkovica S.P.L.N.. Publiku síce trochu trvalo kým sa rozbehlo, no neskôr sa pekne bavilo.
Približne po 6 rokoch v obmenenej zostave sa do Sniny vrátili aj Porta Inferi z Nového Jičína. Ak ich ešte nepoznáte, rýchlo to napravte. Kapela hra veľmi originálny power metal s prvkami industrialu. Tesne pred RPK vydali tretí, veľmi kvalitný album Alive. Vyčarili neskutočnú atmosféru. Po ich vystúpení sa všetci hlasno dožadovali prídavku – bohužiaľ z časových dôvodov neúspešne. Moderátor si zažartoval, že vypukla až menšia revolúcia. 🙂
Po dvoch revival bandoch Oasis (tribute SK) a najočakávanejšom Back :N: Black (Švajčiarky hrajúce AC/DC) v poradí piatou formácia boli poľskí, old school heavy metalisti Crystal Viper na čele so sympatickou ,,leather wtich" Martou Gabriel.
Tá dlhý čas obsluhovala aj gitaru aj spev, no na RPK mala na starosti iba spev.Z hráčksko-speváckeho hľadiska to bolo viac menej OK (až na koniec keď Martu trochu zradil hlas), museli však bojovať s technickými problémami. Hneď od začiatku Martu začal trápiť vypadávajúci mikrofón a bolo počuť aj pískanie. Do vystúpenia dávali všetko, tak určite im to mnohí odpustili. Neskôr vyšli aj na fotenie, čo samozrejme mnohí využili.
Prvým piatkovým headlinerom boli legendárni Soulfly z ďalekej Brazílie. Počul som rôzne veci o nich (aj pozitívne aj negatívne), tak som nevedel čo od toho čakať. Svoj status hedlinera však obhájili. Podarilo sa im pekne rozpohybovať dav. Max sa netajil nadšením a medzi ľuďmi bolo vidno aj moshpit a aj stagediving. Hrali sa skladby ako Prophecy, Ritual, Jumpdafuckup… Sepulturacky hit Roots Bloody Roots však nezaznel, úryvok z neho použili iba ako intro ku spomínanej Prophecy.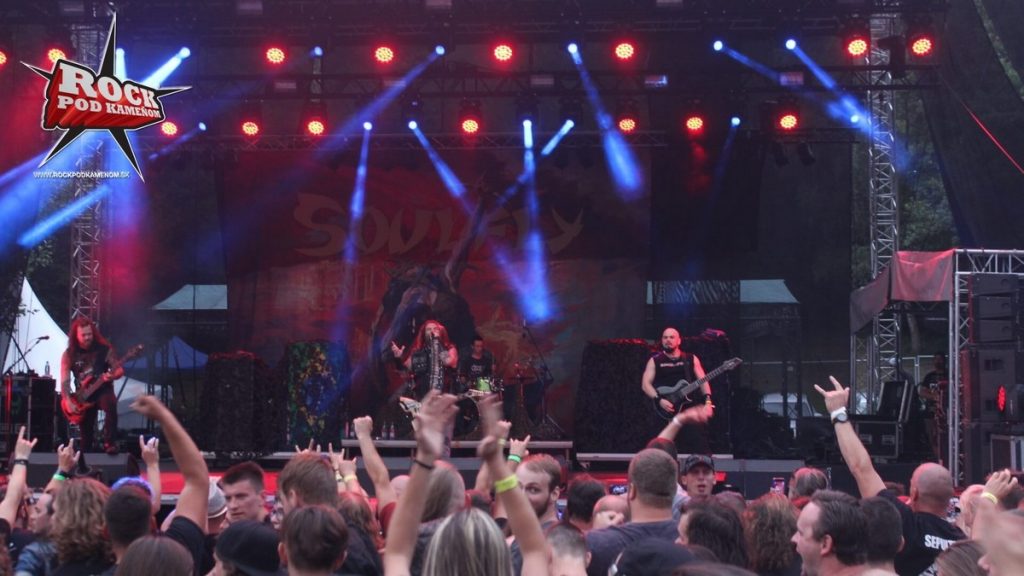 Po Soulfly mala nasledovať česká legenda Motorband. Tých však postihli problémy – členovia síce dorazili do areálu, auto s aparatúrou však nie. Preto vystúpili nakoniec ,,škótski piráti" Alestorm. Štýlovo je to taký, veľmi melodický folk metal s textami na ,,pirátske témy". Na pódiu nechýbala ani tradičná ozdoba – veľká nafukovacia kačička. Tú zvyknú hodiť medzi ľudí, v Snine to však vynechali. Aj tí to pekne roztočili pod stageom – osobne som však očakával niečo viac.
Nemci Van Canto mali na Rocku pod Kameňom premiéru. Je to tak trochu unikátna kapela -jediný skutočný nástroj sú bicie, ináč využívajú iba spevy a zvuky vyludzované ústami. Obecenstvo ich však prijalo veľmi dobre bavilo sa – jednak na vlastné skladby (If I Die in Battle, To Sing a Metal Song…), ale aj na covery (Bards Song – Blind Guardian, Wishmaster – Nightwish).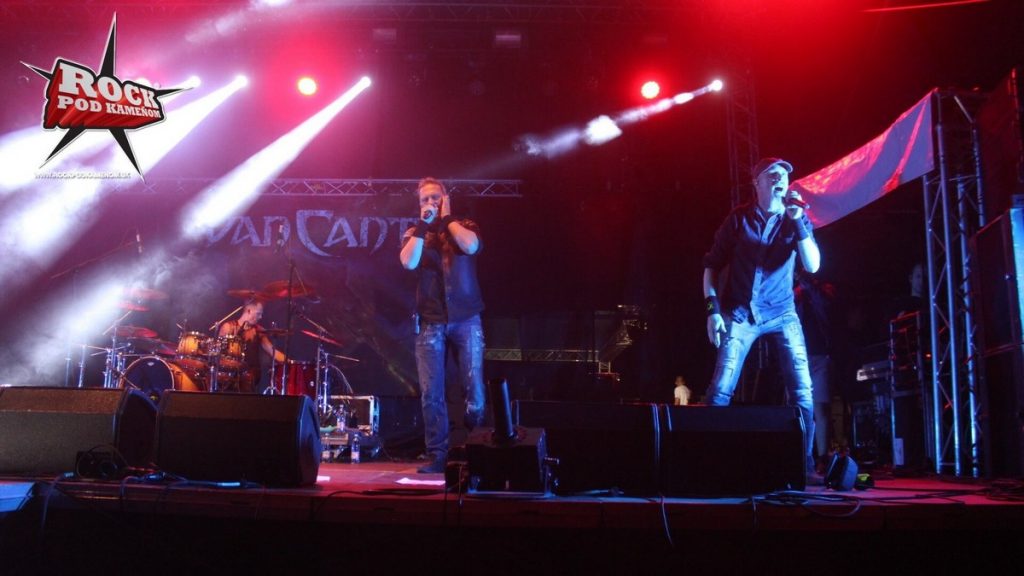 Predposledným vystupujúcim bol legendárny Miloš Dodo Doležal so svojou družinou. Ten vynikal hlavne vysokou hlasitosťou svojej produkcie (čo mohlo byť niekomu až nepríjemné). Zrejme sa riadi nepísaným pravidlom ,,metal ma bejt k*rva nahlas".  🙂 Napriek neskoršiemu času sa pod pódiom zhromaždil relatívne slušný počet baviacich sa. Snáď sa ešte niekedy vráti a ujde sa mu priestor v lepšom čase.
Úplne na záver – t. j. niečo po druhej hodine ráno odohrali svoj set aj spomínaní Motorband. Mohli tak zistiť, koľko majú skutočne, ale fakt že skutočne verných fanúšikov. 🙂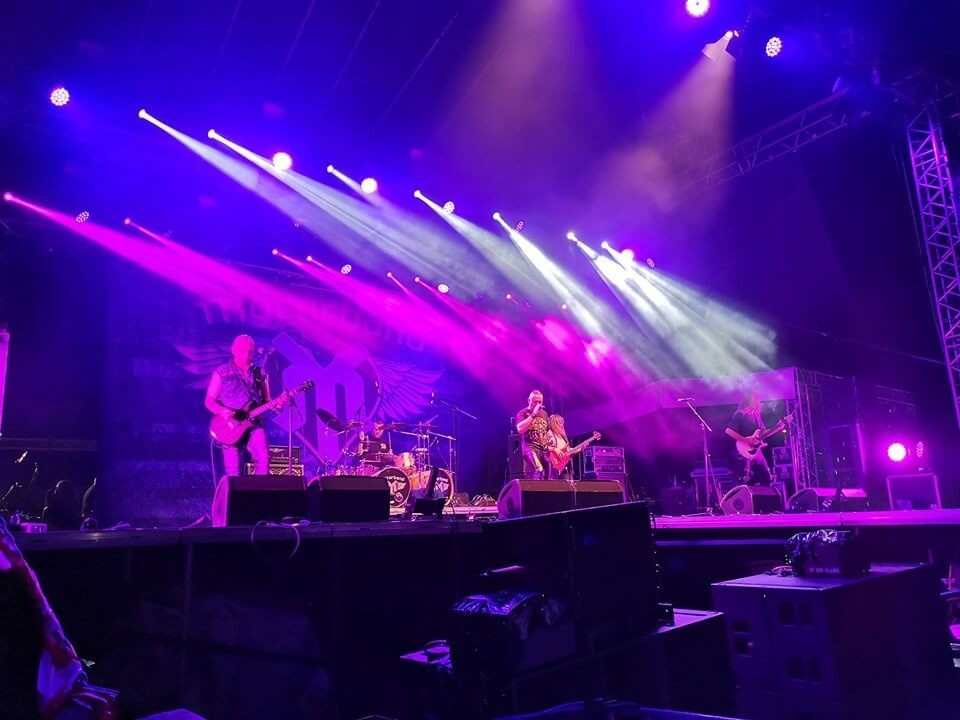 Aj ďalší deň sa vydaril. Pekne namiešaný lineup, fantastická atmosféra. Len škoda spomínaných Motorband. Čo už, aj také veci sa stávajú.
Použité foto: https://www.facebook.com/rockpodkamenom/, https://www.facebook.com/officialmotorband/