Ani tento rok sa nezaobišiel bez východniarskeho rockového festivalu Rock pod Kameňom. Dátum sa opäť zmenil, namiesto druhého augustového víkendu sa konal prvý víkend tohto mesiaca – zhodou okolnosti jeho prvých dňoch.
Miesto ale ostalo po starom (teda malebná oblasť Sninské Rybníky) a opäť sme si užili tri dni skvelej muziky. Jedným z headlinerov bola tentokrát pomerne nová fínska formácia Beast in Black, ktorá ,,len" napriek dvom vydaným albumom žne úspechy po celom svete. No revivalových kapiel mohlo byť o čosi menej.
Fanúšici  dorazili z celého Slovenska (napr. aj z Trenčína) a počuť bolo aj iné jazyky – napr. Maďarčinu. Moderatórom bol Peter Gecík z Rádia Snina.
Nechýbala ani bohatá ponuka občerstvenia – tradičné festivalové jedlá (cigánska, klobása) ale aj špeciality (pečené prasiatko, pirohy…) a dobré pivo. Samozrejmosťou bol aj bezplatný zdroj pitej vody v areáli. Menšou nevýhodou bola však trochu vysoká cena niektorých produktov (aj keď samozrejme nie všetkých). Pre odvážlivcov zas medzi interpretmi boli nachystané súťaže o rôzne ceny.
Česť otvoriť celý tento festival mali zlatomoravskí melodickí hard rockeri Inside. Nedávno vydali už tretí album Čas a postupne sa dostávajú do väčšieho povedomia slovenských rock/metalistov. Bolo to ich už druhé vystúpenie v Snine. Prví vystupujúci musia často riešiť problém – malo ľudí. No nebol to problém týchto chlapcov.
Pod pódiom mali fakt slušný počet baviacich sa. Talent a potrebná dávka charizmy hráčom určite nechýba.
Ďalej publikum zabávali recesisti Bijouterrier. Podobne ako v minulosti aj tentokrát vyčarili peknú zábavu ako skladbami, tak hláškami.
Po čase sa opäť vrátili aj ,,pivní bigbiťáci" Doga. Opäť bola zaujímavá už samotná scéna (farebná plachta s motívom z aktuálneho albumu + ventilátory). Medzi ľuďmi mali slušní ohlas (samozrejme hlavne hity – Nejsi Nevinná, Poletujú). Spevák Izzi sa opäť choval ako ,,drsný rocker" – hlášky a ,,typický záver vystúpenia". 🙂
Švédi Dynazty boli veľkým prekvapením večera. A to veľmi príjemným. Ich elektro – melodický rock/metal si získal všetkých. Aj mňa, veľkého odporcu samplov a pod. vylepšení. Zo skladieb v pamäti utkveli In the Arms of a Devil a klipovka Firesign, ktorá rozoskákala všetkých.
Hráči si to veľmi užívali (dokonca zvládali aj hru aj pitie piva 😉 ) a prisľúbili skorý návrat na Slovensko. Pikoška: Spevák Nils Molin pôsobí aj v Amaranthe.
Po troch rokoch sa tu vrátili aj Česi Walda Gang a to v špeciálnej zostave. Zosnulého Vláďu Šafránka nahradil slovenský superstarista Miro Šmajda. K postarším spoluhráčom skvele zapadol. Klasiky ako Svařák, O Zuzano, Lásko má, já stůňu mali veľký úspech. Ich koncert spestrovala mohutná svetelná a pyrotechnická show.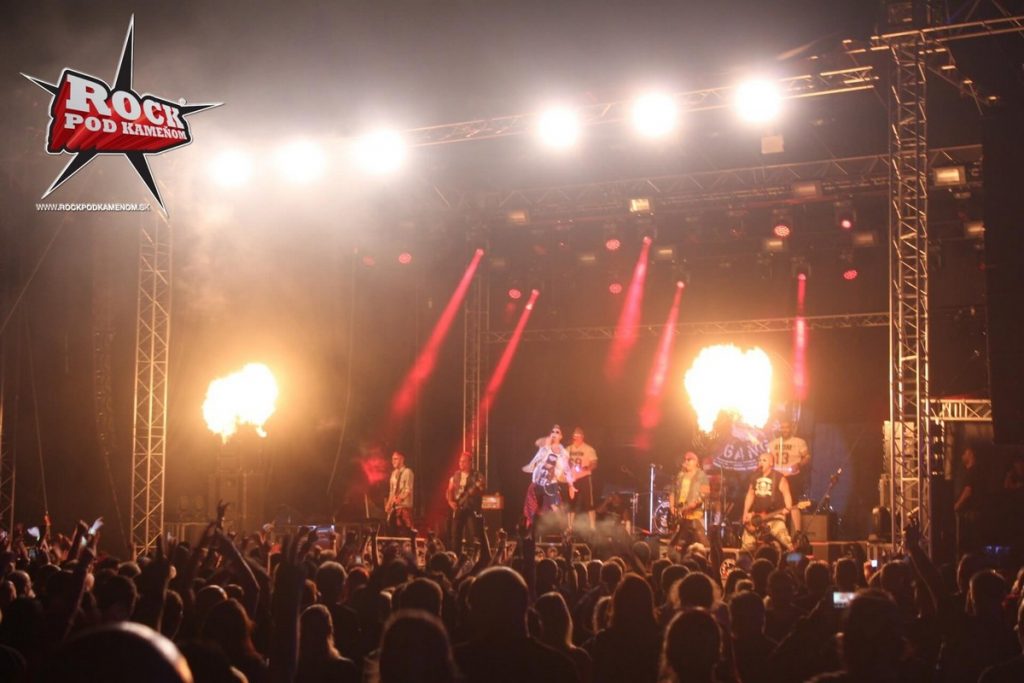 Úplne na koniec sme si mohli vypočuť aj skladby legendy Scorpions v podaní Talianov The Zoo.
Záver: Treba povedať, že štvrtok ako otvárací deň sa vydaril. Skvelí Inside, Bijouterrier  prekvapenie v podobe Dynazty v kombinácii so skvelými českými kapelami a príjemná atmosféra.
Zdroje foto: Peter Vago, https://www.facebook.com/rockpodkamenom/