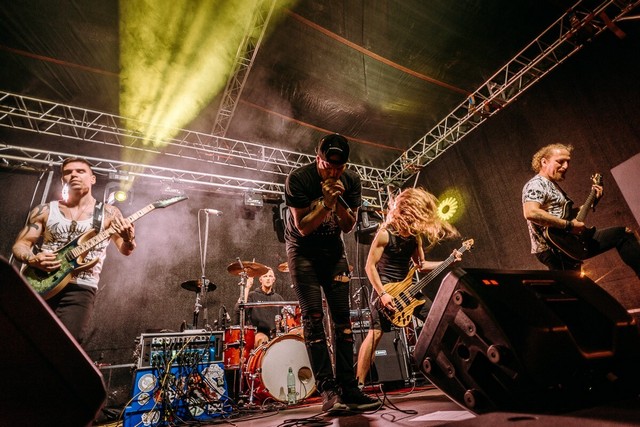 Začiatkom roka nitrianska metalcorová formácia As They Rise vydala debutový album Reborn. A nebol to jediný kľúčový okamžik pre kapelu tento rok. Okrem toho sa zúčastnili súťaže Rocková Maturita, v rámci ktorej vystúpili na festivale Topfest. O tohtoročnej sezóne, vzniku albumu a ďalších veciach sa dozviete v tomto rozhovore. Odpovedala celá kapela:
Ahoj banda, ako sa darí?
Nazdar, darí sa výborne. Užívame si leto, koncerty a festivaly. Pred nedávnom sme odohrali koncert na Topfeste v rámci súťaže Rocková Maturita a v ten istý deň sme boli súčasťou minifestivalu In Memoriam v Seredi.
Boli sme súčasťou line-upu  4Brothers Festival v Prešove, na východe sme boli prvýkrát  a ďakujeme chalanom, že sme sa mohli tohto multižánrového festivalu zúčastniť. Naposledy 24. augusta sme hrali na Ynfeste vo Svidníku s Davovou Psychózou.
Začiatkom tohto roku ste vydali debutový album Reborn. Na úvod povedzte niekto o tom ako vznikal?
Skladby vznikali od začiatku vzniku kapely. Sú prierezom nášho vývoja a album sme sa snažili vyskladať  z najlepších a najzaujímavejších vecí.
Skladba, ktorá mala pre nás najväčší význam a bola dokonca najnovšou vecou vtedajšieho obdobia, sa nazýva Reborn. Pokladali sme ju za jednu z najlepších a práve preto aj tvorí ústrednú líniu albumu.
Autorom hudby je náš gitarista Noro, texty pochádzajú z hlavy frontmana  Michala  v spolupráci s kamošom Petrom, ktorému sme venovali aj poďakovanie na albume. Samotné nahrávanie a mix sme odovzdali do rúk Pištu zo Svartalvheim studio. Rozhodli sme sa tak preto, že náš basák David s ním spolupracoval na albume kapely Peorth.
Čo môžeme od neho očakávať?
Stačí prísť na koncert alebo si samotné CD vypočuť a presvedčiť sa. 🙂 Samozrejme, chystáme nejaké nové EP-čka, chceli by sme to stihnúť ešte v zime, určite sledujte náš web, budeme o tom fans informovať.
Osobne ma dosť zaujala hudobná stránka – pestrá zmes viacerých žánrov (točiacich sa najmä okolo core). Bol cieľom už pred samotným nahrávaním resp. skladaním vytvoriť žánrovo bohatý album alebo to celé tak nejak vypálilo samo?
Vždy niekde tkvie nejaký zámer, ten bol v našom prípade úplne jednoduchý: nahrať album, s ktorým budeme maximálne spokojní a na scéne zaujme. Na albume sa nachádza len časť našich skladieb, ktoré sme doteraz vytvorili. Samozrejme, že sa počas fungovania kapely veľa vecí menilo, členovia sa striedali a s tým súvisela aj naša tvorba. Ako vravíš, je to zmes viacerých žánrov, no stále si zanechávajú svoju tvár v podaní toho nášho core-u.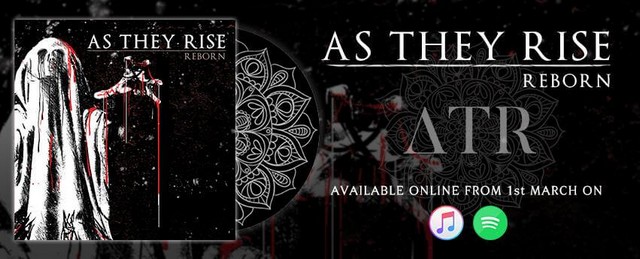 Taktiež ma zaujal priam až hororový obal albumu. Aká je jeho hlavná myšlienka a kto je jeho autorom?
Autorom obalu je Alan Grnja z kapely Distant – chalan sa venuje aj grafike a robil covery už viacerým kapelám. Vybrali sme si vlastne inštinktívne a je dosť abstraktný – na jednej strane nám nezáleží ako ľudia vnímajú postavu na obale.
Na druhej strane symbolizuje individum manipulujúce s ostatnými  (keď sa detailnejšie zadívaš, na prstoch má nite, ktorými ovláda akúsi inú marionetu – zvyšok nie je vidieť, je to už na fantázii toho,kto sa nad tým začne zamýšľať).
Kde možno nájsť pôvod názvu As They Rise?
Názov vznikol už dávno, prišli sme naň spoločne s našim bývalým bubeníkom, ten už v kapele nehrá. Samozrejme šlo nám o to, aby bol výstižný, reprezentatívny a originálny. Kapiel je na svete veľa a mnoho z nich má podobné názvy, v dnešnej dobe je dôležité zaujať názvom, logom a vizuálom.
Určite sme mysleli aj na to, aby sa z iniciálov dalo vytvoriť aj pekné logo a podobne.
K piesni Fade Inside vznikol videoklip. Prečo padla voľba práve na tento kúsok?
Našim hlavným, resp. titulným klipom je video ku skladbe "Back to Swamp". Spolupracovali sme na ňom spoločne s Flame Art Production. Chalani boli s nami priamo na Masters of Rock, bola to skvelá skúsenosť a odviedli skvelú robotu.
Fade Inside nie je priamo videoklip. Sú to zostrihané zábery z našich súkromných archívov – nejaké koncerty, momentky, zábery zo skúšobne. Postprodukciu k nemu robila naša známa Timea.
Čo koncerty? Kde vás budú môcť ľudia vidieť?
Zatiaľ plánujeme nejaké akcie v jeseni, uvidíme, ako nám to pôjde aj s nahrávaním nových vecí, keďže všetci aj pracujeme a čas uteká veľmi rýchlo. V kluboch nás určite uvidíte a všetko sa včas dozviete
 Ako osobne vnímate hudobnú scénu u nás a špeciálne v okolí v Nitry?
Hudobná scéna, nielen špeciálne v Nitre, ale aj celkovo u nás je ozaj pestrá,  je tu kopec kvalitnej hudby. Fanúšik si dnes veľmi dobre rozmyslí na aký koncert/ festival pôjde a akú kapelu podporí. Ľudia sú dnes prieberčivejší a je ťažšie osloviť nových fanúšikov.
No o to je to väčší úspech aj pre nás samotných, keď po koncerte príde neznámy človek a povie, že sa mu naša muzika páči a ešte to zaklincuje kúpou CD alebo trička. Čo sa týka kapiel na domácej scéne, vážime si ľudí, ktorí ju podporujú, pomáhajú s organizovaním akcií, propagáciou a šírením novej hudby aj u vlastných skalných fans. Je to v dnešnej dobe dôležité, pretože ľudia nie sú nútení hľadať si nové kapely sami – internet je plný známych a veľkých mien.
Mohli by ste povedať niečo o živote členov skupiny?
Každý z nás je v osobnom živote pracujúci človek, takže mimo kapely sa venujeme bežným činnostiam a povinnostiam. 🙂
Tak to bola posledná otázka. Ďakujem Vám veľmi pekne za odpovede, a zároveň by som niekoho z vás poprosil o odkaz pre fanúšikov.
Poďakovanie je samozrejme aj na našej strane. Odkaz pre fans…ďakujeme za akúkoľvek podporu! Vážime si každú jednu pozitívnu reakciu a samozrejme nás teší, že navštívite náš web, kúpite si CD alebo merch!
Youtube ukážka:

Linky:
https://www.facebook.com/astheyriseofficial/
https://astheyrise.bandcamp.com/
AsTheyRise _official
Titulná foto: Robert Sedo Sedlak