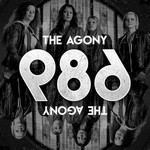 Zatiaľ posledný album českej dievčenskej štvorice The Agony vyšiel už v roku 2017, ale vzhľadom k ich stúpajúcej popularite a vysokej kvalite je dobré si tento skvelý hard rockový album pripomenúť.
Skupina s dosť neoriginálným názvom je postavená okolo talentovanej, sexy, bývalej gitaristky metalovej legendy Aleša Brichtu a v The Agony aj speváčky, Nikoly Kandoussi. Tá pokiaľ viem skladá aj väčšinu materiálu. Ale žiadna z dievčat nezaostáva svojimi hudobnými aj nehudobnými kvalitami. Hlas Nikoly mi hodne pripomína Cherie Currie z legendárnych The Runaways, vo vyšších pasážach a to sa mi nesmejte, moju milovanú Lady Gaga a v agresívnejších polohách zas Beki Bondage z Vice Squad.
Celý album má skvelý zvuk a v podstate obsahuje jednoduché hard rockové vypaľovačky s občasným odskokom do pop rocku, alternatívného rocku, punk rocku a heavy metalu. Ale každá skladba má veľké hitové ambície. Nejde tu o žiadne umenie, ale o to hrať čo najviac pre ľudí. Celá kapela k úspechu prispôsobuje doslova všetko.  Moje najväčšie srdcovky sú jednoznačne veci ako Midnight Destruction, Shoot, It Ain't Over v ktorej ma riff v slohe doslova nadchol a k tomu ten sladký grunge feeling spevu, Radio Silence a najväčšia hitovka podľa mňa, Secrets.
Najväčšie nedostatky tejto platne sú podľa mňa to, že Nikola spieva väčšinu času len v tej istej strednej polohe, čo začne časom mierne nudiť. Chcelo by to ukázať viac emócií v tom speve. Druhý nedostatok je v podstate nezmenené tempo na celom albume.
The Agony majú už slušné meno a ja dúfam, že predvedú v budúcnosti ešte mnoho dobrého. Podľa mňa sú na najlepšej ceste stať sa špičkou melodického hard rocku v Čechách a moc im držím palce.
Lineup:
Nikola Kandoussi – spev, gitary
Tereza Pšenčíková – gitary
Kateřina "Katie Skatie" Sýkorová – spev, basa
Martina "Kajda" Balcarová – bicie
Tracklist:
Midnight Destruction
Loverboy (Psycho)
Shoot
How Do You Want Me
It Ain't Over (689 version)
Radio Silence (689 version)
Secrets
Video Arcade
Prague City
Switch
Rok vydania: 2017
Vydavateľstvo: Samovydanie
Youtube ukážka:

Linky:
https://www.theagony.cz/
https://www.facebook.com/theagonycz/
https://bandzone.cz/theagony/
Hodnotenie: 5/6
Páčil sa ti tento článok?