Zmena zostavy u Children of Bodom
1.11.2019
Children of Bodom oznámili, že 15. decembra sa v Helsinkách uskutoční posledný koncert v doterajšej zostave. Po ňom kapelu opustia basák Henkka T. Blacksmith, klávesak Janne Warman a bicman Jaska W. Raatikainen.
Linky:
http://www.cobhc.com/site/
https://www.facebook.com/childrenofbodom/
Zdroj: https://www.facebook.com/childrenofbodom/
Agnostic Front – druhý singel z chystaného albumu
11.11.2019
Legendárni HC pionieri Agnostic Front 8. novembra potešia svojich fanúšikov novým albumom Get Loud!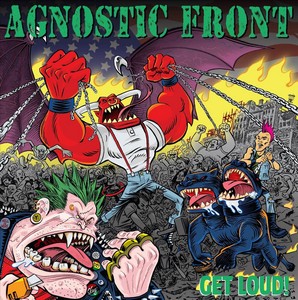 Tracklist:
Spray Painted Walls
Anti Social
Get Loud!
Conquer And Divide
I Remember
Dead Silence
AF Stomp
Urban Decay
Snitches Get Stitches
Isolated
In My Blood
Attention
Pull The Trigger
Dnes zverejnili videoklip k druhému singlu z neho:

Prvý singel Spray Painted Walls: https://youtu.be/rBU1wi_ijXU
Linky:
www.facebook.com/agnosticfront 
Zdroj: NUCLEAR BLAST Markus Jakob
Steve Harris vydá v januári nový sólo album
31.10.2019
VZakladajúci člen Iron Maiden – basák Steve Harris čoskoro vydá pod hlavičkou British Lion druhý sólo album. Jeho názov bude The Burning.  Pozostávať bude z jedenástich nových skladieb. Vydaný bude presne 17. januára 2020.
Spolupracovať na ňom budú: Richard Taylor – spev, David Hawkins – gitary, Grahame Leslie – gitary, Simon Dawson – bicie. Samotný Steve bude okrem basy obsluhovať aj klávesy.
Linky:
http://www.steveharrisbritishlion.com
https://www.facebook.com/BritishLionUK/
Zdroj: Blabbermouth
Melissa – nový videoklip
31.10.2019
Česi Melissa zverejnili videoklip k skladbe Legenda, ktorým propagujú tohtoročné inštrumentálne CD a Due Part II.
Linky:
https://www.facebook.com/melissa.officialsite/
https://bandzone.cz/melissakutnahora
https://www.youtube.com/channel/UCIfIK1CQvra37aVG1Jsn4vA?view_as=subscriber
https://www.vivala.cz/alba/225670/melissa-taverna?fbclid=IwAR1wRIsXJ3Sgx38CiBsy_lViF8PUH-nBPWrAhkw4hZP5k0ECmdJgvbt1nkg
Zdroj: Petr Kohoutek