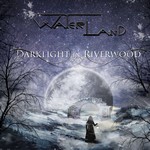 V prípade, že ste v prvých rokoch nového tisícročia sledovali európsku power metalovú scénu, určite vám neušla portugalská formácia Oratory. Tá hrala  melodický metal, tak trochu podobný muzike akú robia Nightwish. Začali síce od 1996tého, no albumové konto sa začalo rozrastať asi o tri roky neskôr. Po 2005-tom sa však odmlčali.
Gitarista Miguel Gomes však neostal nečinný. Rozbehol nový projekt, z ktorého sa neskôr vyvinula kapela Waterland. V roku 2009 sa k nemu pridal aj bývalý kolega z Oratory, klávesak António Silva. V roku 2016 sa udiala zatiaľ posledná zmena zostavy – ku kapele sa pridala speváčka Patricia Loureiro s ,,anjelským hlasom" a nahradila tak svoju predchodkyňu Miriam Dias.
Na aktuálnom počine Darklight in Riverwood – Waterland pokračujú v ceste začatej ešte počas Oratory. Produkujú melodický power metal, aký sa hral v jeho najlepších časoch (roky 1998-2005). Čiže podľa typického vzorca: rýchle tempá, melodické gitary doprevádzané klávesmi a do toho spev už spomínanej Miriam Dias so zborovou podporou. Miriam sa síce nepúšťa sa do nejakých závratných výšok, jej farba je však príjemná. Samozrejmosťou sú príjemné melódie (napr. skladba Follow me – najviac pripomínajúca Oratory) a aj symfonické prvky.
Kritici možno budú namietať, že tento album neprináša nič nové a metalová scéna je už inde ako bola v jej zlatom veku. No stále existujú ľudia, ktorí milujú kapely z rokov 2000-2005 a tí si určite prídu na svoje.
P.S.: V bonusovej skladbe We Are the One môžete počuť aj Patricinu predchodkyňu – Miriam Dias
Lineup:
Patricia Loureiro – spev
Miguel Gomes – gitary
António Silva – klávesy
Ivan Batista – basa
Tiago Moreira – bicie
Hostia:
Tracklist:
Destiny V
Darklight
Follow Me
For All Eternity
Iceland
Winter Days
The Rules We Made
The Union of Freedom
The Path for the Hidden Valley
The Golden Mountain
This Night
Bonusy:
Rok vydania:2019
Vydavateľstvo: Samovydanie
Youtube ukážka:

Linky:
https://waterlandband.wixsite.com/home
https://www.facebook.com/WATERLAND.metalband/
https://waterland.bandcamp.com/
https://www.youtube.com/user/MYWATERLAND
Hodnotenie: 5/6
Páčil sa ti tento článok?