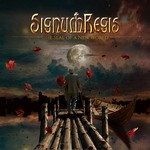 Na nový album slovenských Signum Regis sme si museli počkať približne dva roky. Kto sleduje túto kapelu určite vie, že v ich zostave sa udiala veľká zmena. Dlhoročného speváka Maya vystriedal Jota Fortinho – rodák z Brazílie.
Na aktuálnom štúdiovom počine The Seal of a New World sa podieľali aj významní ľudia zo svetovej metalovej scény. O mastering sa postaral Jacob Hansen a samotného nahrávania sa zúčastnili aj zaujímaví hostia. So sólami vypomohol gitarista Magnus Karlsson (Primal Fear, Kiske/Somerville) a Eli Prinsen (ream Patrol, ex Sacred Warrior) s Davidom Åkessonom (Qantice, ex Citadellion) si zaspievali vokály v niekoľkých skladbách.
Hneď v úvodnej piesni Kings of the Underground počuť, že kapela tentokrát dala väčší dôraz na progresívne prvky. Bývalý spevák Mayo dobre zapadol do tvorby kapely, lež jeho prejav bol trochu monotónny. Jota okrem jeho plnohodnotnej náhrady osviežil ich tvorbu aj o ďalšie zaujímavé hlasové polohy ako jemný falzet a pod. V piesňach ho doprovodnými vokálmi pekne dopĺňajú aj ostatní.
Ináč mnoho veci ostáva po starom. Nebude chýbať množstvo energických skladieb, typický ,,signumácky rukopis" ani kresťanské motívy v textoch (The City of God napr.). Obohatením albumu je balada Shalom. Mne osobne trochu chýbalo viac neoclasic motívov – viac piesní na štýl Phantasmagoria, Never Surrender.
The Seal of a New World opäť potvrdil skvelú formu Signum Regis. Rozhodne ma potenciál zaujať aj mimo slovenských a českých hraníc.
Lineup:
Jota Fortinho – spev
Filip Koluš – gitary
Ján Tupý – klávesy, doprovodné vokály
Ronnie König – basa, doprovodné vokály
Jaro Jančula – bicie
Hostia:
Magnus Karlsson – sólo (8,12)
Eli Prinsen – doprovodné vokály
David Åkesson – doprovodné vokály
Tracklist:
Kings of the Underground
Prisoner's Elegy
I Always Go All-In
The City of God
The Seal of a New World
A Memory
Phantasmagoria
Let Freedom Ring
Never Surrender
Fly Away
Shalom
Scheme of Lies
Rok vydania: 2019
Vydavateľstvo: Beyond the Storm Productions
Youtube ukážka:

Linky:
http://www.signum-regis.com/
https://www.facebook.com/SignumRegis/
http://bandzone.cz/signumregis
Hodnotenie: 5/6