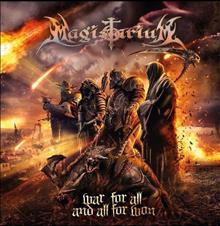 Symfonický power metal je dnes veľmi rozšírený jav. A ten z Nemecka obzvlášť. A žiaľ čoraz menej sa dá konštatovať kvalita.
Magistarium boli pre mňa neznámou formáciou. A o to príjemnejšie bolo zoznámenie s nimi. War For All And For Won je silný album. Skvelé melódie a aranžmány. Najslabším článkom je spev. Je síce výborný, ale moc sa mi sem nehodí. Všade príjemné zbory a klávesy povznášajú hudbu nad priemer. Veľké mínus je pre mňa to, že vrchol celej nahrávky je hneď úvodná skladba Rising From The Ashes. Ale to zas neznamená, že ostatné sú nejaké orezávatka. Hneď druhá v poradí je zaujímavá ambientným introm a až Kornovským riffom. Využívanie moderných technológií inak ako sa obvykle využívajú (teda nie len fakeové orchestre a zbory) je výborným nápadom. A to Magistarium zvládajú bravúrne. One Against The World drtí a patrí medzi to lepšie. Najhoršia skladba albumu je pre mňa rozhodne The Game Of Life.
Táto kapela má rozhodne budúcnosť a malo by sa o nej vedieť. Chcelo by to veľkého vydavateľa. Zatiaľ sú na to sami.
Lineup:
Oleg Rudych – spev
Michael Pesin – gitary
Ingo Lühring – basa
Volker Brandes – klávesy
Sebastian Busch – bicie
Hostia:
Herman Frank – gitarové sólo (5)
Tracklist:
Disc 1:
Rising from the Ashes
One Against the World
The Game of Life
Hora Longa Vita Brevis (Symphony of Addiction)
Beyond the Frontier
Forever
War for All and All for Won 05:16
Another World
Turn Back Time
1000 Years of Rain
Follow Your Dream
Disc 2
Rising from the Ashes (Russian Version)
One Against the World (Russian Version)
The Game of Life (Russian Version)
Hora Longa Vita Brevis (Symphony of Addiction) (Russian Version)
Beyond the Frontier (Russian Version)
Forever (Russian Version)
War for All and All for Won (Russian Version)
Another World (Russian Version)
Turn Back Time (Russian Version)
1000 Years of Rain (Russian Version)
Follow Your Dream (Russian Version)
Rok vydania: 2019
Vydavateľstvo: Samovydanie
Youtube ukážka:
Linky:
https://www.magistarium.org/
https://www.facebook.com/Magistarium
https://www.youtube.com/channel/UC-c-Go8HzDvUDy7ldy2cLyQ
Hodnotenie: 5,5/6