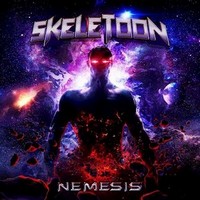 Sympatická talianska power metalová formácia SkeleToon, ktorej frontman ich štýl nazýva "nerd metal" alebo "happy metal", je na scéne od roku 2011. 25. septembra 2020 vychádza ich štvrtý album Nemesis.  Zatiaľ všetky ich počiny mali veľmi slušnú úroveň a tak som mala trocha obavy, či len rok po úspechu  They Never Say Die (2019), dokážu laťku udržať.
A vážne to dopadlo nad očakávanie dobre. Kapela sa podľa mňa jednoznačne stáva jednou z najlepších na súčasnej power metalovej scéne. Okrem záruky dobrej hudby je skvelou pozvánkou na vypočutie si aj zoznam hostí: Bill Hudson (NorthTale), Giacomo Voli (Rhapsody of Fire), Alessandro Conti (Trick or Treat/Twilight Force).
Platňa začína vo veľkom duchu a nedá vám ani chvíľu na vydýchnutie. Je to výbuch supernovy, zúrivý slnečný vietor, chvíľami neviete, čo skôr, či počúvať alebo jačať.
Valí sa to na vás zo všetkých strán, nezameniteľný hlas Tomiho Foolera, bicie, za ktorými sedí diabolsky dobrý Henry "Sydoz" Sidoti a gitarové umenie pánov Capellariho, Piletta a Stiacciniho, za ktorým by ste pokojne vliezli do práve prebudenej Stromboli. Táto muzika sa vpíše do mozgu a dostane sa vám priamo do krvi.
Nemesis je skvelý album, je plný hudby, ktorá je ako dobrý sex. Chcete viac a neželáte si, aby to skončilo.
Lineup:
Tomi Fooler – spev
Andrea Cappellari – gitary
Davide "Lord Dave" Piletto – gitary
Jack Stiaccini – basa
Henry "Sydoz" Sidoti – bicie
Hostia:
Bill Hudson – spev
Giacomo Voli – spev
Alessandro Conti – spev
Tracklist:
Prelude: Falling Galaxies (intro)
Brighter Than 1000 Suns
Will You Save All?
Nemesis
Starseeker
Cold the Night
Follow Me Home
Wake Up the Fire
Il tramonto delle ere
Arcana Opera
The NerdMetal Superheroes
Carry On
Rok vydania: 2020
Vydavateľstvo: Scarlet Records
Youtube ukážka:
Linky:
http://skeletoon.wix.com/main
https://www.facebook.com/skeletoonband
https://www.youtube.com/channel/UCg3eV4EdoNl8YUMvXunl3iQ
https://open.spotify.com/artist/7a0baRHhl8Vt2sm7LapvHC
Hodnotenie: 6/6