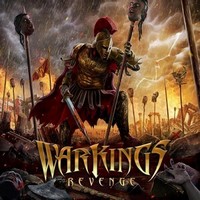 Máte radi historické ságy, príbehy o Rimanoch, Sparťanoch, Vikingoch či starobylých kráľoch a slávnych bojoch? Potom Warkings je zoskupenie pre vás. Štyria starí bojovníci – Viking, Spartan, Crusader a Tribune povstali a prichádzajú, aby už po druhý krát zaútočili na vaše ušné bubienky. Najnovší počin Revenge vydali posledný júlový deň tohto roka. K spolupráci prizvali aj Queen of the Damned (Melissa Bonny – Rage of light).
Revenge nie je síce inovatívny ani nijak výnimočný…. No v celku  je to slušný power metalový album, plný dobrej hudby a zaujímavých aranžmánov, ktoré zabezpečia poslucháčovi, unavenému touto bláznivou dobou pár chvíľ na odreagovanie.
Príbehy slávnych bitiek ožívajú pred vašimi očami, tak si rýchle vezmite brnenie, bratia v zbrani, boj začína. Budete čeliť démonom, bojovať za slávu svojho kráľa a svojich bohov. A keď omrzí biť sa za kráľa, povstane Kráľovná zatratených a kvôli nej sa už oplatí tasiť meč, nie?
Ak je niečo, prečo mám metal rada, sú to dobré gitarové riffy, skladby plné emócií a energie. A to táto novinka rozhodne má. Ak ste fanúšik Manowar alebo Freedom Call, určite sa vám bude páčiť.
Lineup:
Tribune – spev
Crusader – gitary
Viking – basa
Spartan – bicie
Tracklist:
Freedom
Maximus
Warriors
Fight in the Shade
Odin's Sons
Banners High
Mirror, Mirror
Azrael
Battle of Marathon
Warking
Rok vydania: 2020
Vydavateľstvo: Napalm Records
Youtube ukážka:
Linky:
https://www.facebook.com/warkingsmetal/
https://warkings.bandcamp.com/
Hodnotenie: 4/6