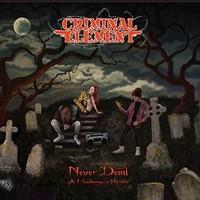 Obal majú ako Beastie Boys na cintoríne, ale sú to uctievači old school. Amíci Criminal Element. Ich album cover verzií síce vyšiel už skoro pred štyrmi rokmi, ale ku mne sa dostal až teraz. Myslím si, že nie je na škodu si ho pripomenúť.
,Kriminálnici' prinášajú najvyššiu poctu tým, ktorí mnohých inšpirovali až tak, že si okovali kožené bundy a vzali gitaru do svojich pazúrov. Oživili skladby z rokov 1979 – 2000 a zasalutovali štýlom ako heavy, thrash a death metal. Niektoré kompozície obohatili o vplyvy, ktoré v dobe ich vzniku ešte neexistovali, alebo neboli rozvinuté.
Zoznam songov je úctyhodný : Human Insecticide (Annihilator), Motorbreath (Metallica), Gangland (Iron Maiden), The Sentinal (Judas Priest), Walk Over You (AC/CD), Equal Rights (Nuclear Assault), Dead Mans Song (The Crown), Betrayer (Kreator), Enter Chaos (Edge of Sanity), Under The Influence / Who Tends The Fire (Overkill) a bonus track Snitch Bitch Homicide od ruskej kapely Fetal Decay.
Album drží pokope a hádam si tam každý nájde to svoje. Mojím favoritom je ,Zradca' od Kreator z albumu Extreme Aggression z roku 1989. Príjemné spomínanie.
Lineup:
Vince Matthews – spev
Maliq Emanuel – gitary, basa
Hostia:
Tracklist:
Human Insecticide (Annihilator cover)
Motorbreath (Metallica cover)
Gangland (Iron Maiden cover)
The Sentinal (Judas Priest cover)
Walk Over You (AC/DC cover)
Equal Rights (Nuclear Assault cover)
Dead Mans Song (The Crown cover)
Betrayer (Kreator cover)
Enter Chaos (Edge of Sanity cover)
Under the Influence (Overkill cover) / Who Tends the Fire (Overkill cover)
Snitch Bitch Homicide
Rok vydania: 2017
Vydavateľstvo: Samovydanie
Youtube ukážka: 
Linky:
https://www.facebook.com/CriminalElementDC
https://soundcloud.com/d-c-criminalelement-ny
Hodnotenie: 5/6