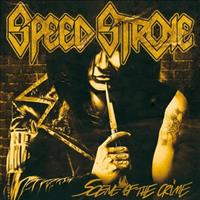 Speed Stroke je ďalšia formácia, ktorá dokazuje, že Taliansko v súčasnosti patri medzi krajiny s najsilnejšou rock/metalovou scénou. Minulý rok vydali svoj prvý full album Scene of the Crime.
Hneď v úvode jasne počuť záľubu chlapcov v 80-tkách (kapelách ako Skid Row). Ak budete poruvať ďalej si všimnete, že gitarista so zvláštnym pseudonymom D. B. sa vyrovná aj špičke ako R. Kotzen (Soul Punx). Okrem kvalitného gitarového ,,dvojzáprahu" a kvalitnej rytmiky kapela disponuje a spevákom, ktorý svoj hlas rozhodne nešetrí. Je dobrý aj v melodickejších skladbách , no taktiež vie kedy poriadne ,,pritlačiť na pílu".
Na CD nájdeme niekoľko ,,energických vypaľovačiek" (Heartbeat, Soul Punx, Red Eyes), ale aj kúsky ktoré by sa nestratili ani v hitparádach (existujú vlastne ešte nejaké) – trebárs Scene Of The Crime, No Love, poprípade balada One Last Day…
Scene of the Crime patrí medzi tie platne, ktoré by mal mať v zbierke každý vyznávač poctivého hard/sleaze rocku.
Lineup:
Jack – spev
D.B. – gitary
Michael – gitary
Fungo – basa
Andrew – bicie
Tracklist:
Heartbeat
Scene Of The Crime
After Dark
Soul Punx
No Love
Red Eyes
Out Of Money
Who Fkd Who
One Last Day
Hero No.1
Rok vydania: 2020
Vydavateľstvo: Street Symphonies Records & Burning Minds Music Group
Youtube ukážka:
Linky:
https://www.speed-stroke.com/
https://www.facebook.com/speedstroke/
https://www.instagram.com/speedstroke_official/
https://speedstroke.bandcamp.com/
Hodnotenie: 5/6
Páčil sa ti tento článok?