Čo robí gitarista Edguy?
7.8.2021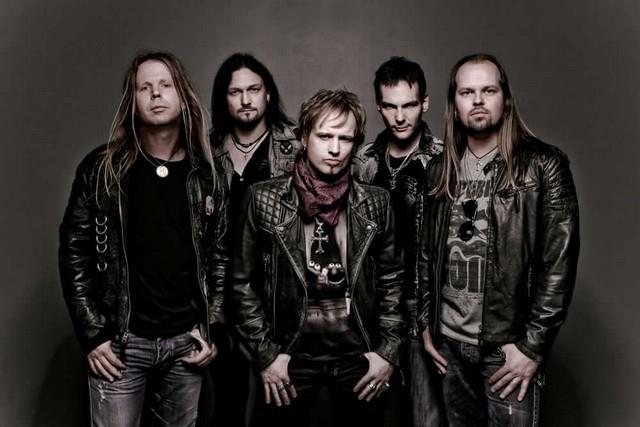 Vzhľadom na aktivity Tobiasa Sammeta s Avantasiou o kapele Edguy v poslednom čase nie je moc počuť. Gitarista Jens Ludwig však ohlásil novú aktivistu.
Začal spolupracovať so zoskupením The Grandmaster. Daná kapela je zatiaľ duo. Okrem Jensa je oficiálnym členom brazílsky spevák Nando Fernandes.
Prostredníctvom vydavateľstva Frontiers Music vydajú v októbri debutový album Skywards.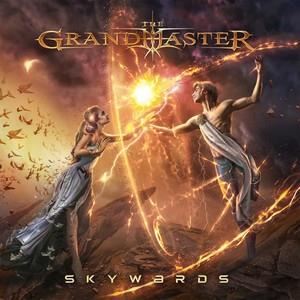 Tracklist:
Lunar Water
The Tempest
Someday Somehow
Dead Bond
Cannot Find The Way
Song Of Hope
Skywards – Earthwards
True North
Surrender
Turn The Page
The Source
Zatiaľ si však môžete vypočuť ich prvý singel Someday Somehow:
Album bol natočený v tejto zostave:
Nando Fernandes – spev, doprovodné vokály
Jens Ludwig – gitary
Alessandro Del Vecchio – basa, klávesy, doprovodné vokály
Mirkko De Maio – bicie
Linky:
https://www.facebook.com/TheGrandmasterBand/
https://www.facebook.com/J.Ludwig77
Zdroj: https://www.facebook.com/edguy
Massacre – chystaný album
6.8.2021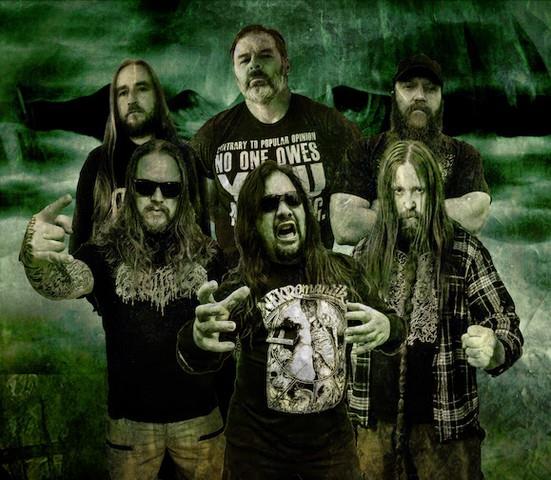 Dlhoočakávaný štvrtý album floridskej death metalovej legendy Massacre vyjde túto jeseň, 22. októbra. Jeho názov bude Resurgence. Predošlý počin Back from Beyond vyšiel ešte v 2014-tom.
Chystaný počin a prvý singel spevák Kam Lee okomentoval: ,,Je to o Lovecraftovii nie? Úprimne, naším cieľom boli dve veci: a) Vrátiť sa ku koreňom death metalu v štýle OSDM (Old School Death Metal) z konca 80-tok a začiatku 90. rokov. Hudobne si musí nahrávka zachovať retro štýl. b) Vrátiť sa k textom, ktoré čerpajú z príbehov a mýtov Lovecrafta. "
Tracklist:
Eldritch Prophecy
Ruins of R'Lyeh
Innsmouth Strain
Whisperer in Darkness
Book of the Dead
Into the Far-Off Void
Servants of Discord
Fate of the Elder Gods
Spawn of the Succubus
Return of the Corpse Grinder
Pozrite si video k prvému singlu The Innsmouth Strain:
Linky:
http://www.massacremetal.com/
https://www.facebook.com/Massacrefloridal/
https://www.instagram.com/massacre_band_official/
https://massacre3.bandcamp.com/
Zdroj: NUCLEAR BLAST – Arne Jamelle
Hjelvik – animovaný singel
6.8.2021
Partia okolo Erlenda Hjelvika zverejnila nový singel Synkverving. K nemu vznikol aj pekný animovaný videoklip. Ako hosťa tu môžete počuť Larsa Nedlanda z White Void a Boknagar.
Linky:
https://hjelvikmetal.com/
https://www.youtube.com/HJELVIKmetal
https://www.facebook.com/HJELVIKmetal
https://www.instagram.com/hjelvikmetal/
https://twitter.com/HJELVIKofficial
https://hjelvikmetal.bandcamp.com/
Zdroj: NUCLEAR BLAST Fabienne Zwicker
Skupina Secret Session vydáva nový album s názvom Dancing in the Liquid Light
8.8.2021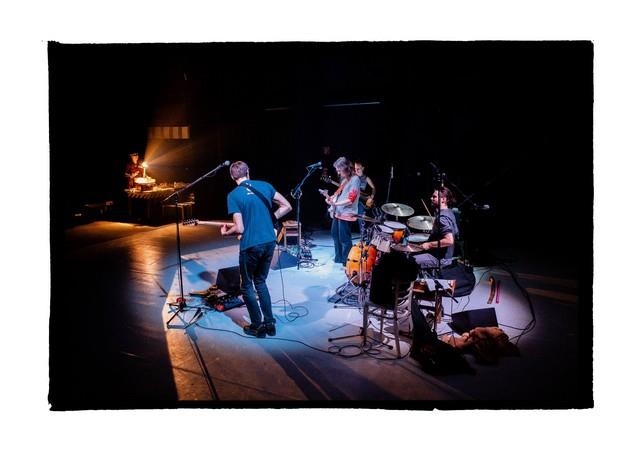 Druhý radový album skupiny Secret Session je výnimočný hneď v niekoľkých ohľadoch. Nevznikol v nahrávacom štúdiu, ale naživo pred obecenstvom v Banskej Bystrici za spoluúčasti medzinárodného umeleckého súboru Divadla Štúdio tanca.
Etablovaná kompánia (ktorú chcel svojho času ex župan Kotleba zrušiť…) a médium súčasného tanca sa ukázali ako funkčný a nenásilný nástroj, na rozšírenie/obohatenie silného obrazotvorného potenciálu hudby Secret Session.
6 profesionálnych tanečníkov z krajín ako Čile, Poľsko, Cyprus, Malajzia a Slovensko si na skladby kapely pripravilo pestré tanečné choreografie, ktoré pretkali teatrálnymi vsuvkami a spontánnymi improvizáciami.
Výsledkom bol synkretický živý zážitok spájajúci duch hudby, tanca, pohybu a v neposlednom rade výtvarného umenia. Vystúpenie totiž svojimi kúzelnými projekciami sprevádzala dvorná "meotaristka" skupiny Iva Macková. Mnoho z toho vidieť aj v klipe k piesni Emperor´s Daughter, ktorý plní funkcie reportáže z tohto večera.
S vedomím, že sa bude jednať o posledný koncert momentálnej zostavy sa skupina rozhodla toto rozlúčkové vystúpenie nahrať a vybraný materiál vydať v podobe novej dosky. Sú na ňom všetko predtým nepublikované skladby, ktoré nevyšli na prvotine Fish Flying.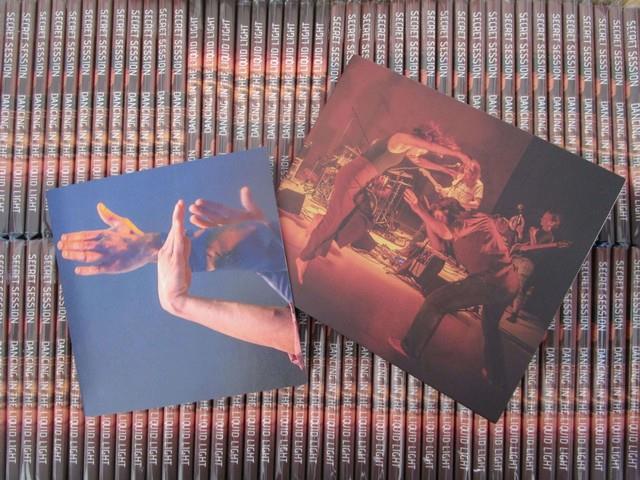 Na ploche 45 minút v siedmych rôznorodých piesňach skupina ponúka svoju autentickú zmes chytrej kompozície a improvizácie s dôrazom na melodickosť, atmosféru a feeling. Textovo sa piesne spievané po anglicky zaoberajú mnohými aktuálnymi témami a "krízami" – vzťahovou, morálnou, klimatickou, hodnotovou, systémovou…
Nič na nahrávke nie je dodatočne dohrávané, či prespievané, poslucháč tak môže počuť a zažiť skupinu čo najozajstnejšie.
Album skupina vydáva v spolupráci so začínajúcim lokálnymi vydavateľstvom Mesiac Records, ktorého zakladateľ Vigo Vigaš (ex Lunárne legendy, Regale) nahrávku zároveň s citom pre dynamiku a detail mixoval a mastroval.
Fyzicky album vychádza ako limitovaný CD digpicak s prekladmi textov a digitálne je dostupný na streamingových službách.
Paralelne s prácami na Dancing in the Liquid Light sa okolo kapelníka Pa(b)la Gajdoša sformovala nová zostava skupiny, zložená z hudobníkov rôznych žánrov (džez, bosa nova, punk, folk…) z Banskej Bystrice a okolia, kde má skupina momentálne svoj nový tábor.
Počas lockdownov tu "pod rúškom" vznikli a nahrávali sa ďalšie nové skladby, nenápadne obohatené o nové umelecké prvky a senzibility. Práve v tomto období už kapela finišuje posledné detaily nasledovníka "Dancing", ktorý sa bude pýšiť dvomi bicími sadami hranými súčasne, tromi gitarami a saxofónom. Celý proces z verejných zdrojov podporil Fond na podporu umenia.
Po niekoľkých letných koncertoch sa skupina pripravuje na jesenné klubové vystúpenia, na ktorých odznejú piesne zo všetkých troch albumov.
Linky:
https://www.facebook.com/secretsessionsk/
https://bandzone.cz/secretsession/
Videá súvisiace s albumom:
Klip Emperor´s Daughter: https://www.youtube.com/watch?v=ZPIv2N3zb3E
Album trailer: https://www.youtube.com/watch?v=GU8ObUry8sY
Tlačová správa