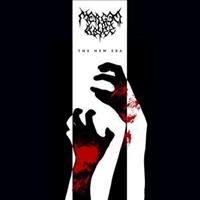 Black metal je štýl, ktorý ozaj nesadne každému. Ja osobne na neho musím mať tú správnu náladu. Asi je to touto dobou, že mám takú náladu stále častejšie.
Samozrejme aj u nás mame množstvo kvalitných zoskupení tohto typu. Dôkazom je aj prešovské duo Merged in Abyss. To nás koncom júla (presnejšie 23.) potešilo novinkou The New Era.
Nájdeme tu viac ako 52 minút mozogmiešajúcej zábavy. Parádne muzikantské nápady, dobre dotiahnuté zmeny rytmov, Nullusov hlas a celková vyšpičkovaná atmosféra vás dokonale zošrotuje.
Je to šialené, divoké a temné, je to perfektné. Depresívne piesne, černejšie ako Mariánska priekopa a nimi vykrištalizovaný hnev, ktorý vo vás vyhľadá najtemnejšie miesta a vy máte chuť minimálne niekomu nakopať zadok. Ale poriadne sa naštvať je občas fajn, prečistí to hlavu a človek nedostane žalúdočné vredy.
Slovenská metalová scéna skrýva veľa talentov. Dúfam z najtmavšieho dna mojej plesnivej duše, že o Merged budeme počuť stále častejšie.
Lineup:
Nullus – spev, gitary, bicie
Exanim – basa
Tracklist:
The Act of Dawnfall
The Devil's Prey
Initiate the Wretches
Skyless
Red Claws
Bloodfeast
And None Shall See…
Visions of a New World
The New Era
I Am the Universe!
Always Ready to Fuck
True Way (XXIV-XII cover)
Rok vydania: 2021
Vydavateľstvo: Last Throne Production
Full album:
Linky:
https://www.facebook.com/mergedinabyss/
https://mergedinabyss.bandcamp.com/
Hodnotenie: 5/6
Tretí album prešovských old school black/death metalistov Merged In Abyss nielenže nesie názov The New Era, ale aj znamená výrazný posun vpred.
Za projektom stoja multiinštrumentalista Nullus (Iria, Sik Salvation, Sordid Malice, Holorem, Fragments Of Earth, Constipation) a basgitarista Exanim.
Nový album je oveľa špinavší a dlhší ako jeho predchodca. Na ploche 40. minút ponúkajú Merged In Abyss 12 skladieb. Ich filozofia spočíva v zaoberaní sa všetkým zlým, čo existuje. Hudobne vychádzajú hlavne zo škandinávskej starej školy black a death metalu, ale ich nesmierne temná inšpirácia siaha ešte hlbšie, až kdesi k britským Venom.
Album má ponurý začiatok a nachádza sa na ňom čierna esencia všetkého zla, ktorý black metal za tie roky vyprodukoval. Kapela sa drží hlavne stredných temp, je melodická a atmosférická. Podľa mňa mohli tento materiál, ktorý rozpráva príbeh o sebadeštrukcii ľudstva, doviesť do veľkolepej psychedélie.
Merged In Abyss opäť vsadili na princíp, že v jednoduchosti je krása a myslím, že tentokrát je výsledok ešte lepší. Vhodné pre priaznivcov Satyricon, Marduk, Emperor, Watain, Myrkskog, Entombed, The Wretched End, alebo Bloodbath.
Hodnotenie : 4.5/6