V praze v klubu Vagon jsem zašel se podívat na tři bandy z žánru melodického metalu. Jsou to Rebel, Rosa Nocturna a Donor. Tyto kapely zde ve čtvrtek 7. října zahájily svoji mini-tour, kterou pojmenovali Melodic metal night.
Začátek
Jak už bylo řečeno, první zastávka proběhla v pražském Vagonu. Jako první vystoupili heavy power metaloví Donor. Svůj padesátiminutový set zahájili pěkně zostra peckou Poslední oheň, dým se valil z pódia a posluchači se velmi rychle dostali do metalové nálady.
Kromě osvědčených klasik jako jsou skladby Létám dál, Libera nos domine a Černá vlajka, představila parta ze Vsetína také několik novinek, které se objeví na připravovaném albu. Z nich si největší pozornost vysloužila ryze power-metalová sypanice Lovec, v jejímž refrénu se hlavní zpěv umně střídá se sbory ostatních hráčů.
Frontman Donoru Jožka Fritschka si publikum podmanil. Celý koncert fanoušky nenechali vydechnout, kapela hrála jednu pecku za druhou.
Pokračování
Jako druzí se představili Rebel. Trochu tradičnější power metal ovšem s říznými kytarovými riffy. Svůj set odstartovali známými peckami Znamení draka a The Savior. Lehké zvolnění přišlo s melodickou Zakletou, kterou najdete na jejich nejnovějším počinu Trinity of Inspiration.
První polovina vystoupení se nesla v duchu kytarových dvouhlasů a fantasy témat, zabředající místy do severské mytologie. Ve druhé polovině Rebel znatelně přitvrdil. Nad vzletnými melodiemi začaly převažovat kousavé riffy a čistý zpěv místy začal střídat growling.
Došlo tak k příjemné gradaci, kdy před samotnou finální Within Demons kapela představila novinku "Escape", kde metal-corové prvky byly již více, než znatelné. Jelikož frontman Adam Ironstrike je jak zpěvák, tak kytarista, neměl tolik prostoru na práci s publikem. V tom mu ovšem výborně vypomáhal baskytarista Johny Shredder, který si blbinek užil dosytosti. Nejednou se ocitl i pod pódiem, aby tam obveselil přítomné fanynky.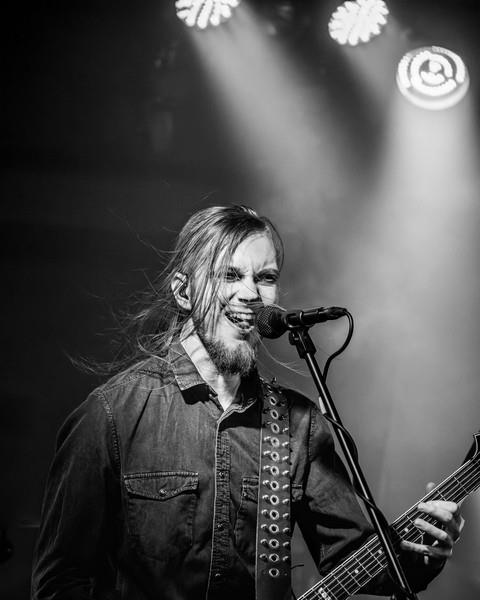 Zlatý hřeb večera
Večer ukončila brněnská Rosa Nocturna. U nich se naopak na pódiu během koncertu vystřídaly dvě zpěvačky a zpěvák, takže o zábavu bylo postaráno. Táto formace má svůj repertoár více rozmanitější, než měly předchozí dvě kapely a i ze setu to bylo znát.
Jako první představila kapela Světlonoše, povedený otvírák jak živého setu, tak jejich nejnovějšího alba Andělé a bestie. Rosa Nocturna šikovně skloubila tvrdé songy s pomalými baladami, kdy střednětempou Padám vystřídal Strach, pohrávající si s temnější atmosférou.
Došlo také na chytlavého Lékárníka i muzikálové Krkavce, ve kterých své čisté hlasy prostřídali Mathias Novak a Viktorie Surmøvá s growlem kytaristy Petra Vosynka. Stejně jako dvě předchozí kapely, také jedna ze skladeb Rosy Nocturny měla tento večer premiéru, a to skladba Touhy v mlze.
Ačkoliv kapelník Tonda Buček před začátkem songu upozornil, že se jedná o "hlavolam", poradila si kapela s náročnější kompozicí songu na jedničku. Duet Mathiase a Anety Zatočilové jako druhé zpěvačky, byl v Touhách pomyslnou třešničkou na dortu. Svůj metalový valčík zakončila Rosa Nocturna epickou metalovou symfonií Dimitto tibi.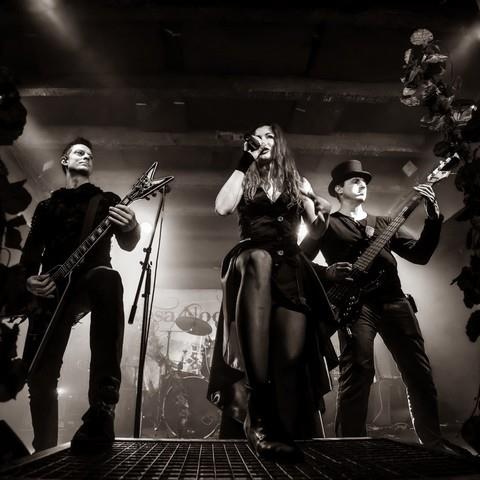 Konec
Tento metalový večírek skončil po půlnoci. Všichni fanoušci včetmě mě spokojení, členové kapel očividně propocení. Jak bude možnost, určitě zasa na tyto kapely, ať už dohromady nebo zvlášť, zase zajdu.
Foto: https://www.instagram.com/lux.praguensis/