Na tento koncert sa dlho čakalo. Mal prebehnúť už pred rokom, ale kvôli lockdownovým opatreniam bol presunutý. Teraz po uvoľnení išlo asi o prvú akciu. A ľudia nie sú zvyknutí niekam chodiť a tak sa na túto skvelú akciu nakoniec na počudovanie dostavila len asi stovka fanúšikov. Koncert začal vystúpením pre mňa neznámej skupiny Marhalen z Bratislavy s oneskorením asi o trištvrte na sedem.
Marhalen sú sympatická pätica, ale prvých pár piesní som si s nimi nevedel rady. Koncert mal v názve heavik a Marhalen hrali prapodivnú, ale dobrú kombináciu pop rocku, folku, hard rocku, punku a občas aj kabaretných melódií. Postupne si ma získali silnými melódiami a hravými textami.
Na začiatok koncertu veľmi príjemná záležitosť, ktorá by mala šancu na oslovenie viacerých ľudí ak v budúcnosti zapracujú na väčšej rytmickej zohranosti. Rozhodne ich budem sledovať.
Na rad prišla znovuzrodená legenda slovenského power speed metalu z deväťdesiatych rokov, Runner zo Spišskej Novej Vsi. Zvuk sa veľmi zlepšil a kapela šliapala od začiatku veľkou silou. I keď niekedy nie úplne najpresnejšie. Čo ale skoro vôbec nevadilo. Po toľkých rokoch na to majú vlastne aj tak trochu právo.
Moderný zvuk gitár celý ich program zhutnil a dal priestor fantastickému spevu Žanety Gužákovej. Rýchle dvojkopákovky striedali strednotempové pecky a došlo aj na baladu. Skladby som poznal z mladosti, keď som mal doma ich demá. Veľmi silný koncert, čo som ani nečakal. Veľká nádej do budúcna.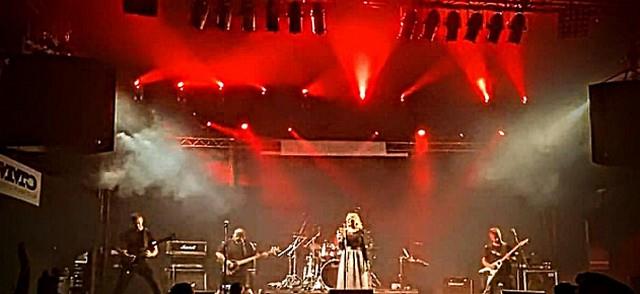 Po prestavbe pódia sa objavila plachta Makar Čudra a pod svetlá reflektorov nastúpil legendárny gitarista a autor Ivan Kutný v klasickom Makar Čudráckom červenom kabáte. Začal hrať intro a neskôr sa pridala kapela. Prvá skladba bolo tvrdé pomalé boogie Ako Fénix.
Celá kapela hrala fantasticky a nový spevák Harvey spieval perfektne. On bol ten najočakávanejší, pretože postaviť sa tam na miesto Petra Slivku, alebo Otta Weitera už musí byť záruka kvality. Ale ľudia sa nevyhnú zrovnávaniu a prvá možnosť na zrovnávania prišla v druhej power metalovej Žobrák. Tú Harvey zaspieval ako z CD. A v tomto duchu pokračoval celý koncert.
Okrem toho sa Makar prejavili aj ako showmani. Došlo na všetky zľudovelé hity a na konci samozrejme na vec najočakávanejšiu, hit hitov Strigy na Sabbath a ešte prídavok Vrtká.
Čo ma zamrzelo, že nezaradili do programu nič z deväťdesiatych rokov. Tie skladby tiež stoja za pozornosť. A zvuk sa pri ich koncerte ešte zlepšil, ale všade prítomný efekt hallu na gitarách po chvíľke vadil a uberal na tvrdosti a sile. Návrat sa vydaril nad všetky očakávania.
Skvelý večer na profesionálnej úrovni a pre mnohých hodne emotívny. Len keby ľudia vstali od televízorov a vyrazili aj napriek situácii na kultúru. Takéto kapely si to rozhodne zaslúžia.
A na záver ešte jedna výčitka. V MMC bolo na pódiu toľko umelého dymu, že sa v podstate ani nedalo fotiť. Škoda takej pamiatky.