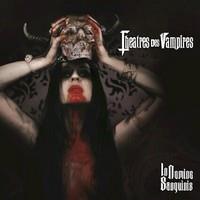 Talianska kapela Theatres des Vampires po svojom vzniku v roku 1994 začínala melodic black metalovým štýlom.
Po čase tento štýl opustila a dnes sú všeobecne považovaní za jedného z priekopníkov kombinácie black a gothic metalu, spolu s Moonspell a Cradle of Filth.
Vo svojej hudbe sa zameriava na vampirizmus a tejto téme sa venuje aj na novinke In Nomine Sanguinis, ktorá vychádza po dlhšej odmlke 19. novembra 2021.
V desiatich skladbách so zaujímavými aranžmánmi sa metalové riffy miešajú s pomerne výraznými elektronickými prvkami. Niektoré texty z pera Sonye, majú pôvod v Goetheho "The Bride of Corinth" či Crawfordovom "For the blood is the life".
Hudobne je to možno viac symfonický metal ako gotický. Sonya má ozaj výborný hlasový rozsah a slušný herecký talent, takže nemáte veľký problém uveriť, že vás tá žena dokáže poblázniť a potom vám vysať krv do poslednej kvapky.
Temná upírska opera plná nebezpečných náznakov a desivých predstáv vás celkom vtiahne. Vyľaká vás každý zvuk krídel a každý krok v opustených hradných múroch, nikdy neviete, či tá hmla, ktorá práve padá, je skutočná, alebo si hladný vampír vybral vaše hrdlo ako svoju večeru.
Zaujímalo by ma, čím sú upíri pre nás vlastne takí príťažliví? Určite by sa o tom dali napísať hory psychologických štúdií, ale možno si radšej pustite týchto talianskych upírov, nechám to na vás.
Lineup:
Sonya Scarlet – spev
Flavio Gianello – gitary
Zimon Lijoi – basa
Gabriel Valerio – bicie
Tracklist:
Death in Venice
Endless Darkness
Christina
The Bride of Corinth
Lady Bathory
My Cold Heart
In Nomine Sanguinis
Golden Cage
The Void Inside
Till the Last Drop of Blood
Rok vydania: 2021
Vydavateľstvo: Scarlet Records
Youtube ukážka:
Linky:
https://www.facebook.com/TheatresDesVampires/
https://www.instagram.com/theatresdesvampiresofficial/
Hodnotenie: 4/6