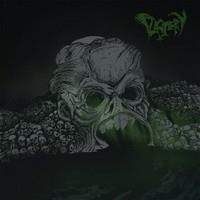 Debutové EP zvolenskej pätice spoločenských vydedencov Plastery nesie jednoduchý názov From A Dark Grave… .
História tejto kapely je dosť nejasná, zahalená do hmly neoverených faktov. Svoju činnosť zahájila pravdepodobne v roku 2012. Chalani definujú sami seba ako slizkých rozkladajúcich sa upírov, ktorí lovia mimozemšťanov a uctievajú hororový death metal.
Aj podľa artworku je zrejmé, že Plastery uctievajú staré časy, ale nesnažia sa ich striktne kopírovať. Album má optimálnu dĺžku, necelých dvadsaťosem minút a je plný jednoduchých, ale úderných riffov a všetkých klasických deathmetalových temp.
Túto osvedčenú zmes dopĺňa riadne hlboký growl a spestrujú ju občasné sóla a melódie. Aj keď je to číry starožitný old school, tento spolok sa ho snaží obohatiť svojskou originalitou a to je celkom potešujúce. Texty sú, ako inak, o cintorínoch, kostrách a mŕtvolách.
Myslím si, že Plastery sa pri nahrávaní dobre bavili a predstavujú sľubný potenciál.
Lineup:
Petrof – gitary
Derrick O'dell – gitary
Doktor Mucus – basa
Etan D. Brain – bicie
Tracklist:
Enter the Tomb of No Return
Headless Party
Under the Escalator
Park Full of Skulls
Skeleton Train
Skull of Plastery
Moshing Skeletons Under the Stage
Monster of the Sewers
Vo Vesmíre
From a Dark Grave Right unto Your Table
Rok vydania: 2016
Vydavateľstvo: Samovydanie
Youtube ukážka:
Linky:
https://www.facebook.com/plasteryzv/
https://bandzone.cz/plasteryzv/
https://plastery.bandcamp.com/
Hodnotenie: 4/6