Amorphis avizovali nový album 
4.11.2021
Tento rok vyšiel sólo debut Esu Holopainena. No Esu nezabúda ani na svoju domovskú kapelu.
Halo, nový album Amorphis, vyjde 11. februára 2022 pod hlavičkou Atomic Fire Records.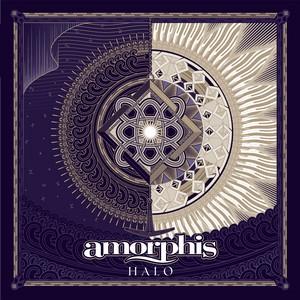 Tracklist:
Northwards
On The Dark Waters
The Moon
Windmane
A New Land
When The Gods Came
Seven Roads Come Together
War
Halo
The Wolf
My Name Is Night
To, že stále môžeme tvoriť hudbu ako kapela, je skvelý pocit. Určitý druh sebakritiky a dlhoročné skúsenosti pravdepodobne vyvrcholili v posledných albumoch. Halo znie prístupne a zároveň ináč… – hovorí Esa Holopainen.
V minulosti legendy a mytológia plnili úlohu dnešnej popkultúry. Tým, že Amorphis premietli do svojich piesní fínsky národný epos Kalevala a interpretovali ho nadčasovým spôsobom, spájajú úlohy starých bardov a moderných umelcov.
Linky:
http://www.amorphis.net/
https://www.facebook.com/amorphis/
https://www.instagram.com/amorphisband/?hl=en
https://www.youtube.com/user/amorphisofficial
Zdroj: Markus Wosgien – Atomic Fire Records, Foto: Sam Jamsen Studio
Bonded – chystaný album
4.11.2021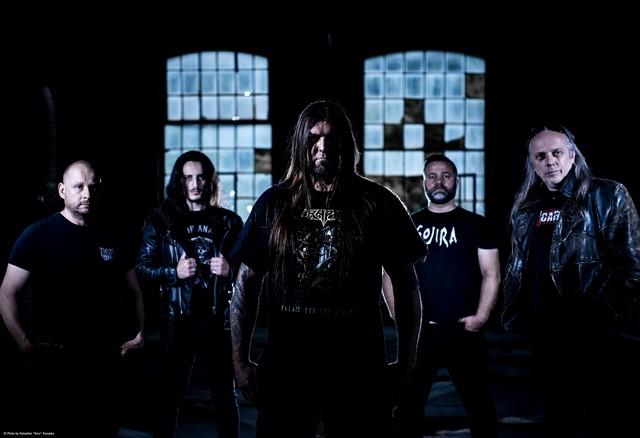 Nemecká thrash metalová kapela Bonded, založená bývalými členmi Sodom – gitaristom Bernemannom a bubeníkom Markusom Freiwaldom, vydá 12. novembra nový album Into Blackness.
Tracklist:
The Arsonist
Watch (While The World Burns)
Lilith (Queen Of Blood)
The Holy Whore
Division Of The Damned
Into The Blackness Of A Wartime Night
Destroy The Things I Love
Final Stand
Ill-Minded Freak
Way Of The Knife
The Eyes Of Madness
Humanity On Sale
Will To Survive
Linky:
https://www.facebook.com/bondedofficial/
https://www.instagram.com/bondedofficial/
https://www.youtube.com/channel/UCi2wCDL5RZY7a6d80E9mHEA
Zdroj: Century Media
Melissa s novým klipem
1.11.2021
Kutnohorská Melissa vypouští nové, zatím nejvýpravnější video k letošnímu albu Folk.
Tentokrát si jeho realizaci písničky Šašek vzala na starost především zpěvačka Melissy Lucka Strnadová, která chtěla zpracovat svou vizi a tak napsala scénář a obstarala hereckou výpomoc členů Ochotnického spolku Matouš z Ratají nad Sázavou, i prostředí ratajského zámku, kde se klip natáčel ve spolupráci se společností Cinex production, za kterou stojí další šikovný kutnohorák Lukáš Petránek.
Album Folk je k dostání na webu skupiny a brzy bude i na všech digitálních platformách.
Další novinky Melissa chystá.
Linky:
https://melissamusic.cz/
https://www.facebook.com/melissa.officialsite/
https://bandzone.cz/melissakutnahora/
https://www.youtube.com/channel/UCIfIK1CQvra37aVG1Jsn4vA/
https://www.instagram.com/melissa_kh_official/
Zdroj: Peter Kohoutek
Vychádza nový slovenský horor KRIAKY inšpirovaný dielami Stephena Kinga a H.P. Lovecrafta
3.11.2021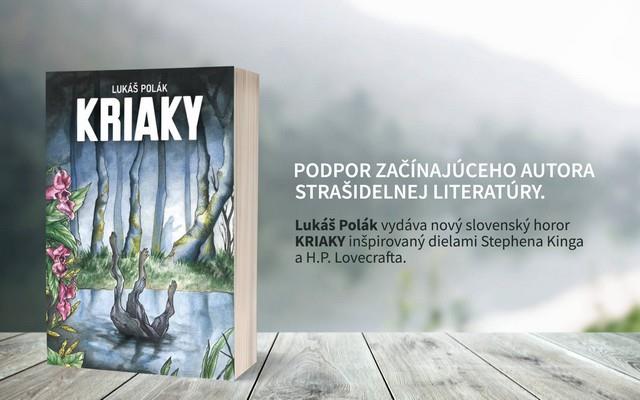 Podpor začínajúceho autora strašidelnej literatúry. Lukáš Polák vydáva nový slovenský horor KRIAKY inšpirovaný dielami Stephena Kinga a H.P. Lovecrafta.
O čom bude?
Kniha rozpráva príbeh o záhadnom jazere v dedine Kriaky, ktoré má nepriaznivý vplyv na jej obyvateľov a postupne ich mení na neľudské bytosti. Autor tu spája prvky typické pre dvoch hororových velikánov.
Dedinka plná bizarných postáv, kriminálna zápletka a mysteriózna atmosféra ako od Stephena Kinga a príšery z temných svetov, aké nájdete len v dielach majstra H.P. Lovecrafta. Spojením týchto dvoch svetov vzniká jedinečný príbeh, ktorý nielen zaujme a vystraší, ale aj pobaví.
Príbeh otvorí bežný obyvateľ dediny Kriaky – Sedloš Gusto
Ten verí rôznym poverám spájajúcim sa s jazerom. Jedného dňa sa počas práce pri jazere namočí do jeho vôd a od toho okamihu sa mu začnú diať nevysvetliteľné veci.
Druhým oknom do deja je mladá a vždy vysmiata Ester, ktorá rada maľuje obrazy detí. Na svoju minulosť v dedine Kriaky zabudla až do momentu, kedy namaľovala najčudnejší obraz svojho života.
Treťou postavou, ktorá tvorí dej, je hulvátsky detektív Rúfus.
Počas svojho pôsobenia v polícii sa nevedel ovládať a bol prepustený, no kariéru sa rozhodol obnoviť vo vlastnej detektívnej agentúre. Jedného dňa k nemu zavíta extravagantná dáma, ktorá mu ponúkne bohatý honorár za to, aby zašiel do jej rodnej dediny Kriaky a vypátral zmiznuté mŕtve telo jej dcéry.
Viac už objavíš sám v dedine KRIAKY.
Link na predpredaj diela KRIAKY: https://www.startlab.sk/projekty/2456-horor-kriaky-inspirovany-dielami-stephena-kinga-a-hp-lovecr/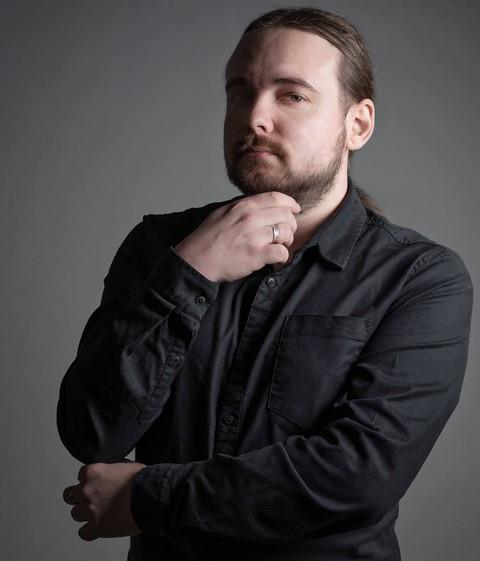 Kto je Lukáš Polák?
Cesta Lukáša Poláka ako autora sa začala už v ranom veku. Prvý pokus o tvorbu prišiel keď bol ešte žiačik a napísal ilustrovaný príbeh o pirátoch a stratenom poklade. Tých malých komiksov bolo viacej a dokonca raz vytvoril desať stranovú verziu pokračovania Halloween, kde Micheal Myers dostane konečne Laurie.
Teraz už vážne
Nádejný autor hororu začal písať už pred ôsmimi rokmi, vtedy pre neznámy webzine – In Vivo magazín, kde rozoberal vznik rockovej hudby. Táto skúsenosť ho posunula do webzinu – metalexpress.sk, pre ktorý aktívne písal nasledujúce štyri roky.
Popritom dostal ponuku písať pre najväčší česko-slovenský časopis o rockovej hudbe – Rock Hard, ktorú prijal a strávil v redakcii dva roky. Časom začínal mať pocit, že by to chcel skúsiť po svojom a tak v roku 2016 založil vlastný portál – Hlukoskop.sk, kde je už piaty rok šéfredaktorom.
V redakcii sa zameriavajú výlučne na slovenskú rockovo-metalovú scénu a ich portfólio, popri videách zo skúšobní kapiel, tvoria rozhovory s kapelami, novinkové články, reportáže z koncertov alebo PR články k koncertom alebo k novým albumom.
Pred troma rokmi, po dlhej dobe uvažovania, sa opäť v ňom prebudila túžba po písaní beletrie. Už od strednej školy prechováva lásku ku hororom, najmä ku tvorbe Stephena Kinga a H.P. Lovecrafta, tak sa rozhodol pokračovať v ich šľapajach a začal písať poviedky v tomto duchu.
Pravidelne sú zverejňované na stránke scifi.sk. Na tomto portáli zameraného na fantastiku (sci-fi, fantasy a horor) je súčasťou redakcie a aktívne píše recenzie na hororové diela.
Na jar minulého roka mal vďaka korona kríze dostatok času a tak sa rozhodol napísať dlhšie dielo KRIAKY, ktoré dnes môžeš podporiť a zároveň si ho predobjednať.
Aktuálne pracuje na ďalšej knihe, ktorá bude dejovo nezávislá od diela KRIAKY, no bude tiež niesť prvky hororu a taktiež tvorí nové poviedky, ktoré sú pravidelne zverejňované na scifi.sk.
Kde nájdeš Lukáša Poláka?
Facebook: https://www.facebook.com/lukaszkriakov
Instagram: https://www.instagram.com/lukas_z_kriakov/
Link na predpredaj diela KRIAKY: https://www.startlab.sk/projekty/2456-horor-kriaky-inspirovany-dielami-stephena-kinga-a-hp-lovecr/
Tlačová správa