Metal Church – second single & visualizer video released
28. April 2023
US thrash metal veterans Metal Church have released another song from their upcoming 13th studio album, Congregation of Annihilation.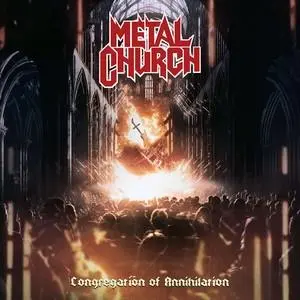 Tracklist:
Another Judgement Day
Congregation of Annihilation
Pick A God and Prey
Children of the Lie
Me The Nothing
Making Monsters
Say a Prayer with 7 Bullets
These Violent Thrills
All That We Destroy
My Favorite Sin (Bonus Track)
Salvation (Bonus Track)
The new track "Making Monsters" puts the musicianship of new vocalist Marc Lopes, founding guitarist Kurdt Vanderhoof, guitarist Rick Van Zandt, bassist Steve Unger and drummer Stet Howland on full display in 2023.
About "Making Monsters," Kurdt Vanderhoof comments:
"Keeping with the Metal Church tradition of combining the heavy and aggressive sound of thrash metal while injecting a good dose of melody and hooks, 'Making Monsters' is a track that showcases what we have done for over 30 years. It has the comfort of old school Metal Church while showcasing how our signature sound has evolved. The band is firing on all cylinders."
Marc Lopes adds:
"Just a dark, creepy, heavy ass driving tune that is lyrically based from the book Making Monsters: The Uncanny Power of Dehumanization by David Livingstone Smith – a truly terrifying read. It's based on actual real-life research. The dehumanizing of others that transforms them into something so terrifying that they must be destroyed. Deep, philosophical and psychological stuff here, just another day in my train of thought." 
Congregation of Annihilation is scheduled for release on May 26th via Rat Pak Records (America) and Reaper Entertainment (Europe). The features nine all new tracks from Metal Church and continues to build upon their iconic sound the band established over three decades ago.
Infused with intelligent lyrical content, thundering guitar riffs, and Marc's aggressive soaring vocals, Congregation of Annihilation furthers the band's sonic evolution up to the next level and is guaranteed to enthrall metal music fans around the world.
From the first guitar riff of album opener "Another Judgement Day" through the driving outro of album closer "All That We Destroy," it is clear Metal Church is back and better than ever. "Congregation of Annihilation," "Children of the Lie"  and "These Violent Thrills" showcase the sonically charged songwriting that made the early Metal Church albums such fan favorites.
The first single:
Pick A God and Prey: https://youtu.be/ujYNQz6qwNg
Links:
http://metalchurchofficial.com/
https://www.facebook.com/OfficialMetalChurch
https://www.instagram.com/metalchurchofficial/
Source of Information: Gregor Rothermel
Swedish Melodic Metal Act, dEMOTIONAL, Premieres New "Boiling Point" Lyric Video!
28. April 2023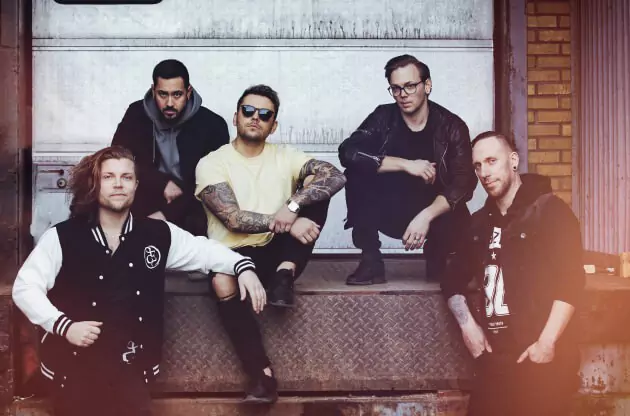 While Swedish modern melodic metal outfit, dEMOTIONAL, is currently gearing up to reissue their latest, much acclaimed masterpiece album Scandinavian Aftermath, due out on May 26, 2023 via AFM Records.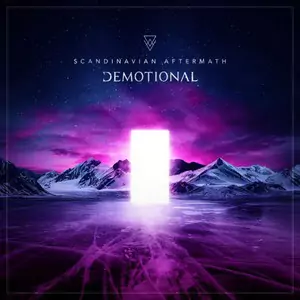 Tracklist:
Scandinavian Aftermath
Bärsärk
My Own Enemy
My Heart (Feat. Matt Guillory & Jenny Fagerstrand)
S.O.A.K
Cornered
All That I Knew
Young Wolves
Boiling Point
Typhoon
Northern Star
Fear Of Success
Don't Wake Me Up
Close Yet Far
Lost in This City
Everbound
This day  the band has shared a brand new lyric video for the song "Boiling Point":
Links:
https://www.demotional.net/
www.facebook.com/dEMOTIONALband
www.instagram.com/demotional
www.afm-records.de
Source of Information: Mona Miluski – All Noir
Kaledon – Line-Up, incl. ex- & new member!
27. April 2023
Renewed Power-Team 2023!
Fresh wind in the fortunes of the formation around axeman Alex Mele now bring two ex-members:
Singer Marco Palazzi and drummer David Folchitto.
New in the line-up of the Italian Power Metallers, however, is guitarist Francesco Ciancio:
Francesco's musical career began as a child. Introduced to the world of music by his father, himself a guitarist, Francesco admired and studied the great guitar heroes since his early years, eagerly imitating their stage gestures and playing postures.
When he was 6 years old, he began to take an interest in classical guitar and Rock guitar. At the age of 11, he was finally accepted into the Conservatorio Santa Cecilia in Rome. Here he earned a master's degree in classical guitar in October 2020, while developing a passionate interest in the electric guitar.
He has already performed all over the world as both a classical and electric guitarist. Francesco also boasts active participation in various musical projects spanning many different genres. He has been fortunate enough to share the stage with high-profile musicians such as Mike Mangini, John Macaluso and Gus G. He is constantly studying new techniques.
He is currently taking a specialization course in pop guitar at Saint Louis College of Music.
The retired band members Michele Guaitoli, Tommy Nemesio, Paolo Campitelli and Manuele di Ascenzo left KALEDON to be able to realize 100 % with their own new projects.
Thus reinvigorated, the new KALEDON will soon be working diligently together on more new compositions! STAY TUNED!
Links:
www.kaledon.com/site/index.html/
https://www.facebook.com/T9999992/
https://www.instagram.com/kaledon/
https://www.youtube.com/kaledon
Source of Information: METAL MESSAGE
German Speed Metal Band KNIFE Signs Worldwide Contract with Napalm Records! New Album to be Released in 2023!
25. April 2023
German speed metal outfit KNIFE have inked a worldwide contract with Napalm Records! The quartet hailing from Marburg (Hessen) have finished recording their second album of speed metal spiced up with black metal and punk influences – set to be released in 2023.
Formed in 2019, the up-and-coming band released their self-titled debut album, Knife, in 2021 after putting out two demo tapes, and EP Sounds of Sacrifice swiftly followed in 2022. KNIFE have already established their standing in the scene with their acclaimed first releases and energetic live performances! Currently, the band's packed live schedule features an impressive list of metal festivals – including German metal institution Wacken Open Air, as well as Rock Hard Festival.
KNIFE comments on the signing:
"Bangers! We are proud to announce that we've joined forces with the Austrian metal fanatics at Napalm Records! The deal is done, signed and sealed in blood! The new album will be unleashed this year, bringing you an overdose of skull splitting METAL! Together we will take the world by storm! Be prepared – we will strike!"
Sebastian Münch, A&R, Napalm Records states:
"We are super happy to partner with such a talented speed metal band from Marburg (Hessen), Germany!
After listening to the new studio album, I am convinced the band will surprise and delight all heavy metal fans. I would like to thank Florian Grill of Dying Victims Productions for discovering such a talented band and the partnership with us!"      
Stay tuned for a first taste of KNIFE's sophomore album!                                                                                                                                                 
Links:
https://www.knifeofficial.de/
https://www.facebook.com/knifeofficial.de
https://www.instagram.com/k.n.i.f.e.official/
Source of Information: Napalm Records, Foto: Samira Chiara Tax