ANGRA – launch music video for new digital single Ride Into The Storm
4. August 2023
"Saddle" your ears as Brazilian progressive power metal legends ANGRA 'Ride Into The Storm' with us this day! After unveiling further details alongside launching pre-orders for new album »Cycles Of Pain« last week, the band finally present the first digital single off the record. ANGRA's new song has also been captured visually by a team led by Leo Libert. The official music video in support of the forthcoming album, which will be released on November 3, 2023 through Atomic Fire Records, can be viewed via the link below.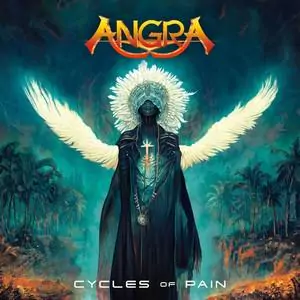 Tracklist:
Cyclus Doloris
Ride into the Storm – Show lyrics
Dead Man on Display
Tide of Changes – Part I
Tide of Changes – Part II
Vida Seca
Gods of the World
Cycles of Pain
Faithless Sanctuary
Here in the Now
Generation Warriors
Tears of Blood
Watch the first single Ride into the Storm:
The band state:
,,Ride Into The Storm is a relentless and aggressive piece that captures the essence of ANGRA's style. With its fast-paced tempo and modern flair, the song retains the band's distinct DNA while delivering intricate and technically challenging passages; the fusion of traditional and progressive elements pushes the boundaries without sacrificing the band's signature style. 'Ride Into The Storm' is one more step in ANGRA's evolution, embodying aggression, speed, modernity, and ability in one cohesive and engaging package. The lyrics take us on a powerful and transformative journey, portraying the duality within us as we face both challenges and opportunities. Amidst division and adversity, we find the strength to evolve and grow. Guided by hope and a thirst for truth, we embark on a new crusade, united as warriors of change. With unwavering determination, we fearlessly confront the chaos, embracing transformation and forging our own destiny. The storm becomes our ally, propelling us forward as we ride towards a brighter future."
Links:
http://www.angra.net/
https://www.facebook.com/AngraOfficialPage/
Soruce of Information: Barbara Francone – Atomic Fire Records
GREEN LUNG Announce New Album "This Heathen Land"
4. August 2023
The UKs finest purveyors of occult rock, GREEN LUNG, have revealed the details of their highly-anticipated third album This Heathen Land, that will be released on the November 3rd via Nuclear Blast Records. Alongside the announcement comes the first taste of the record, in the form of single 'Mountain Throne', a conflux of pyrotechnic guitar work and thrilling hooks.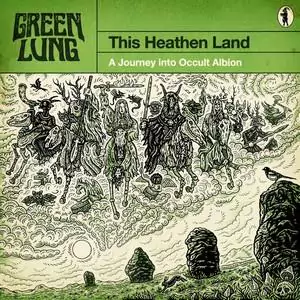 Tracklist:
Prologue
The Forest Church
Mountain Throne
Maxine (Witch Queen)
One for Sorrow
Side B
Song of the Stones
The Ancient Ways
Hunters in the Sky
Oceans of Time
Hear the first single:

Tom continues: ,,'Mountain Throne' was the first song we wrote for the album, and feels like a natural bridge from the old Green Lung to the new. We've always been inspired by the story of the Pendle Witches, and such an iconic subject required an epic rallying cry of a song – we hope that we've done these folk heroes justice!""
Linky:
https://greenlung.co.uk/
https://www.facebook.com/greenlungband/
https://www.instagram.com/greenlungband/
https://open.spotify.com/artist/2MIoyDjdxCUdnV59UqbJGk
Soruce of Information: NUCLEAR BLAST – Arne Jamelle
THEOCRACY – join Atomic Fire Records family
3. August 2023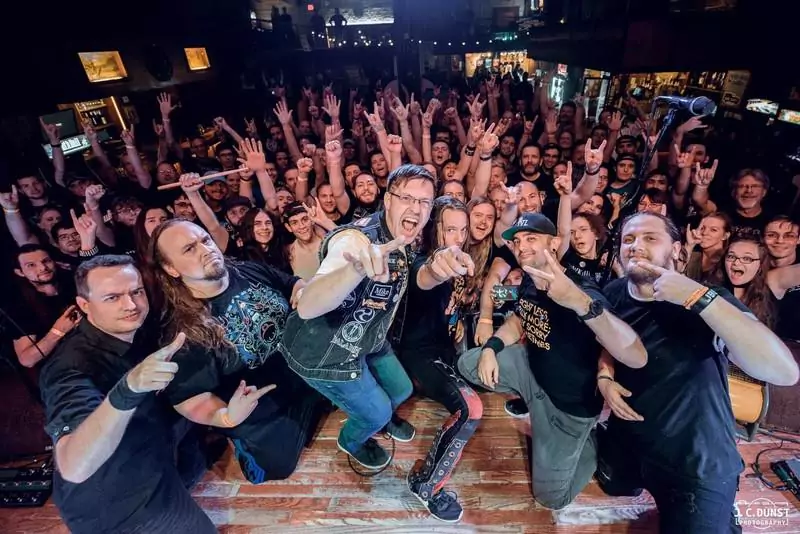 Atomic Fire Records is massively proud to join forces with Athens, Georgia based progressive power metal five-piece THEOCRACY. Formed in 2002 to spread their majestic metal in the likes of STRATOVARIOUS, SONATA ARCTICA and SYMPHONY-X, THEOCRACY released four critically acclaimed studio albums, building a loyal fanbase as well. Now teaming up with Atomic Fire Records, the band consisting of Matt Smith (lead/backing vocals), Ernie Topran (drums), Jared Oldham (bass/backing vocals), Jonathan Hinds (guitars/backing vocals) and Taylor Washington (guitars/backing vocals) are more than ready to take THEOCRACY to the next level.
Vocalist Matt Smith comments, "We are thrilled to be members of the Atomic Fire Records family. From our first meeting, it was obvious that they've loved and supported our music for many years, long before there was a possibility we might work together. This personal touch was very important to us, and combined with their impressive roster featuring some of our favourite bands, we are so excited to work together for this new album release and beyond!"
Atomic Fire Records A&R Markus Wosgien enthuses, "We're more than happy to welcome THEOCRACY to the Atomic Fire Records family! With their latest album »Ghost Ship,« the band created a milestone in power/progressive metal history and I remember very well that I had the CD on endless rotation in my car for several years – and it keeps blowing me away. It's just one of those records which you'd pick for a trip to a lonely island, it's an album that recalls why one has become a metalhead: Because such tunes make addicted, one needs to sing along to them, and they fulfill our hearts. With their upcoming new album, THEOCRACY have taken it all another step further and have reached a new level, without repeating themselves but with adding more diversity to their sound. The world stands in awe of an album full of hymns, beauty and pure magic once again."
For more than 20 years, Matt Smith has been pouring his life blood into THEOCRACY, creating a legacy and back catalogue that grants him a safe space to breathe and develop his vision.
"It's my life's work," says Smith. "All I wanted to do since I was a kid was writing songs, so THEOCRACY existed in my mind for many years before the first album. It's the vehicle that has taken me all around the world and allowed me to exceed my wildest dreams by getting my songs out, and I am so thankful."
THEOCRACY's fifth studio album will see the light of the day later this year.
Linky:
www.theocracymusic.com
www.facebook.com/theocracyband
www.instagram.com/theocracymusic
www.twitter.com/theocracyband
www.youtube.com/@theocracyofficial
https://label.atomicfire-records.com/project/theocracy/
Soruce of Information: NUCLEAR BLAST – Leoni Dowidat
Thrash Metal Frontrunners NERVOSA Announce New Album, Jailbreak, out September 29, 2023 via Napalm Records
2. August 2023
Thrash metal frontrunners NERVOSA have announced their fierce fifth full-length, Jailbreak, out September 29, 2023 via Napalm Records! This will be the first NERVOSA album with guitarist and founding member Prika Amaral on vocal duties, and showcasing the band's mighty new lineup completed by the immensely talented and well experienced Michaela Naydenova on drums, Hel Pyre on bass and Helena Kotina on guitars.
Tracklist:
Endless Ambition
Suffocare
Ungrateful
Seed of Death
Jailbreak
Sacrifice
Behind the Wall
Kill or Die
When the Truth Is a Lie
Superstition Failed
Gates to the Fall
Elements of Sin
Nail the Coffin
Following the blistering standalone single "Endless Ambition", with "Seed Of Death", NERVOSA serves up a second taste of what's to come. Starting off with a beautiful, epic intro, "Seed Of Death" features philosophical lyrics that explore questions about the never-ending cycle of life, grabbing an omnipresent issue relevant to all of us. Check out the captivating official music video below!

Prika Amaral on the new single and album:          
"I'm very happy with the result of this song and our new album.  I always wanted to have a song like this but it never happened for different reasons and now we can finally make it happen.  Also, we were able to take even more risks and do new things.  With two guitars the doors open to a whole new world of possibilities, in fact NERVOSA had two guitars in the beginning, but then we decided to go with one guitar for logistical reasons, since it would be easier to move with one less person for tours.  Now NERVOSA has a much bigger structure that allowed this addition, and we are really enjoying this moment of the band.  The process of writing this record was the most fun and brought the most musicality, enriching the band.
Helena Kotina adds: 
"I think Jailbreak is NERVOSA's most revolutionary record, both musically and lyrically.  It was a very challenging process but at the same time very constructive. We were able to take care of every detail until we obtained the best result."
The first single:
Endless Ambition: https://youtu.be/BWAhkHdXAVI
Linky:
https://www.nervosaofficial.com
https://www.facebook.com/nervosa/
https://www.instagram.com/nervosathrash/
https://twitter.com/nervosathrash/
https://www.youtube.com/user/NERVOSAthrash/
Soruce of Information: Napalm Records Press, Photo: Michaela Naydenova, Helena Kotina, Prika Amaral and Hel Pyre