Tento rozhovor som bola dlžná kapele TOYG už pekne dlhú dobu. Na maili som ho mala snáď tri mesiace. Proste v závale povinností som na neho zabudla čo ma veľmi mrzí a touto cestou sa chcem tejto zábavnej punk metalovej kapele ospravedlniť.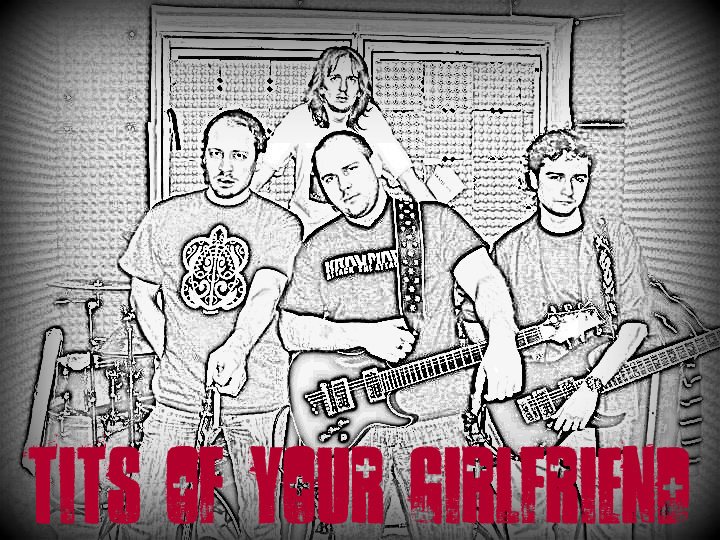 1) Ahoj Marc. Ako sa máš?
Dosť na hovno 🙂 Nejaké zložité obdobie. Tak čas na rozhovor nie je najveselší vzhľadom na to aká je to to veselá skupina 🙂 Ale to je jedno…poďme na to. 😉

2) Prečo práve názov Tits of your girlfriend a prečo hráte pivnú muziku v angličtine?
My nehráme pivnú muziku. Možno vodkovú 😀 Tento názov vznikol na turné mojej domovskej kapely Janesession a členovia TOYG boli prítomní. Nejak pri obede to bolo. Ja som dal že Tits a speváčka Janesession Jane dala to ostatné. Alebo naopak? To už sa nepamätám 🙂  Podľa mňa je to nádherný názov. Presne vyjadruje našu filozofiu. I keď ja by som to na seba upravil skôr na Ass of your girlfriend 😀 V angličtine spievame lebo nemáme ambíciu jazdiť turné s Kabát, Alkehol, Harlej či Karpinou. Jednoducho sa bavíme vždy vo štvrtok a nahrávame pre kamarátov. Ak sa to páči pár ľuďom navyše tak je to príjemné. A mimochodom v angličtine znie lepšie keď povieš fuck ako v slovenčine  jebať 😀 To je také vulgárne 😀

3) Ako ste vznikli?
Ako skoro každá kapela. V krčme. Ak kapela nevznikne v krčme, tak niečo nie je v poriadku. V našom prípade bola tá krčma na Rhodose tak je to také exotické 🙂 Hlavne sme boli tak na prach, že nám to prišlo ako jediné možné východisko z životnej nudy čo sme zažívali každý týždeň vo štvrtok 🙂
4) Hneď bola stabilizovaná zostava?
Na Rhodose sme boli ja, Tweety, Radko a Braňko, ktorého sme chceli za speváka. To nejak nevyšlo, lebo sme po vytriezvení došli na to že Braňo nevie vôbec spievať. Nie že by som ja vedel…to ani omylom, ale Braňo vedel len jeden tón. Ten nesprávny 🙂 Tak sme ho poslali na lekcie spevu a hneď ako to bude vedieť sa vracia do kapely a ja k bubnom 😀 No a už na Rhodose sme rátali s našim kamáratom Duri na sólovku.

5) V CD mám napísaného bubeníka Majka Najebanka. Ako sa ten k Vám dostal?
😀 😀 😀 😀 Ten sa zhmotnil z alkoholických výparov v štúdiu 🙂 Je to pomýlený automat 🙂
6) Vaše texty vyzerajú ako poriadne prasácke humoresky. Kde na ne beriete nápady?
V našich životoch. Nehráme žiaden fantasy žáner. Tak môžme siahnuť len po našich zážitkoch a skúsenostiach o močení čí súložení so starenou 😀
7) Kedy sa dočkáme ďalších pesničiek?
Ja dúfam, že skoro. Ono to už je vlastne v kope len sa musíme dokopať to nahrať. Je zložité si nájsť čas.

8 ) Čo vás inšpiruje pri písaní hudby?
Rock n roll. 🙂 Či chceš konkrétne? Ac/Dc, Motorhead, Airbourne, old school Aerosmith, Nashville Pussy, Ramones, Exploited, ranná N.W.O.B.H.M., Slade….
9) A čo koncerty?
No bolo by krásne urobiť raz verejnú skúšku v nejakom klube so show ako si predstavujeme. Teda bubeníčka, vokalistky, striptérky, biče, latex, koža a vodka v každom telesnom otvore. Vstup až od 18 rokov. 🙂
10) Nejaký Tvoj odkaz pre našich čitateľov….
To o čom spievam je čistý obdiv k ženám a srande!!! Milujte sa a robte si! Tebe ďakujem za priestor a dúfam že sa Vášmu webu bude dariť stále viac.
Odkazy:
Facebook: http://www.facebook.com/pages/Tits-Of-Your-Girlfriend/172520049426656