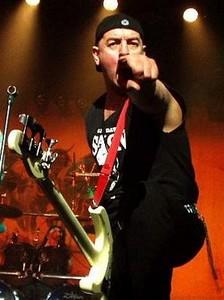 Dostať sa ku legende ktorú človek vníma ako legendu už od detstva je skutočne veľmi príjemné. A akonáhle ešte fanúšik zistí, že legenda je ešte k tomu strašne zlatý a vtipný človiečik, tak fanúšikovstvo ešte vzrastie. Steve je človek ktorý spolu zakladal jednu z najväčších heavy metalových kapiel všetkých čias, legendárny SAXON. Jeden z najrockovejších basgitarstov a reálna predloha basgitaristu kultovej, filmovej kapely THE SPINAL TAP. Tento rozhovor vznikol asi behom piatich minút pri bare po koncerte OLIVER/ DAWSON SAXON v Nitre. Nechcela som Steve-a obťažovať moc dlho vzhľadom na to koľko fans sa s ním chcelo fotografovať a podpisovať cédečka. Takže dámy a páni STEVE DAWSON.
Ahoj Steve. Ako sa máš? Ako sa Ti páči na Slovensku?
Steve Dawson: Mám sa dobre. Milujem Slovensko. Je tu nádherne, super ľudia a rockoví fanúškovia sú tu v Nitre neuveriteľní.
Ako si spokojný s Česko-Slovenským turné, s návštevnosťou a predkapelami Roxor a Janesession?
Steve Dawson: Česko-Slovenské turné bolo fantastické. Až ma mrzí, že skončilo. Publikum bolo všade skvelé. Musíme poďakovať českej kapele Roxor, že nás vzali na chrbát a zabezpečili nám celé vybavenie. Sú skvelá kapela a výborní parťáci. A chceme poďakovať aj skvelej slovenskej skupine "Wild" Janesession s veľkou speváčkou. Obe kapely nám budú chýbať. Výborní ľudia a muzikanti.
Máte nový fantastický album Motorbiker. Ako vznikal? Aké sú ohlasy fans, novinárov a kde sa dá zohnať?
Steve Dawson: CD sa dá kúpiť cez Amazon, Itunes, Spotify, ale aj v každom poriadnom, lokálnom metal shope. Pesničky ako Motorbiker, Sinternet, Bad Woman sme začali komponovať pomocou Protools a napísali sme veľmi veľa songov z ktorých sme vybrali tie najlepšie. Recenzie sú super. Zatiaľ všetky dobré. Fanúškovia sú rovnako nadšení. Zopár mi ich povedalo, že je to pre nich album roka.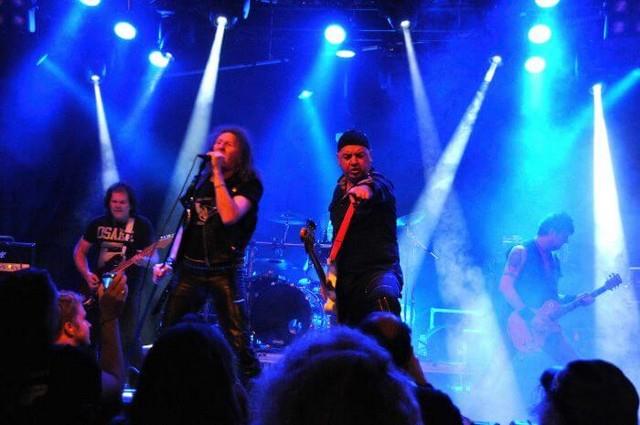 Prečo v O/D/S už nehrajú spevák Wardi a bubeník Nigel Durham?
Steve Dawson: Nigel mi minulý rok zavolal deň pred turné po Holandsku, že musí opustiť kapelu zo zdravotných a súkromných dôvodov. Wardi žije v Španielsku a stratil záujem o kapelu na diaľku. Venuje sa svojim niekoľkým podnikaniam. Všetci sme stále priatelia.
Predstav nám prosím nových členov OLIVER/DAWSON SAXON….
Steve Dawson: Nový spevák je Brian Shaunessy. Fantastický nový spevák a frontman z nášho rodného mesta Barnsley a na bicie hrá syn Grahama Olivera, Paul. Brilantný mladý bubeník. Hrá ako Pete Gill.
Prečo nehráte viac pesničiek od OLIVER/DAWSON SAXON a SON OF A BITCH na tomto turné?
Steve Dawson: Máme tak veľa piesní čo by sme mohli hrať. Tak to robíme tak, že hráme rôzne piesne na rôznych tours.
Ja osobne milujem prvé obdobie SAXON, ktoré skončilo Tvojim odchodom. Prečo si odišiel?
Steve Dawson: Ja som neodišiel. Bol som vyšachovaný bez udania dôvodu.
Aká je budúcnosť O/D/S? Kedy sa dočkáme nového albumu?
Steve Dawson: Samozrejme plánujeme cestovať a nahrávať. Teraz už píšeme nový album. Máme hotových 5 piesní. Mal by byť vonku budúci rok.
Teraz je tu priestor pre teba na pozdrav fans….
Steve Dawson: Ďakujeme veľmi za Tvoju podporu a priateľstvo. Vážime si každú vašu podporu. Nebojte sa po koncerte prísť povedať ahoj a dať si s nami pivo, keď prídeme do Vašeho mesta. OLIVER/DAWSON SAXON sa vrátia do Českej republiky a na Slovensko asi v decembri 2012. Keep Rocking!
Youtube ukážka:
Linky:
http://www.odsrock.co.uk/
https://www.facebook.com/OliverDawsonSaxon/