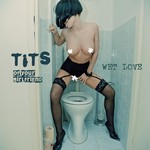 Comedy Rock – Metal je u nás posledné roky populárny hlavne vďaka Steel Panther, no Porno Rock u nás si niekto ešte možno pamätá vďaka britkám Rockbitch. Ale vedzte napríklad, že sa týmto bizardným žánrom nechal ovplyvniť samotný Rob Halford z Judas Priest v projekte 2wo.
Ale o spojenie týchto dvoch žánrov sa pokúsili až u nás. Reč je o bratislavských Tits of Your Girlfriend. A berú to pekne s humorom a od podlahy. Kapela funguje už desať rokov, ale zatiaľ majú na konte, len demo z roku 2011 a až teraz došlo na debut.
Prvé čo Vás upúta je solídny rockový zvuk zo štúdia Shaark a hudba čo je jednoznačne slovenská odpoveď na Motörhead. Divoký celkom melodický rock n´roll/heavy metal lezie rýchlo do ucha.
Vôbec nehľadajte niečo originálne, alebo progresívne. Je to poriadna zábava. Žiadne veľké umenie. To neznamená, že výkony sú nejak priemerné. Všetci zúčastnení sú na úrovni hodnej pozornosti.
Veľké plus sú dvaja sólový speváci. Lojšoj má na albume viac priestoru a jeho hlas znie veľmi príjemne grungeovo a bubeník Marc spieva poriadne agresívne. V Anal Queen znie akoby chcel dočiahnuť na samotného Uda. Chytľavé refrény a riffy to ženú k rýchlemu koncu. Tento album skutočne ubehne superrýchlo.
Samotnou kapitolou sú texty. Tie sú vážne oplzlé a niekedy až hodne perverzné. Ale kto vie dobre po anglicky a ak má sklon k sprostému humoru, tak sa nasmeje. To vám garantujem. S textami súvisia aj sample z porno filmov, ktorých je tu požehnane.
Až mi to občas nebolo úplne príjemné. Asi som moc slušný. 😀 Ale keď som si na to zvykol, tak som si začal album užívať ako dokonalú nahrávku pre rýchlu jazdu v aute. A refrény si dokážem hvízdať pri práci.
Keď to beriem ako beriem, tak ide o originálne dielko a je obdivuhodné čo všetko si TOYG dovolili. Samozrejme hovorím aj obale, ktorý už niektoré internetové platformy zakázali a to ešte album nevyšiel. S cenzúrovaným obalom tomu dôjde za pár dní.
Moje najobľúbenejšie skladby sú rozhodne Wet Love, 69 (tá je duet s populárnou metalovou divou Jane Razor) a Anal Queen.
Rozhodne fanúškovia divokého rocku – metalovej hudby a perverzných vtipov neobanujú ak si to zabezpečia.
Lineup:
Lojšoj – Sólový spev, zbory
Duri – Sólová gitara, zbory
Tweety – Gitara. zbory
Radko – Basa
Marc B.K. – Bicie nástroje, perkusie, sólový spev, zbory, sample
Hostia:
Jane Razor – Sólový spev v "69"
VH One – Zbory
Tracklist:
Rockin´ with Teacher
At Night
Wet Love
69 (feat. Jane Razor)
Obscene Queen
Anal Queen
Pinguin
I´m Not Guilty
Deep Inside A Virgin
Rok vydania: 2019
Vydavateľstvo: Mars Group
Youtube ukážka:

Linky:
https://bandzone.cz/tits
https://www.facebook.com/groups/168435339841351/
Hodnotenie: 5/6