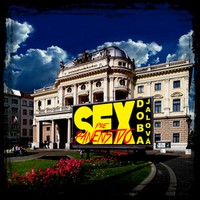 Niekedy byť rockovým novinárom je veľká výsada a mať albumy skôr doma ako vychádzajú oficiálne je veľké potešenie. Bratislavská rocková formácia "Sex pre Panenstvo" vydáva svoj debut oficiálne na konci februára a ja ho už pár dní točím v aute a veľmi príjemne sa bavím.
Kapelu založili spevák a gitarista Maroš Plávka (Tits of your girlfriend, Jolanin Rozparock, ex – Acheron ), basgitaristka a speváčka Katarína Štvrtecká (Jurajova rodina, Kvet života) a Marc B.K. ( Janesession, Daggerose, Tits of your girlfriend, ex – Extip, ex – Makar Čudra, ex – Peci Uherčík ) na bicie a tiež spieva. Neskôr sa pridal sólový gitarista a spevák Ján Coss (Slzy cez smiech).
Kapela hrá jednoduchú, ale precízne zahratú rockovú hudbu so skvelou produkciou pánov Plávku a Marc B.K. Oni sami tomu hovoria zmiešanina punk rocku, alternatívneho rocku, rock n rollu, hard rocku a folku.
No podľa mňa sa tam nájde ešte viac vplyvov. I keď niektoré, len v humorných intrách či pesničkách myslených jednoznačne len ako vtip. No ich prevedenie je tak skvelé, že musím spomenúť aj country, jazzové, heavy metalové, hip-hopové či progresívno rockové vplyvy.
CD sa nesie v svižnom a prevažne pozitívnom duchu. Skvelé texty a refrény sú poznávacie znamenie platne. A vo veselých napunkovelých skladbách "Hajzelbaba", "Seniori", "Dement" prekonávajú aj toľko úspešné kapely ako Horkýže Slíže a Karpina. Práve z poslednej menovanej kapely si prišiel spevák Elvis zaspievať v ostrom "Motorheaďockom" rock n rolle "Som v liehu každý deň".
Opozitum oproti veselým skladbám tvoria fantastické vážne hard rockové piesne "Doba jalová", "Nekonečný let" a hlavne epická, progresívna, dojemne emotívna skladba "Čo sa kúpiť nedá". Texty k posledným trom menovaným napísal popredný slovenský textár Juraj Soviar, ktorý píše pre Elán a Mariku Gombitovú.
Doba jalová je vynikajúci debut v ktorom si nájde každý niečo. Ak máte radi humor, nadhľad a trochu filozofie budete určite nadšení z textov. Ja som osobne spokojná po každej stránke a musím priznať, že prekvapená. U mňa to bude hrať v prehrávači ešte pekných pár týždňov.
Na záver len také malé zamyslenie. "S.P.P." by mohli dočiahnuť aj na kultový statut Slížov, či Karpiny, ale sú fanúšikovia týchto legiend ochotní sa občas zamyslieť a poplakať si cez smiech?
Lineup:
Maroš Plávka – gitara, spev
Ján Coss – gitara, spev
Katarína Štvrtecká – basgitara, spev
Marc B.K. – bicie, spev
Hosť:
Elvis – spev ("Som v liehu každý deň")
Tracklist:
Príchodovka
Magické noci
Hajzelbaba
SPP vs Moyžišovo kvarteto
Dement
Senori
Stopárka
Preddoba jalová
Doba jalová
Čo sa kúpiť nedá
Tu to máte 2006
Som v liehu každý deň
Nekonečný let
Rok vydania: 2014
Vydavateľstvo: Mars Group s.r.o.
Bandzone stránka: http://bandzone.cz/spp
Hodnotenie: 5