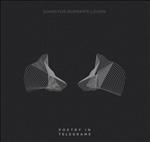 Koncom tohto roka nás svojím debutom potešila aj zaujímavá formácia, hovoriaca si Poetry in Telegrams. Za ňou stojí známy Johny Štefeček (ex Diadem, ex ntrovarts, ex Feelme). Ďalším človekom, čo sa podieľal na nahrávaní je svetoznámy rakúsky bubeník Thomas Lang (Paul Gilbert, George Michael, Falco). O výsledný zvuk sa postaral človek, ktorého účasť na podobných albumoch, ktoré vznikajú u nás začína byť už akousi tradíciou – Roland Grapow.
Čo nám títo páni ponúkajú? Na Songs for Deseperate Lovers si užijeme 14 minút zaujímavej alternatívnej rock/metalovej muziky
Od prvej piesne Juliet and Romeo jasne počuť, že Johny je majster vo svojom odbore a vie priniesť riffy, ktoré skutočne dokážu zaujať. V ďalšej The Place a aj poslednej Miracles zas narazíme na zaujímavú atmosféru. No čo sa týka songov ako celku, chýbali mi gitarové sóla. Napriek tomu, že sa jedná ako som uviedol o alternatívno-metalový album, myslím, že by nimi nič nepokazili. Čo sa týka jeho spevu, treba povedať, že nepatrí medzi nejakú extratriedu, no do muziky Poetry in Telegrams sa hodí.
Treba pochváliť aj spomenutého Thomasa. Počuť, že je to skutočný talent a až mám trochu obavu, že keď sa Poetry in Telegrams rozhodnú pretransformovať na plnohodnotnú kapelu, tak či sa podarí zaň nájsť nejakú náhradu.
Menšou zvláštnosťou nahrávky je to, že tam nenájdete basgitaru. Tá mi tu síce moc nechýba, ale na prípadnom full CD by podľa mňa mala mať svoje miesto.
Songs for Deseperate Lovers je dôkazom, že toto zoskupenie ma potenciál osloviť slušnú časť metalového publika u nás. Som zvedavý čo prinesú na prvom veľkom albume 😉
Lineup:
Johny Štefeček – 7 strunová gitara, ukulele a spev
Thomas Lang – Bicie
Tracklist:
Juliet And Romeo
The Place
Point Zero
Miracles
Bonus: Klip Juliet And Romeo
Rok vydania: 2014
Vydavateľstvo: Vlastné vydanie
Youtube ukážka:

Linky:
Web: http://www.poetryintelegrams.com/
Facebook: https://www.facebook.com/poetryintelegrams
Bandzone: http://bandzone.cz/poetryintelegrams
Hodnotenie: 4,5/6