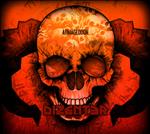 Začiatkom roku 2014 som povedal jedenej známej, že nech sa deje čokoľvek, tento roku bude minimálne z hudobného hľadiska dobrý a zaujímavý. Len si spomeňte, koľko rôznych albumov vyšlo či už mainstreamových alebo tých, čo sa pohybujú viac v undergrounde. Medzi tieto tohtoročné diela sa zaradil aj druhý počin metalového projektu Dizenter – Armagedon, ktorý vyšiel 19. novembra.
Keď môj brat videl obal CD, tak sa ma v momente pýtal  ,,Čo sú to zač?". Koľko ruchu narobí jedna malá lebka s ešte menšími rohmi? Ale bol na omyle a v podstate všetci, čo by si mysleli že ide o nejakú ,,temnú" hudbu. Jedná sa skôr o prierez metalovými žánrami – od pomalšieho, ale tvrdého heavy metalu až po rýchly thrash.
Overtura navodí hneď na začiatku tú správnu atmosféru ako sa na intro patrí. Potom to rozbalí svižná Mrak vran. V tejto skladbe je dobre vidno, akým smerom sa všetko bude uberať- rýchle riffy striedajúce sa s melodickými pasážami a sólami. Dewill ako spevák mení polohy z melodického spevu, chvíľami až mierne death metalovým prejavom ako napríklad v refréne Morituri te salutant. Keď som videl názov piesne, tak som bol zvedavý či nepôjde o ďalší metalový cover na hit Karla Kryla. Nakoniec vznikol úplne nový song. Titulná vec patrí medzi tie najmelodickejšie so skvelým vokálnym doplnením. Devět světů sa dočkala klipu, ktorý režíroval Noid Bárta. Vedel by som si ale predstaviť klip skôr k niečomu inému, napr. k  Dominus ad infernum,  pri ktorej ma v prvom momente zaujal názov. To, že sa bude jednať o moju srdcovku som vtedy ešte nevedel. A keď sa k tomu pridá ešte aj Medusa, jedna z najtvrdších na celej fošni, láska ako hrom je na svete. Vyjadrovať sa ku každej skladbe je asi zbytočné, vzorec podľa akého sa odvíjajú už bol napísaný. Treba však dodať, že Armagedon pôsobí kompaktným dojmom a pocit, že počúvate stále dookola to isté, a že sa piesne navzájom vykrádajú nie je práve na mieste.
Texty napísal Dewill a väčšinou sú o mytológii – či už gréckej alebo vikingskej, histórii, antike… Tu musím poďakovať svojej mame, ktorá vo mne ako v dieťaťu vzbudila záujem o tieto príbehy a tak som mal z lyricsov dvojnásobnú radosť. 😉
Slovko na záver. Dizenter nevytvoril nový žáner alebo sa nesnaží hrať tak, aby ľudia vymýšľali novšie slovo ako progresívny. Hrajú to, čo poznáme a trúfam si povedať, že máme veľmi radi. Ich songy sú originálne, inštrumentálnej stránke je tiež ťažko niečo vytknúť či už gitaristom hrajúcim súčasne aj na basu alebo Milošovi za bubnami. Dewill taktiež robí dobrý dojem a spieva mu to pekne. Texty ako som už spomínal neurazia, takže odporúčam.
Lineup:
Dewill – spev
David Pavlík – gitary, basa
Miloš Meier – bicie
Zdeněk Šikýř – gitary, basa
Tracklist:
Overtura
Mrak vran
Morituri te salutant
Armagedon
Osud
Devět světů
Dominus ad infernum
Medusa
Král králů
Dracula/Prokletý navždy
Pro jeho slávu
Rok vydania: 2014
Vydavateľstvo: Samovydanie
Youtube ukážka:

Linky:
Web: http://www.dizenter.cz/
Facebook: https://www.facebook.com/dizentercz
Bandzone: http://bandzone.cz/_78840
Hodnotenie: 5