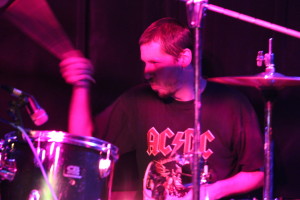 Ako som už v recenzii uviedol, napriek tomu, že Ballsqueezer nepatria medzi najznámejšie spolky našej rock/metalovej scény, vydali už štyri CD plné kvalitného rockandrollu. V rozhovore s bubeníkom Petem sa dozviete viac. Napríklad to, že čoskoro v ich diskografii pribudne ďalší počin, dôvody ich malej koncertnej aktivity a ďalšie veci.
Zdravím Pete. Pomerne nedávno ste vydali album Live up To Your Sins. No podľa vašich of. zdrojov ste tento rok vydali aj nosič Fan of Myself. Mali ste veľa materiálu zloženého alebo čo je toho dôvodom?
Pete: Skladby vznikajú spontánne a priebežne, a zatiaľ máme celkom slinu, takže práve pripravujeme už aj piaty album 😉
A to stihnete ešte tento rok?
Pete: Nikam sa neponáhľame, uvidíme ako to pôjde, ale vyzerá to zatiaľ tak, že by sme to mali stihnúť ešte tento rok.
Obdiv Tri albumy v priebehu roka to bude snáď rarita 🙂 Všimol som si, že máte už toho dosť vydaného, no o Ballsqueezer som akosi nezachytil žiadnu zmienku. (Dúfam, že nebudem za to kameňovaný 🙂  ) Mohol by si o vás povedať pár slov.
Pete: Ballsqueezer vznikol pred dvoma rokmi s cieľom hrať hudbu od srdca, ktorá šľape. Zatiaľ sme mali len zopár koncertov v okolí Bratislavy, takže počuť o nás ešte určite bude 😉
Ok, vráťme sa k CD – čkam. Porozprávaj niečo o oboch dielach (Live up to Your Sins a Fan of Myself). Čo tam fanúšikovia dobrej rockovej muziky nájdu a napríklad, v čom sú ich rozdiely?
Pete: Fan of myself je kompaktnejší, na Live up to your sins nájdeš rôznorodejší materiál. V zásade ide o poctivý rock'n'roll, ktorý sa dobre počúva napríklad v aute 🙂  Ak sa poslucháč pozornejšie započúva, nájde na oboch albumoch zaujímavé hudobné nápady a ani texty nie sú na zahodenie. Hráme hlavne preto, že nás to baví a ak to bude baviť ešte niekoho iného je to pre nás potešujúce.
Ako, kedy a kde prebiehal ich nahrávací proces?
Pete: Nahrávame doma, gitary a basu cez linku, spev v pivnici, a bicie sú automatické.  Nahrávame priebežne popri iných domácich a pracovných povinnostiach. Mixujeme si sami a master sa robí v štúdiu.
A prečo sú bicie automatické… Problém s vybavením alebo ako?
Pete: Je to problém nahrať v štúdiu s dobrým zvukom a ide aj o financie. Na naše CD – čka sa pozeráme ako na luxusné demá. Ide nám o to, mať materiál zaznamenaný v pomerne dobrej kvalite za rozumnú cenu. Podstatné je pre nás zahrať to s drajvom na pódiu.
Vaše albumy sú charakteristické aj tým, že autorom všetkých bookletov je Jesus Garcia Lopez. Čo je to za človek?
Pete: Je to fajn človek z Mexika, ktorý vizualizuje naše nápady vo svojom umeleckom štýle. Koncepty obálok vznikajú na pive po skúškach a ako môžeš vidieť celkom sa na tom bavíme.
Ako sa vám podarilo naštartovať spoluprácu s ním a odkedy už spolupracujete?
Pete: Spolupracujeme od začiatku, natrafili sme na neho cez internet. Spolupracujeme od nášho prvého albumu.
Na vašich oficiálnych linkoch nevidno žiadne známky pripravovanej koncertnej aktivity. Chystá sa niečo (buď teraz alebo v rámci festivalovej sezóny)?
Pete: Momentálne nechystáme klubové koncerty. Čo sa týka festivalov máme zatiaľ jednu ponuku, ale ešte to nie je oficiálne potvrdené.
Čo je dôvodom, že nechystáte klubové aktivity?
Pete: Naše skúsenosti s klubmi ukázali, že kluby nemajú záujem o propagáciu nových kapiel a takisto tu chýba pravidelná rocková scéna. Tým pádom ľudia na neznáme rockové kapely do klubu neprídu.
Plánujete aj nejaké podobné aktivity mimo Slovenska?
Pete: Oslovili sme aj kluby v zahraničí, no konkrétna ponuka zatiaľ neprišla.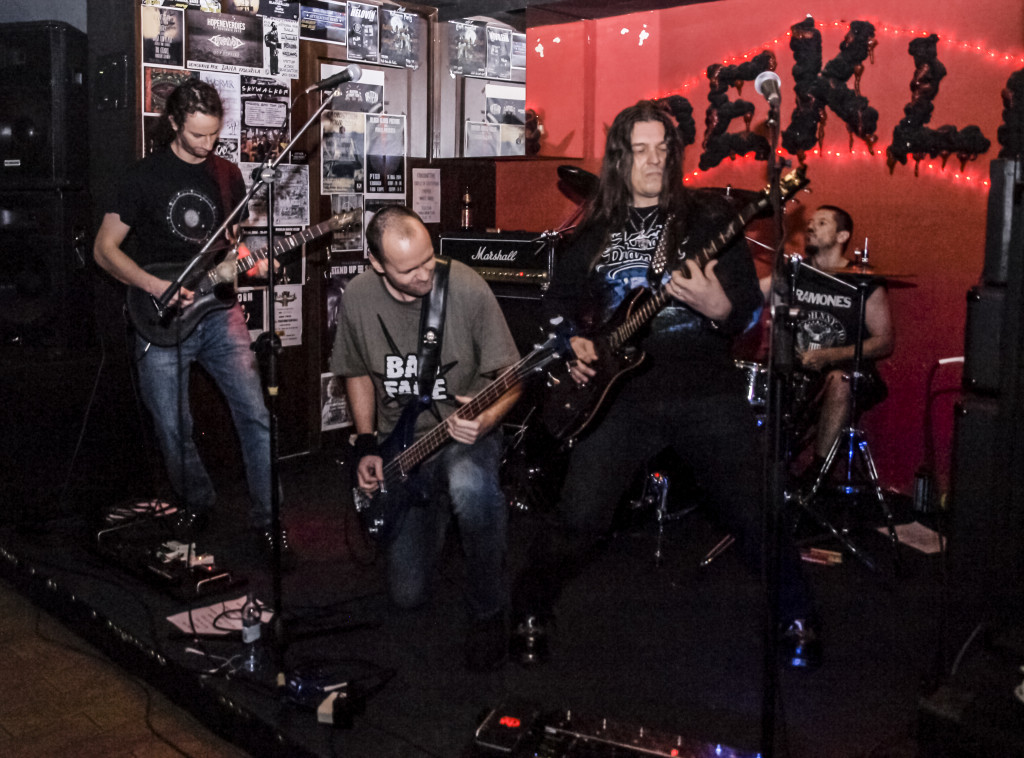 Ako vyzerá nehudobný život členov Balsqueezeru (záľuby, záujmy, povolania)?
Pete: Máme radi dobré pivo a prírodu 🙂
Porozprávaj niečo o svojej hudobnej histórii (začiatky a ako si sa dopracoval k Balsqueezer).
Pete: K hudbe som sa dostal spontánne na strednej škole, keď som počúval Metallicu a Iron Maiden. Na výške sme si s basákom založili prvú kapelu a Ballsqueezer je pokračovateľom The Hangmen´s Project, kde sme sa dali zas dokopy s naším gitaristom.
Ako sa ti pozdáva súčasná slovenská rocková scéna, čo sú jej najväčšie prednosti a najhoršie problémy?
Pete: Pravdu povediac, slovenskú rockovú scénu nesledujem. Ale verím, že je u nás kopec dobrých kapiel, o ktorých sa nevie. Škoda, že rádiá hrajú stále dokola tie isté skladby. Určite mi tu chýba rádio, ktoré by nehralo len overené hity, ale dalo priestor aj novým kapelám ako napríklad Ballsqueezer 🙂
Myslíš, žeby jej mohol aspoň trochu pomôcť ten zákon o povinnom hraní istého množstva slovenskej hudby v našich rádiách?
Pete: Podľa mňa ani nie. Bude tam viac Elánu a Žbirku…
Ok, to už bola last question. Mne neostáva už nič iné, len pekne poďakovať za rozhovor a poprosiť ťa o nejaký ten odkaz pre čitateľov Metalmania-Magazínu.
Pete: Aj my ďakujeme a odkaz pre čitateľov znie: Po prechádzke v prírode si doprajte dobré pivo a pustite si Ballsqueezer 🙂
Youtube ukážka:

Linky:
Web: http://www.ballsqueezer.net/
Facebook: https://www.facebook.com/pages/Ballsqueezer/482922295082690
Bandzone: http://bandzone.cz/ballsqueezer