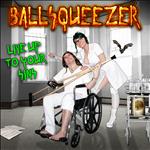 Na našej domácej rock/metalovej scéne často môžte naraziť na neznáme, no kvalitné veci. Ballsqueezer sú toho príkladom. Nepatria síce medzi zavedené mená ani v kluboch a na festivaloch, často na nich nenarazíte. Na konte však majú už 4 štúdiové počiny a tento rok vydali dokonca až dva.
Napriek tomu, že toto CD má menšiu nevýhodu a to automatické bicie, jedná sa o vcelku podarené dielo. Ich muziku skvele vystihne úvodná trojica skladieb – Freerider, Above a Wheel of Fortune. Kapela síce stavila na pomerne jednoduchý rockandroll, niečo podobné ako poznáme napríklad u Motorhead (bez toho aby ich vykrádali samozrejme), no nudiť sa pri tom určite nebudete.
Čo sa týka piesní, tak úvodná vec znie síce trochu rozpačito, no ale dvojka si vás určite získa od prvých sekúnd (hlavne úvodným riffom) a v tretej zmienenej budete počuť, že chlapci sa neboja ani metalových prvkov a výsledok je samozrejme fantastický. Naživo by to bola určite bomba.
Zo samotných muzikantov by som pochválil hlavne speváka, ktorý si hovorí DADDY. Ten vás určite očarí svojím hlasom, chrapľákom, ktorému ale nechýba ani tá správna ostrosť.
Ďalším kúskom, ktorý stojí za zmienenie je aj štvorka Tomorrow´s Gone. Podľa mňa mala byť provou vecou, ktorú mohli zverejniť ešte pred vydaním CD, keďže ma potenciál zaujať aj ľudí mimo rockového a metalového spektra. Ako to chodí u podobných diel ani tu nebude chýbať baladička – pieseň Sandal Man, nachádzajúca sa na 6. pozícii. Tu Daddy taktiež predvedie svoje kvality. Spoznáte napríklad aj ako znie, keď spieva čistým hlasom.
Pred úplným koncom tu budeme mať ešte titulnú, energickú (a tak trochu až punkovú) vec a  záver bude v podobe schopnej inštrumentálky Rocked.
Na záver si dovolím túto formáciu poprosiť o dve veci. Kedže Live Up To Your Sins je nepochybne kvalitné a vydarené dielo, tak: 
Po prvé: Dajte si viac záležať na propagácii.
A po druhé: Vyjdite častejšie medzi ľudí (aj keď v dnešných časoch je to s takouto muzikou o niečo ťažšie).
Lineup:
DADDY – spev
MIKEY – gitary
DRAKO – basgitara
PETE – bicie
Tracklist:
Freerider
Above
Wheel Of Fortune
Tomorrow´s Gone
Fallen From Grace
Sandal Man
Live Up To Your Sins
Rocked
Rok vydania: 2015
Vydavateľstvo: Samovydanie
Youtube ukážka:

Linky:
Web: http://www.ballsqueezer.net/
Facebook: https://www.facebook.com/pages/Ballsqueezer/482922295082690
Bandzone: http://bandzone.cz/ballsqueezer
Hodnotenie: 4,5/6