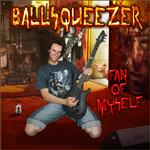 Po krátkom čase od poslednej recenzie CD Live Up To Your Sins sa opäť pozrieme na ďalšie dielo bratislavských rockerov Ballsqueezer. V rozhovore s bubeníkom Petem z 13. mája ste sa mohli dočítať, že sa im podaril trošičku neuveriteľný kúsok – tento rok vydali dva štúdiové počiny. Aký bude výsledok, keď si porovnáme obe z nich?
Začiatok v podobe piesne Cinnamon Girl nie je až tak zlý. Je to ako sa hovorí Ballsqueezer ,,se vším všudy" – t. j. chytľavý rockandroll, jednoduché gitarové motívy a nezameniteľný hlas speváka Daddyho. Jeho hlas je peknou ozdobou celej nahrávky. No už v On The Chin postupne vypláva na povrch najväčší nedostatok celej platne . Tým je časté opakovanie použitých gitarových motívov , čo spôsobuje. že niektoré songy vyslovene nudia (Never Again, Beer, Boobs and Rock´n´Roll).
Zlepšenie príde až v šestke a sedmičke. Leave You Behind zaujme hlavne spevom a titulná Fan Of Myself je opäť skvelou rokandrollovou jazdou, na aké sme u tejto grupy zvyknutí.
Na záver podobne ako minule nechýba inštrumentálka Keep Goin. Tá sa celkom vydarila, aj keď záver predchádzajúcej fošne Rocked bol lepší.
Záverečný verdikt: Pomyselným víťazom z dvoch tohtoročných nosičov je Live up to your Sins. Hlavne, kvôli chytľavosti a nápaditosti jednotlivých skladieb. Fan of Myself hodnotím iba ako priemer.
Lineup:
DADDY – spev
MIKEY – gitary
DRAKO – basgitara
PETE – bicie
Tracklist:
Cinnamon Girl
On The Chin
Never Again
Beer, Boobs and Rock ´n´ Roll
Fallen From Grace
Shut Up
Leave You Behind
Fan Of Myself
Keep Goin´
Rok vydania: 2015
Vydavateľstvo: Samovydanie
Youtube ukážka:

Linky:
Web: http://www.ballsqueezer.net/
Facebook: https://www.facebook.com/pages/Ballsqueezer/482922295082690
Bandzone: http://bandzone.cz/ballsqueezer
Hodnotenie: 3/6
Páčil sa ti tento článok?