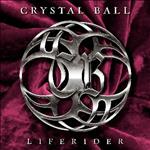 Po dvojročnom oddychu prišli nedávno švajčiarski melodickí hard rockeri Crystal Ball s novou platňou Liferider. Pomohol im dvojročný oddych k tomu, aby nás opäť potešili minimálne rovnako dobrým počinom, ako bol Dawnbreaker? Poďme sa na to pozrieť.
Začiatok albumu sa moc nepodaril. Úvodná Mayday, kvôli jej monotónnemu rytmu a nie príliš vkusne použitej elektronike bohužiaľ patri k tým najhorším veciam, aké kedy títo Švajčiari stvorili. Nasledujúca Eye to Eye je o niečo lepšia no, stále to nie je to pravé orechové. Prvý song, ktorý zanechá o niečo výraznejší dojem bude až trojka – chytľavá Paradise.
Potom príde na rad rýchla rock/metalová jazda Balls of Steel a príjemne melodické hard rockové skladby, ktoré sa môžu stať koncertnými tutovkami – Hold your Flag, pocta rockovým bohom – Gods of Rock (pekný refrén) a chytľavá Take it All.
Podobne ako tomu bolo minule, ani tu nebude chýbať balada – Bleeding, nachádzajúca sa na ôsmom mieste. Uraziť síce neurazí, no zložili už aj lepšie (Eternal Flame napríklad).
Posledná štvorica (Rock of Life, Antidote, Liferider, Memory Run) sa bude niesť v melodicko-rockových vodách. Z nich by som vyzdvihol melodickú Antidote a chytľavú Liferider. Ostatne nie sú zlé, no chýba v nich nejaký výraznejší prvok vďaka ktorému by sa dlhšie udržali v pamäti.
Ak ste zainvestovali do albumu o niečo viac, t. j. kúpili si digipack, tak ste mohli v ňom nájsť okrem iného aj tri bonusové piesne – Sacred Heart, Union Of The Southern Cross a Not Like You. K ich kvalite treba povedať, že nijak nevybočujú z albumového štandardu.
Zo začiatku Liferider na mňa pôsobil ako sklamanie roka, no po viacerých vypočutiach musím povedať, že isté kvality predsa len má. No kvôli zmieneným nedostatkom dostane odomňa tento krát iba 3,5 boda zo 6.
Lineup:
Steven Mageney – spev
Markus Flury – gitary
Scott Leach – gitary
Cris "Iron" Stone – basgitara
Marcel Sardella – bicie
Hostia:
Noora Louhimo – spev v Eye to Eye
Stefan Kaufmann – akustické gitary
Tracklist:
Mayday!
Eye to Eye
Paradise
Balls of Steel
Hold Your Flag
Gods of Rock
Take It All
Bleeding
Rock of Life
Antidote
Liferider
Memory Run
Digipack bonusy:
Sacred Heart
Union Of The Southern Cross
Not Like You
Rok vydania: 2015
Vydavateľstvo: Massacre Records
Yotube ukážka:

Linky:
Web: http://www.crystal-ball.ch/
Facebook: https://www.facebook.com/crystalballrocks
Hodnotenie: 3,5