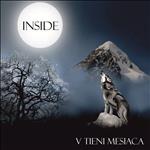 Zo západného Slovenska sme už mali možnosť vidieť a aj počuť množstvo skvelých hudobníkov. Všeobecne ale platí, že dobrých vecí sa všade veľa zmestí a svoje miesto na slovenskej rockovej  hudobnej scéne chce získať aj mladá kapela Inside zo Zlatých Moraviec.  Pôsobí od roku 2013, ale vo svete hudby sa nepohybujú ako úplní nováčikovia. Členovia už aké – také skúsenosti s tvorbou hudby majú, čo je rozhodne počuť aj na ich debute, ktorý nesie názov V tieni mesiaca. Ten bol vydaný 13.4.2015 a krst sa konal o dva mesiace neskôr
V ich tvorbe sa stretnete s Epic Hard Rockom, ktorý skvelo ztelesňuje pieseň Hriešnica, kde vás uchváti najmä drsný gitarový riff hneď na začiatku.
Poďme, ale pekne poporiadku. Album ponúka hneď 14 skladieb vrátane intra. Texty majú melancholický nádych, témou číslo jedna je určite láska a všetky jej formy. Ako hovoria páni muzikanti, ich piesne majú za účel pomôcť ľuďom zodpovedať ich vnútorné otázky. Či už je to Dievča s modrými očami, Anjel alebo Hriešna noc, ktorá sa dočkala aj veľmi vydareného klipu.
Nechýbajú ale ani chytľavé refrény a energické melódie, ktoré oceníte najmä na koncertoch. Určite sa vybláznite na Hudbe mojich snov, ktorá hovorí o láske, nie však  k žene, ale k rocku a oceníte aj Vášeň klamstvá. Anjel smrti je oživený ženským hlasom Lenky Pavlíkovej.
Všeobecne ale platí, že celé CD je pretkané pochmúrnejšími tónmi. Nechýbajú ani balady –  Možno raz, Klamár a Odraz duše.
Suma sumárom, táto fošňa má v sebe úžasné gitarové sóla a vybrnkávačky, viem si predstaviť, ako ovládnu srdcia slovenských rockerov. Avšak, pokiaľ nie ste na smutné vylievačky srdca, ruky preč od V tieni mesiaca. Je škoda, že práve témy smútku, (ne)šťastnej lásky a melanchólie dominujú v repertoároch mladých bánd. Nešťastie sa na nás valí z každej strany, prečo musí aj z hudby?
Určite to však neuberá na kvalite nahrávky. Ak si to porovnám s demo nahrávkami, posunuli sa o kusisko ďalej a našťastie nechýba tu ani kvalitný zvuk, ktorý u slovenských formácií nie je pravidlom. Verím, že onedlho prekvapia ďalšou platňou, ktorá prekoná tu aktuálnu. Za skvelý štart udeľujem 5 zo 6 bodov.
Lineup:
Goran Janík – Spev
Martin Vago – Gitara,Spev
Martin Drgoňa – Bass Gitara,Spev
Jozef Bánovský – Bicie
Tracklist:
Intro
Pirátsky Sen
Vášeň Klamstvá
Hriešnica
Dievča S Modrými Očami
Anjel
Možno Raz
Odraz Duše
Hriešna Noc
Anjel Smrti
Hudba Mojich Snov
Vlkodlak
V Tieni Mesiaca
Klamár
Rok vydania: 2015
Vydavateľstvo: P.S.Publisher
Youtube ukážka:

Linky:
Facebook: https://www.facebook.com/pages/Inside/598193463525019
Bandzone: http://bandzone.cz/_73867
Hodnotenie: 5