Po vysiľujúcom dni nabitom hudbou, zážitkami a príjemným počasím sme sa razom prehupli do toho druhého. Sobota bola ešte nabitejšia, než piatok. Ako zombie sme sa po ťažkej noci v nepohodlných stanoch pozbierali a náhlili sa k blahoslaveným, práve vypucovaným Toi Toi-kám a cisternám s pitnou vodou, aby sme zo seba opäť urobili ľudí. Po obehnutí všetkých stánkov a nasýtení sa predraženými fast foodovými jedlami sme natešene čakali na ďalšie rockovo-metalovo-punkové dobrodružstvo.
Do očí nám udrela hneď Abba, ktorá hrala ku podivu chvíľu po obede na vedľajšom stage-i. Žeby prišla legenda vymetajúca priestory všetkých dedinských diskoték už od roku pána 1972? Nie, jedná sa o Asociáciu banskobystrických alkoholikov.
Za zmienku určite ešte stoja aj názvy iných vystupujúcich, ktoré svojou komickosťou lákajú hneď od začiatku. Bačova fujara a Hoväda.sk, sú predsa len záživnejšie názvy ako mať nič nehovoriaci názov, no nie?
Na B-stage-i určite zaujala známejšia formácia Punkreas, ktorá mladých a starších punkáčov teší už vyše 20 dlhých rokov.
Hurá na A-stage! Sobota patrila headlinerovi festivalu, Twisted (fu*king) Sister! Na tých sme si ale museli počkať až do večera, pretože ešte pred nimi nás chcelo potešiť 9 formácií z rôznych kútov sveta. Od premielanej Ameriky cez Ukrajinu, Česko, až po domácich. Mladučkí chlapci z Mystery, k nám prišli dokonca až z Austrálie. Ledva by u nás nadobudli občiansky preukaz a už nám ukazujú, že aj dnešná generácia má na to, aby zrodila skvelých metalových hudobníkov. Dúfajme, že si to tá doba nerozmyslí.
Smolu a hrušky netreba vám ich nejak zvlášť predstavovať. Mladí energickí chalani sa neboja do toho oprieť a chcú zo života vyťažiť všetko, čo sa len dá. Bavia fanúšikov notoricky známymi piesňami Fajčiť treba, Matura, Som najebaný… Pri ich spievaní, si frontman kľudne môže dať pauzu, pretože texty vieme už pekne dávno za neho. Nechýbala ani kontroverzná Za rodinu, ktorá bola reakciou na pochybné referendum alebo Honey Honey, kde nepotrebujú už ani Zdenku a všetko zvládnu sami.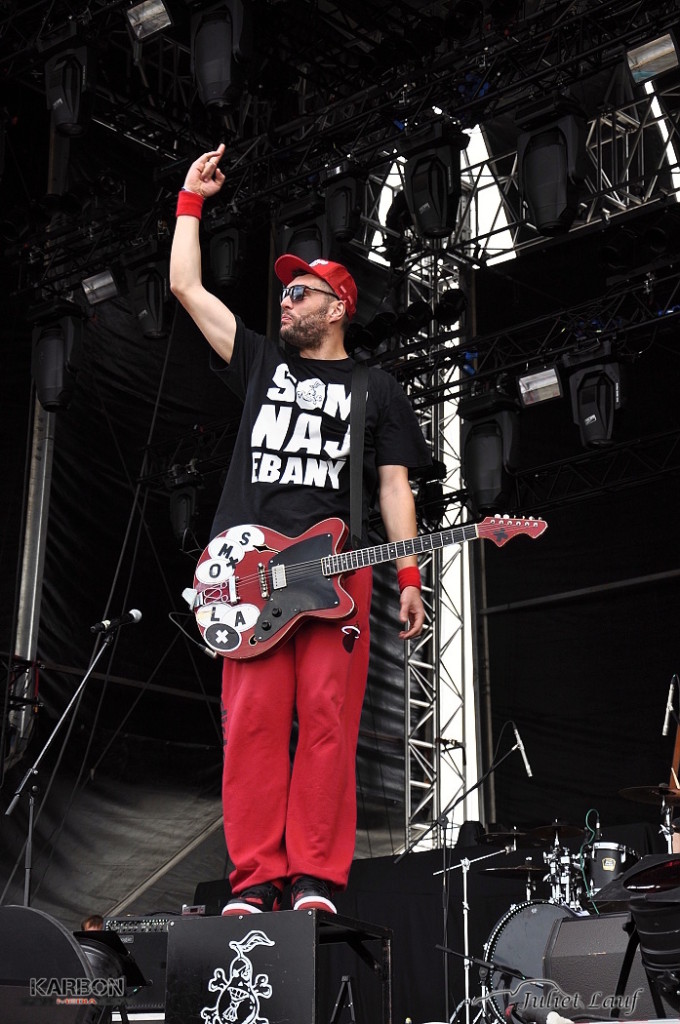 O siedmej stále pred pódiom A1, dve skupiny ľudí. Tí, ktorí chceli vidieť Hex a tí, čo chceli z prvých radov vidieť Twisted Sister a niekoľko hodinové čakanie im za to stálo. Nie som fanúšik práve tohto typu hudby, teda rádiových vypalovačiek, ale ich výkon bol dobrý, čo sa podpísalo aj na zanietení ich fanúšikov. Kto by bol povedal, že aj taká skupina ako Hex bude mať svoje pojašené 16-ročné fanynky? Tie si išli hlasivky vykričať a mne z toho išli prasknúť ušné bubienky.
Čas medzi nimi a metalovými Američanmi naplnili Hollywood Undead, populárni najmä u mladšieho publika. Ich nezvyčajné spojenie tvrdej hudby, rapu a masiek priniesli na scénu tajomnosť, po ktorej baží nejedno dievča. Day of the Dead, Undead nemohli chýbať, riadne rozpumpovali publikum aj Everywhere I Go, na koniec nás potešili aj jemnejšou Bullet, počas ktorej si zložili aj svoje tajnostkárske masky. Všetko bolo super, dokonca aj zvukár sa polepšil (alebo ho vymenili?), no trochu pokryvkával spev. Fanúšikovia sa domnievali, že Charlie si niečo pred koncertom šlahol, pretože poplietol aj vlastné texty. To, ale nič nie je, občas sa sekne aj majster.
Počasie ešte stále zubami-nechtami zotrváva v podobe, aké je najprijateľnejšie a Twisted Sister sa konečne pripravujú na svoj výstup. Keď už je všetko spojazdnené a publikum doslova vo vytržení, zaznejú prvé tóny. Nie však očakávané, ale tóny AC/DC. Na obrazovke je vysvietené meno zosnulého bubeníka, A.J. Pera a my si aspoň takýmto spôsobom uctievame jeho pamiatku. Pesnička dohrá a ľudia pod pódiom začínajú šalieť. Prichádza totiž legenda! Večne mladý spevák Dee aj napriek pokročilému veku (60!) vyzerá stále úžasne, čo nám po celú dobu aj ukazoval. Spieva stále ako kráľ a pódium je jeho prirodzené teritórium. Spolu s kolegami a Mikeom Portnoyom na mieste bubenníka, sa rozhodli nás všetkých obrať o hlasivky pri vypalovačkách We´re not Gonna Take It, Stay Hungry alebo SMF.
Až na menší trapas v podobe bujarého tlieskania, nevedomého jednoduchého slovenského ľudu na informáciu, že ich bubenník zomrel, išlo všetko ako po masle. Kričali sme, tlieskali sme a Dee bol neskutočne výrečný. Medzi songami sa prihováral ku každému ako k rovnocennému a sršali z neho humorné hlášky. Dal nám pocítiť, že aj keď sme ďaleko, on nás všetkých registruje, chválil dlhovlasým metalistom ich pýchy (vlasy!) a ukazoval nám svoje vypracované telo, z čoho išli do kolien najmä ženy a dievčatá. Nezabudli sme si vypočuť ani I Wanna Rock, dokonca sme si ju zaspievali až dva krát, pretože sme sa s veľkou ľútosťou dozvedeli, že Twisted Sister idú do dôchodku a že sa vidíme možno posledný krát.
Ich vystúpenie určite stálo za to.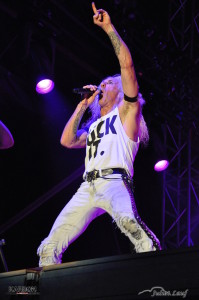 Kapely po spomínanom headlinerovi, sa nám potom zdali len akousi ozvenou. Zoči voči a Zóna A tu pre nás boli aj neskoro v noci a nenechali sa zahanbiť. Suverénne hýbali davom a ťažili z neho všetko, čo sa len dalo.
Sobotu uzatvárala bratislavská Karpina, ktorá nám však v oku nevadí a návštevníci z posledných síl hodinu po polnoci kričali do chladného povetria "Á nájväčšiá diééra je …!"
Za foto ďakujem: Janke Gogovej (livemusic.sk), Petrovi Laufovi (karbonmedia.sk), Wikesovi Hlavatovičovi a autorom youtube videí 🙂