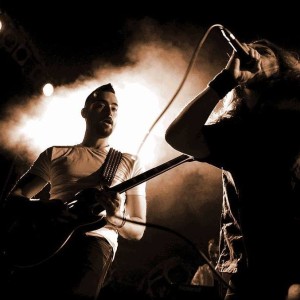 Jednou zo slovenských kapiel, ktoré obohatili tento rok našu scénu novým albumom patria aj Senčania Signum Regis. Ich Chapter IV: The Reckoning vyniká kvalitnými skladbami a výborným zvukom. S kľudným svedomím si ho dovolím označiť za jeden z najlepších albumov tohto roka. Viac už gitarista Filip Koluš:
Zdravím Filip, koncom novembra Vám vyšiel nový full album Chapter IV: The Reckoning, prvý s Mayom za mikrofónom. Na úvod by som sa ťa spýtal, aký máš z neho pocit.
Filip Koluš: Servus, z nového albumu mám veľmi dobrý pocit. Je to podľa mňa náš doposiaľ najlepší album, čo sa týka songwritingu. Skladby z neho sú zvučné, chytľavé a ľahko zapamätateľné, ale rozhodne nie rovnaké alebo tuctové. Obal nám robil Yan Yrlund z Darkgroove design.
Zmenil Mayov príchod proces skladania piesní?        
Filip Koluš: Nezmenil. U nás je už systém skladania natvrdo a pevne zaužívaný.
Jednou z vecí, čím vyniká je aj super zvuk. V ktorom štúdiu ste ho nahrávali?
Filip Koluš: Ako vždy, bicie v našom hlavnom štúdiu v Senci a zvyšok v našich domácich štúdiách. O mix sa opäť postaral Ronnie a mastering sa robil u Jensa Bogrena (človek, ktorý spolupracoval s kapelami ako Symphony X, Dragonforce, Arch Enemy) vo Fascination studios.
Predposledný album Exodus bol nahrávaný za pomoci mnohých hostí. Neuvažovali ste o nejakých hosťoch, čo sa týka spevu aj v prípade Chapter IV: The Reckoning?
Filip Koluš: Neuvažovali. Chceli sme nahrať celý album ako jedna kapela. Hostí sme si ale predsa pozvali. Sú nimi Mistheria (vynikajúci klávesak v minulosti spolupracujúci aj s Bruce Dickinsonom) a gitarista Roger Staffelbach.
Ohľadom textov, tak mám pocit, že na seba nadväzujú. Je Chapter IV: The Reckoning koncepčným albumom alebo sa mi to len zdá?
Filip Koluš: Nenadväzujú, ale dávajú spolu zmysel. The Reckoning nie je koncepčný, ale je textovo zameraný na hlavný odkaz – nezakrývať si oči pred reálnymi hrozbami a problémami, a neviniť za ne tých, ktorí sa iným snažia tie oči odkryť.
Taktiež som si všimol, že obdržal mnoho pochvalných recenzií od zahraničných zinov. Bude to mať nejaký vplyv ohľadom plánovaných koncertov v zahraničí?
Filip Koluš: Áno, čo nás najviac teší, vyhral album mesiaca november na prestížnom nemeckom portáli powermetal.de, v konkurencii svetových skupín ako Def Leppard či Swallow The Sun. To bolo pre nás obrovské zadosťučinenie za tvrdú prácu, ktorú sme do neho vložili. Neviem, aký vplyv to má na koncerty v zahraničí, ale už dnes máme zjednané vystúpenia na jar 2016, všetky zatiaľ v zahraničí.
Ďalej by som sa spýtal otázku, ktorú som položil viacerým. V poslednom čase som si všimol na Slovensku a v Čechách akúsi módu o návrat k rodnému jazyku. Mohlo by sa niekedy v budúcnosti stať, že vo vašich piesňach budeme počuť aj slovenčinu?
Filip Koluš: Ja som si tento trend všimol už za čias staršej Tublatanky, takže ja osobne to za nejaký nový boom nepovažujem a ani ma to neprekvapuje, že kapely zo Slovenska spievajú aj po slovensky. Čo sa týka spojitosti Signum Regis a textov v slovenčine, tak si to neviem predstaviť a nemyslím si, že sa tak niekedy stane. Ale možno raz motyka vystrelí, nikdy nevieš … 🙂
Ako tak pozerám na váš web, tak zatiaľ som si všimol dva koncerty v zahraničí. Plánuje sa aj niečo na Slovensku alebo v Čechách?
Filip Koluš: V Čechách áno, už to máme aj potvrdené, doma zatiaľ nič, ale uvidíme či sa niečo nevyskytne.
Porozprávaj niečo o civilnom živote členov Signum Regis (záujmy, záľuby, prípadne povolania).
Filip Koluš: Sme úplne bežní, pracujúci ľudia, ktorí sa radi bavia, smejú a ktorí majú skvelého spoločného koníčka – hudbu.
Opäť tradičná otázka – čo tvoje hudobné začiatky. Kedy si sa dal na hudobnú dráhu, čo ťa k tomu inšpirovalo a ako si sa dopracoval k Signum Regis?
Filip Koluš: Klasickú gitaru som začal študovať na ZUŠ Ľudovíta Rajtera, keď som mal asi 6 rokov. Vydržalo mi to celých 12 rokov a ku klasike a spomienkam na to obdobie mám silný vzťah dodnes. Čo sa týka mojich kapelných začiatkov, tie začali asi keď som mal 13 rokov. Vtedy som začal hrať v školskej rockovej kapelke, potom sa to tiahlo cez garáže, skupinu Hard Maple a v roku 2007 som nastúpil do skupiny Vindex. V ten istý rok sme začali nahrávať aj debutový album Signum Regis a vtedy som sa stal stálou súčasťou nášho seneckého bandu.
Bolo by reálne, žeby popri Signum Regis začali opäť fungovať aj kapely ako Vindex alebo Trigger?
Filip Koluš: Nemyslím si to.
Tak, to už je záver rozhovoru. Nesmierne ďakujem za odpovede a ako tradične poprosím ťa o nejaký ten odkaz pre čitateľov.
Filip Koluš: Ja ďakujem za otázky a pozdravujem všetkých našich fans a čitateľov Metalmania-Magazínu!
Youtube ukážky:

Linky:
http://www.signum-regis.com/
https://www.facebook.com/signum.regis/
http://bandzone.cz/signumregis