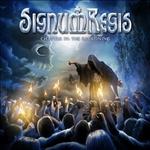 Dnešnou recenziou by som chcel splatiť dlh jednému albumu, ktorý vyšiel minulý rok koncom novembra, no pre množstvo povinností sa mi nepodarilo nájsť čas na jeho rozoberanie.
Signum Regis sa za necelých 9 rokov od svojho vzniku slušne rozbehli. Vydali už dokopy 5 nahrávok a navyše sa im darí reprezentovať našu krajinu na zahraničných pódiách. V lani boli nesmierne aktívni – okrem koncertovania, stihli vydať  EPčko Through the Storm  (prvotinu s Mayovím spevom) a full CD Chapter IV: The Reckoning, o ktorom bude reč. Obe vydal švédsky label Ulterium Records.
Pri  prvej zverejnenej ukážke (videu s úryvkami skladieb) som mal isté obavy, keďže spevák Mayo začal používať trochu iný štýl spevu, t. j. presunul sa skôr do nízkych až stredných polôh. Treba však povedať, že aj táto poloha mu nesmierne svedčí. Keď si vypočujete napríklad dvojku The Secret of the Sea alebo peknú záverečnú baladu Bells Are Tolling, určite budete súhlasiť.
Taktiež treba pochváliť jeho celkový zvuk. Leader Ronie pri mixe a Jens Bogren (známy zo spolupráce s menami ako Symphony X, Dragonforce, Arch Enemy) pri celkovom masteringu vo Fascination studios spravili dobrú prácu.
Čo sa týka piesní ako takých, ostáva všetko po starom. Aj na tomto albáči stavili ,,Signumáci" na zaujímavé gitarové motívy, melódie a pod. (The Voice in the Wilderness alebo v tomto smere, When Freedom Fails – najvydarenejšia vec na celej nahrávke…). Nechýba ani motív z klasiky konkrétne v The Magi (tematika troch mudrcov). Škoda, že podobné motívy nevyužili aj v ďalších skladbách, nesmierne im to svedčí.
Popovejšiu tvár kapely predstavujú piesne Tempter of Evil, The Kingdom of Heaven. Osobne ma veľmi neoslovili, ale podľa mňa si nájdu svojich priaznivcov.
CD Chapter IV: The Reckoning potvrdilo, že Signum Regis patrí jednoznačne medzi špičku našej power melodic scény. Bodovo to tentokrát bude 5 zo 6tich. Snáď sa tento rok objavia vo väčšom množstve aj na našich pódiách.
Lineup:
Mayo Petranin – spev
Filip Koluš – gitary
Ronnie König – basa
Ján Tupý – klávesy
Jaro Jančula – bicie
Hostia:
Maestro Mistheria – piano (skladba 10)
Roger Staffelbach – gitary (skladba 5)
Tracklist:
Lost and Found
The Secret of the Sea
The Voice in the Wilderness
Prophet of Doom
The Magi
Quitters Never Win
Tempter of Evil
When Freedom Fails
The Kingdom of Heaven
Bells Are Tolling
Rok vydania: 2015
Vydavateľstvo: Ulterium Records
Youtube ukážka:

Linky:
http://www.signum-regis.com/
https://www.facebook.com/signum.regis
http://bandzone.cz/signumregis
Hodnotenie: 5/6