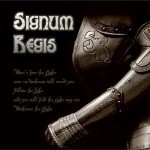 Z rôznych dôvodov sa stáva, že si muzikanti zo svojich domovských kapiel odskočia spraviť nejakú bokovku. Niekedy sa to celkom podarí a v rámci nej sú známi rovnako ako u svojej domovskej kapely (príklad Avantasia Tobiasa Sametta) inokedy zostanú nepovšimnuté.
Podobnou cestou sa rozhodol  v roku  2007 ísť aj leader seneckej kapely Vindex Ronie Konig. Jeho projekt dostal názov Signum Regis. Na nahrávanie si pozval vindexackých členov. Post speváka ostal otvorený (človek, menom Luděk Struhář, ktorý vo Vindexe obsluhuje mikrofón tu obsadil post bubeníka).
Tento post nakoniec obsadil známy Švéd Göran Edman, známy zo spolupráce s ľuďmi ako Yngwie Malmsteen, alebo John Morum. Jeho hlas je charakteristický pre celú ich tvorbu a zvláda spievať ich pomerne ťažké texty. Taktiež veľmi dobre vyznie aj v zborových partoch.
Ako píšu na svojom webe rozhodli sa zamerať na melodický metal, s virtuóznymi gitarami a neoklasickým nádychom. Na prvých skladbách vidno, že sa im podarilo do nich importovať ešte niečo navyše. Tým je príjemná atmosféra a priehrštie pozitívnej energie, čo budete počuť hneď v prvých dvoch skladbách, hlavne v tej druhej. Niečo tak pozitívne ako All Over The World som nepočul snáď ani u Freedom Call 🙂
Potom zažijeme trojicu Neverland, Forever and a Day,  Bright days of Glory. Z nich ma najviac zaujali prvá a tretia. Neverland sa nesie v strednom tempe a má celkom príjemný refrén. Pri Bright days of Glory je to tempo trochu rýchlejšie a nechýba ani vydarené melodické sólo. Zaujme aj nasledujúca The Rain, kde sa v plnej paráde zas predvedie klávesak Ján Tupý v súboji s gitarovým osadenstvom kapely.
Z ďalších by som najviac vyzdvihol Follow the Light pre jej príjemnú melódiu, aj inštrumentálka  Mountian Haze nie je zlá.
Úplným vrcholom je ale predposledná The Ten Thousand a posledná Sirens Roar. Prvá zmienená je ten typ, u ktorej hrozí to, že jej refrén (The full moon is rising, there in the Eastern sky. The Then Thousand marching, too late for them to cry) vám bude znieť v hlave min týždeň po jej vypočutí (možno aj viac 🙂 ). Druhú zas zdobí pekné gitarovo-klávesove sólo s motívom Mozartového Tureckého pochodu.
Bonusom pre japonský trh je The Endless Road. Podobne ako na ostatných aj tu je pekná melódia a podobne, ale príde mi akosi malo výrazná.
Takže konečný verdikt. Jedna sa o mimoriadne kvalitné dielo. Dôkazom môjho tvrdenia je už len fakt, že si ich pod svoje krídla dve vydavateľstva (európsky trh: Locomotive Records, Japonsko: Avalon/Marquee). Leader Ronnie taktiež poskytol niekoľko vyjadrení rôznym zahraničným portálom (napríklad: http://mauce.nl/site/2012/interview-with-signum-regis/).
A dobrá správa na záver: Jednou z veci, na ktorej páni aktuálne pracujú je aj živé koncertovanie 🙂
Linuep:
Göran Edman – spev
Ado Kaláber – gitary
Filip Koluš – gitary
Ronnie König – basa
Ján Tupý – klávesy
Luděk Struhař – bicie
Tracklist:
Fields of Stars
All over the World
Neverland
For Ever and a Day
Bright Days of Glory
The Rain
Passionate Love
Mountain Haze (instrumental)
Follow the Light
The Ten Thousand
Sirens Roar
Bonusy:
Rok vydania: 2008
Vydavateľstvo: Európsky trh: Locomotive Records, Japonsko: Avalon/Marquee
Video ukážka (www.youtube.com):
Hodnotenie: 5,5