Necelé dva dni po tom, čo sa začal písať aktuálny rok 2016 sme sa s bratom  rozhodli za mrazivého zimného večera pre výjazd za zaujímavou akciou. Nechodili sme ďaleko, navštívili sme blízky humenský klub Nostalgia – kde sa malo udiať vystúpenie miestnej rockovej stálice – Mahagon.
Daná formácia je jednou z mála, čo sa držia tradičného old school hard rocku. V súčasnej zostave pôsobia od roku 2011. Zo začiatku vystupovali hlavne na Zemplíne, no v poslednom čase sa ich koncertné aktivity začínajú posúvať čoraz viac na západ. Osobne som ich naposledy zhliadol na našom domácom Rocku pod Kameňom minulý rok…
Svoj set začali okolo 20:40. Zo začiatku to s účasťou vyzeralo slabo, neskôr sa to však napravilo. Divákom ponúkli 18 skladieb, medzi nimi nechýbali veci ako Atmosphere (odznela hneď druhá), I am more a Darktimes, ktoré je možné nájsť aj na ich bandzone profile. Spestrením setu bol cover od Deep Purple – Walk On. Nechýbali vynikajúce inštrumentálne výkony – vynikali hlavne gitarista Vlado Košut a ,,motor kapely" bubeník Pavel Francúz.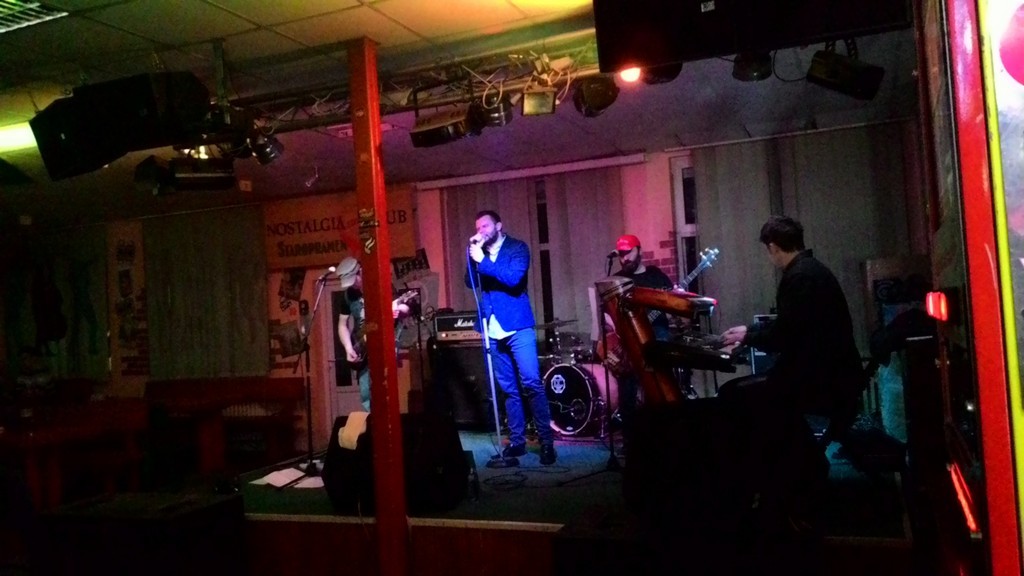 Spevák Roman pojal tento večer zaujímavým spôsobom. Keďže ako som písal bol druhý deň nového roka, tak si pre fanúšikov pripravil motivačné citáty – ktoré čítal pred jednotlivými skladbami. Čo sa týka jeho výkonu, tak nespieval síce zle, ale vedel by som si predstaviť žeby sa do toho čosi viac oprel. To však zrejme bolo spôsobené miernym prechladnutím (pár dni predtým mali Open Air vystúpenie v Košiciach čo si zrejme vyžiadalo svoju daň). Po spomínanom coveri odzneli ešte One down another to go a záverečná Tell me.
Vystúpenie Mahagonu bolo skvelým začiatkom roka. Ak niekedy natrafíte na informáciu, že budú vystupovať vo vašom meste, alebo obci určite sa choďte na nich pozrieť. Neoľutujete! 🙂
P.S: Za foto ďakujem bratovi Dávidovi 🙂