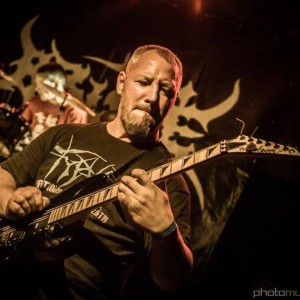 Gitarista vranovských death metalistov Brute – Steve je mimoriadne aktívny. Dôkazom toho je aj to, že ako ste mnohí už počuli, rozbehol aj bočný projekt s názvom Pain Purification. O súčasnom stave daného projektu, plánovanom albume, ale aj o novinkách z tábora Brute sa dozviete z nasledujúceho rozhovoru.
Zdravím Steve. Ty si sa pred časom pustil do projektu, ktorý si nazval Pain Purification. Na úvod sa spýtam, čo bolo dôvodom. Skladby, ktoré sa nehodili k tvojej domovskej kapele Brute, alebo niečo iné?
Steve:  Ahoj. Pozdravujem aj fans. Na úvod zdôrazním, že nie je to sólo projekt, aj keď tvorím všetko sám. S nápadom vlastne prišiel Pafo, bývalý spevák Brute. Stále dochádzal na skúšky, takže sme stále boli v kontakte.
No mal som takú myšlienku aj ja už dlhšie v hlave. Chýbali mu skúšky a to všetko okolo toho. Ja som s tým nemal problém. Nápadov mám dosť. Prvý názov bol Alc Kakraholt, no zmenil som ho na PP, lebo tie cyklonsypanice a celkovo muzika mi neprišla až taká humorná, aj keď na skúškach mi niekedy ide aj do plaču od smiechu. Vždy sa to niečím zalieva, ak mi rozumieš, aby to nezvädlo a nevyprahlo. Hneď sme vedeli, že pôjdeme viac do extrému a rýchlosti. Ja som netrpezlivý človek a chvíľu bez tvorby neobsedím 🙂 Pauzy medzi albumami a skúškami sú na mňa dlhé. Nechcem už strácať čas. Možno v tej hudbe je môj rukopis, no s Brute tvorbou to nemá nič spoločné. Pozor! Neoddeliteľnou súčasťou sa v PP stal môj veľký priateľ, opora a basák Rado. Je to zdravé jadro, na svoj vek veľmi talentovaný a zodpovedný tvor. Hneď bez váhania sa pridal ku projektu.
Ako to vyzerá so songami? Kedy budú ďalšie?
Steve:  Prvý song Intriques sme vypustili na Bandzone. Hneď na to sme druhý song s rovnomenným názvom Pain Purification hodili na You Tube. Teraz chceme poslať demo na recenzie a po recenziách sa zverejní tiež na YT a BZ celé demo.
Čo sa týka ďalších plánovaných skladieb, bude to niečo na pod. spôsob, alebo sa pustite aj do nejakých experimentov (napr. čo ja viem slovenské texty – ako to je teraz populárne)?
Steve:  Ostáva to v nekompromisnej a devastujúcej podobe s textami v angličtine. Zbesilé cyklónové sypanice priamo do ksichtu, aj keď to každému nevonia.  Proste milujeme brutal death.
Je v pláne aj živá prezentácia skladieb, alebo to bude výlučné štúdiový projekt?
Steve:  To sa ma pýta veľa ľudí. Zatiaľ je to štúdiovka. Ako sa poznám, asi dlho nevydržíme a možno niečo časom dáme aj naživo. Ukáže čas a osud.
Kedy môžeme očakávať nejaký ten album?
Steve:  Ja som optimista. Snáď do konca roka sa nám album podarí nahrať.  Treba spomenúť, že ako demo, tak aj album budú vydané pod indonézskym labelom ROOMMATE RECORDS, ak všetko dobre dopadne. Všetko sa priebežne všetci dozviete. Buďme hlavne zdraví, ako sa hovorí.
Ako sa vám podarilo vybaviť takú spoluprácu?
Steve:  Danny, šefík z tohto labelu si našiel a vypočul song z nášho dema, ktorý sme dali na YT, napísal " very nice"a začala spolupráca. Chce to čas, trpezlivosť a veríme, že to dobre dopadne.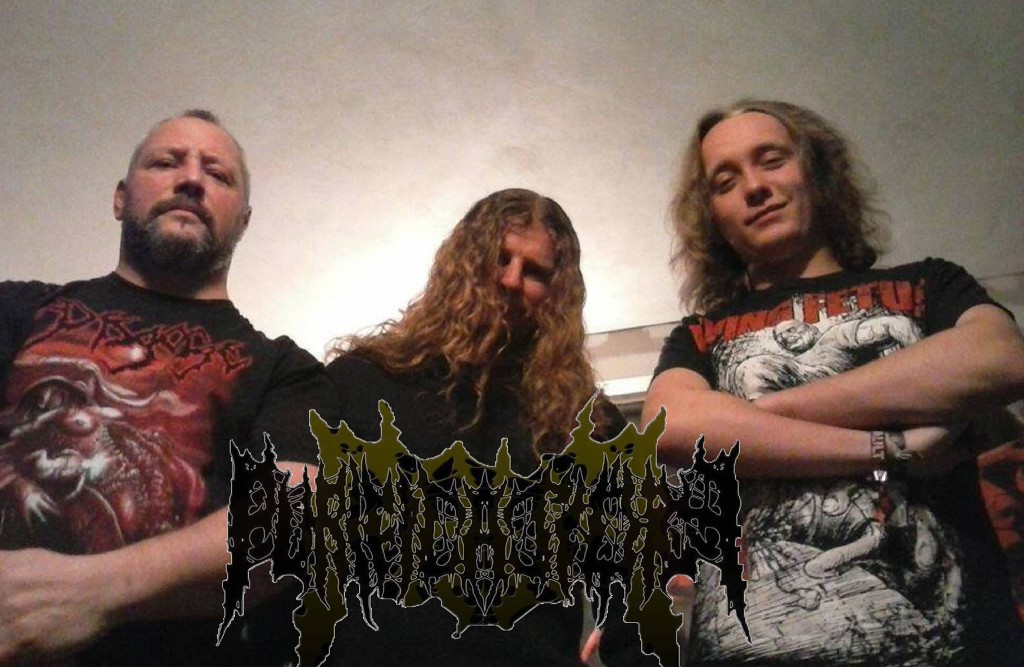 Chystáš aj niečo nové s Brute?
Steve:  No jasné. Už je dávno pripravený tretí album, ktorý teraz hobľujeme na skúškach. V apríli nám znovu náš veľký priateľ Jirka Zajíc, ktorý nahral aj Pillory nabubnuje zase v moravskom Davos štúdiu náš tretí album, ktorý následne dotočíme vo vranovskom štúdiu Tretradrot ako vždy. Máme neustále problémy so stabilnou zostavou a bubeníkmi, preto sme nenormálne Jirkovi vďační. Jirka je neskutočný " řízek" a kvalita je zaručená. Myslím, že predstavovať ho je strata času. U mňa je to legenda a tým to haslo. Takže sa tešme spoločne na nový album Brute.
Najbližšie koncerty s Brute?
Steve:  Všetko je na www.bandzone.cz/brute a na FB. Najbližšie máme v apríli Liptovský Mikuláš, kde nás pozvali kamaráti z Feel A Curse na krst ich nového počinu. Potom sa povenujeme novému albumu. Vždy nabehnú akcie počas roka. Niečo sa rysuje na leto v Trenčíne. V októbri máme v Olomouci Rotten fest. Dokonca máme už zajednaný jeden festival na leto 2017.
No ok, to bolo všetko. Každopádne ďakujem za zaujímavý rozhovor, prajem všetko dobré a poprosím ťa o nejaký ten odkaz pre čitateľov.
Steve:  Kamaráti, priatelia, veľmi vás máme radi, neskutočne si vás vážime. Ste súčasťou toho všetkého a bez vás sme bezvýznamní. Tešíme sa na vás. Ste ako naša rodina. To sú priateľstva na celý život. Buďte zdraví a podporujte dobrú muziku ako death metal. Hudba je úžasný balzam a dar na celý život. Vidíme sa. Cheers!!! DEATH METAL FOREVER.
Youtube ukážka:

Linky:
https://www.facebook.com/PAINPURIFICATION.esdm/
http://bandzone.cz/painpurification