Možno viete, možno nie, už nejaký ten rok sa klubové koncerty opäť rozbehli aj v Prešove. Dôkazom toho bola aj skvelá akcia konaná 21. mája v tamojšom klube Fester (predošle názvy Ester a 263). Na nej vystúpila trojica kapiel – punkový DoXichtu, progresivno-metaloví SunRain z Prešova a košicko-prešovskí glameri Wild Sixtee NeiN.
Koncertu sa bohužiaľ nevyhol jeden z tradičných problémov podobných akcii. Pre problémy prvých vystupujúcich DoXichtu sa dosť posunul začiatok, preto nakoniec stihli len pár skladieb. Čo by som k nim povedal? Typická punkovina. Hudobnými kvalitami moc nevynikali, ale pochválil by som aspoň nasadenie s ktorým hrali.
O nasledujúcich SunRain som už veľa počul a bol som nesmierne rád, že mám tu česť zahliadnuť ich prvýkrát na živo. Hneď na úvod bolo vidieť zmysel pre humor – gitarista Ady Hnát kvôli stávke s dvoma členmi  Wild Sixtee NeiN celý koncert odohral v slipoch 🙂 Poďme však  k hudbe.
Na to, že sa jedná o pomerne mladú formáciu (väčšina členov v súčasnosti navštevuje stredné školy), bol to fakt strhujúci výkon. SunRain zvládajú aj pomerne zložité rytmy a aj ostatní členovia sú nesmierne talentovaní.
Max. u speváka Rasťa boli určité rezervy. Nespieval zle, ale dokázal by aj lepšie. Odzneli Angel Of Death,  Extinct Life, Raisd Black Flag (až 10 minútová), Utopia – známa z youtube a Land Of The Dream…
Chlapci vypočuli aj žiadosti o prídavok – v rámci neho zahrali Way Of Ragwort. Napriek menším technickým problémom a absencií dvojhlasov v piesňach jednoznačne skvelý koncert.
Pred vystúpením nasledujúcich Wild Sixtee NeiN som mal určité obavy, či nebudu kopírovať niektoré svoje vzory. To sa našťastie nenaplnilo, naopak celú bandu treba pochvaliť za jej originalitu. Svoj moderný glam rock (nechýbal ani typický glamový prvok – výrazný image) obohatili o nástroj veľmi netypický v tomto žánri – husle.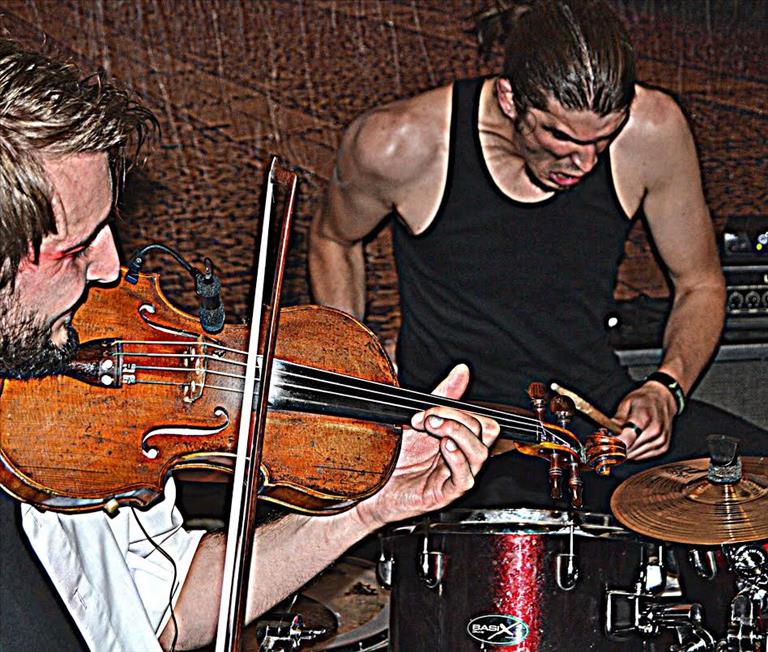 Je to síce taktiež pomerne mladá kapela, no veľmi obľúbená. Ešte pred začatím setu, koncertný priestor bol slušne naplnený a krátko po jeho začatí sa rozbehla poriadne divoká glam rocková párty.
Rockeri svojich fanúšikov nešetrili a naservírovali až 11 piesní We will come again, Sarcastics Attacks, Knockin´ on heaven´s doors (cover Guns N Roses), Sex,sex,sex,  Come On!, Who M.I., Sweet Pain, All Alone, Run for your life, Sinner, So easy plus dve pridávky Papa Drug, Circus. Veď ako by aj mohli nevypočuť, keď to bol na dlhšiu dobu zrejme posledný koncert na východe Slovenska.
Jedine čo by sa dalo vytknúť bol zlý zvuk. Podobne ako v predchádzajúcich prípadoch vzadu bolo kapelu slabo počuť (zrejme to bolo dané charakterom priestoru).
Čo povedať na záver? Asi len to, že konečne začal tzv. rock/metalový undeground žiť aj v Prešove. Ľudia hladní a smädní po takejto muzike nepochybne žijú aj v tomto meste. A ak sa raz zlepší dopravné spojenie, určite za takýmito akciami dôjdu aj z ďalších miest. Úplne poslednou vetou ešte poďakujem všetkým vystupujúcim za skvelý večer.
Foto: Wild Sixtee NeiN, ostatné vlastné