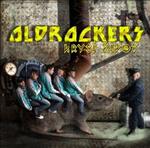 Často sa stáva, že zaujímavé rock/metalové kapely nájdeme na Slovensku aj mimo miest, ako Košice, Bratislava a podobne…  Dobrým príkladom sú aj Oldrockers pochádzajúci z Hlohovca, známi z regionálnych akcií v okolí mesta a podobne. Ak sledujete web Metalmania-Magazín, z rozhovoru uverejneného 17. marca ste sa mohli dozvedieť, že začiatkom februára nahrali už tretí album Krysí život.
Piesne na Krysom živote sa nesú v hard/glam rockovom štýle a sú postavené na jednoduchých gitarových motívoch. V textoch sa dotýkajú rôznych vecí ako krčmová tematika (Barmanka, Hasič), ale aj národnej hrdosti (Biela Modrá Červená) a podobne… Dôjde aj na baladu s tematikou lásky – baladu S tebou som Ikaros. Z hľadiska inštrumentálnej zručnosti nie je rockerom čo vytknúť. Spevák Dušan Káčer by však mohol trochu pridať. Má celkom dobrý hlas (aj talent samozrejme), ale mám pocit, že sa v skladbách šetrí.
Obsahová stránka albumu však nesplnila moje očakávania… Na to, že ide o starších rockerov sú piesne až priveľmi jednoduché. Chýbajú nejaké výraznejšie motívy a  celkovo väčšiu prepracovanosť. Čiže pomyselná pridaná hodnota.  Texty sú na môj vkus pomerne plytké, aj keď sa určite nájdu ľudia, ktorých to bude baviť. Treba povedať, že album ako taký má aj svetlé momenty. Medzi ne patria päťka Tretie Tisícročie a energická titulná Krysí život (zaujímavé hlavne po gitarovej stránke), osmička – chytľavá Barmanka aj spomínaná balada S tebou som Ikaros.
Ako som vyššie uviedol, určite sa nájdu ľudia, ktorých bude tento albáč baviť – či už z hľadiska textov, ale aj skladieb ako takých. Ja som však očakával viac. Preto to hodnotím skôr ako priemer – teda materiál čo síce neurazil, ale ani nezaujal.
Lineup:
Dušan Káčer – spev
Ľubo Baláž – gitara
Ivan Chudý – basgitara
Mario Pavlovič – klávesy
Jaro Hudák – bicie
Hosť:
Tracklist:
Krysí život
Tretie tisícročie
Biela Modra Červená
S tebou som Ikaros
Hľadám sa
Lakovaná kráska
Hasič
Barmanka
Účet
Tridsaťročný rozdiel
Rok vydania: 2016
Vydavateľstvo: Samovydanie
Youtube ukážka:

Linky:
https://www.facebook.com/Oldrockers-134875119932827/?fref=ts
http://bandzone.cz/oldrockers
Hodnotenie: 3/6