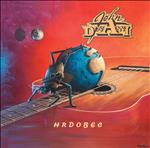 Pamätáte si ešte na John Dovanni? Ak pravidelne sledujete Metalmania-Magazín a dianie na českej scéne ste sa mohli dozvedieť o ich comebacku. Ak vám to uniklo, tak menšia pripomienka. Ide o hard rock/hair metalovú formáciu, ktorá v 92.-hom po vydaní debutového albumu zožala slušný úspech.
Napriek tomu dvakrát došlo k ukončeniu činnosti (krátko po vydaní debutu a v 1996). Toto muzikantské teleso sa opäť prebralo k životu až v roku 2014. Tento rok im vyšiel comebackový album so zaujímavým názvom – Hrdobec, čo je zároveň názov aj skladby na druhej pozícii.
Ako úvod CD sa nesmierne hodí. Jej text je zaujímavým vyjadrením o boji s osudom a potvrdzuje, že Tomáš Kolinger, nie je len skvelým spevákom (jeho hlas za tie roky nič nestratil so svojho pôvabu) ale aj schopným skladateľom – pod väčšinou piesní je podpísaný ako textár a skladateľ.
Dokáže prísť so sviežimi, moderne znejúcimi nápadmi, vďaka čomu môže súčasná tvorba JD osloviť aj ľudí, ktorí v dobe prvého albumu buď neboli na svete, resp. boli vo veľmi mladom veku (Hrdobec, Legionář).
Pochváliť treba aj ostatných spoluhráčov. Všetci (okrem toho že kvalitne ovládajú svoje remeslo) pôsobia ako správna zohratá partia, po nejakom prerušení činnosti nie je ani stopy. Na CD nechýba ani tradičná téma John Dovanni – vzťahy medzi pohlaviami, zastúpená vo väčšine skladieb.
Samozrejmosťou sú aj balady – Papírovej Svět a akustická Rozsvíti se hvězdy. Nepripomínajú síce staré kúsky ako Náhodná, Jsou Dny, ale zaslúžia si pochvalu.
Celkové hodnotenie: Tento album preukázal, že návrat John Dovanni bola nepochybne skvelá vec. Skladbami dokáže osloviť široké spektrum poslucháčov. Trochu sa však obávam, že pre vyťaženosť hráčov bude ich problém zahliadnuť naživo. Platni však udeľujem 5 bodov zo 6tich.
Lineup:
Tomáš Kolinger – spev
Petr Henych – gitary
Vítek Fiala – basa
Lukáš Pavlík – bicie
Hostia:
Gabriela Smutná – (smiech v piesni Hrdobec)
Tracklist:
Intro
Hrdobec
Urvanej z řetězu
Vo to de
Žokej mraků
Chlapská touha
V nás
Adam a Eva
Legionář
Voníš jak andělé
Kdyby soud
Papírovej svět
Krev benzínem zředěná
Kroužím
Šounil
Rozsvítí se hvězdy
Hraju už sám
Outro
Rok vydania: 2016
Vydavateľstvo: JHPublish
Youtube ukážka:

Linky:
http://www.johndovanni.cz/
https://www.facebook.com/JohnDovanniOfficial
Hodnotenie: 5/6
Páčil sa ti tento článok?