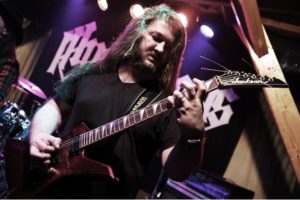 Slovenským metalovým kapelám sa postupne darí prenikať aj za hranice našej krajiny. Dôkazom toho sú aj melodický black/death metalisti Mysterious Eclipse z Nového Mesta nad Váhom. Čoskoro sa so spriatelenou formáciou Abstract z Banskej Bystrice vydajú na turné po balkánskych krajinách. Podrobnosti o ňom a o chystanom albume sa dozviete v nasledujúcom rozhovore s gitaristom Martinom ,,Bradom" Bradáčom
Zdravím Brado. Začiatkom už 9. septembra sa s Mysterious Eclipse vydáš na balkánske turné. Na úvod sa spýtam, ako sa vám ho podarilo vybaviť?
Brado: Peter Lengsfeld z kapely Abstract, s ktorým sa poznáme už roky (a pozvali sme ho aj na krst nášho CD Hell of Pain v roku 2013) dostal ponuku hrať v Sbrsku a Bosne Hercegovine od Boža Pandorvického z Hammer and tongs – tour and promotions, ktorý aj toto celé zastrešuje a robí tomu podporu. Následne ma oslovil, či by sme im nepomohli s niektorými záležitosťami. My sme to prijali a stali sa tak súčasťou tohto turné, za čo sme mu veľmi vďační.
Je to vaša prvá skúsenosť s hraním v zahraničí, alebo ste už niečo podobné absolvovali?
Brado: Je tomu tak prvýkrát, ale osobne som rád, že až po tak dlhej dobe existencie Mysterious Eclipse, keďže kvôli chýbajúcej zodpovednosti a problémom u niektorých bývalých členov by to asi nikdy nedopadlo dobre 😉
Čo od toho v kapele očakávate?
Brado: Ťažko povedať. Necháme sa prekvapiť. Hlavne je to pre nás výzva  a keďže tam budeme spolu s Abstractom, bude to aj dobrý výlet spojený s množstvom zážitkov.
Kadiaľ povedie trasa?
Brado: Prvý víkend sa pôjde v piatok 9.9.2016 do Srbska cez Maďarsko do mesta Požarevac, v sobotu ďalej do Somboru a v nedeľu zahráme spolu s domácimi kapelami Chaosium a Alitor v Kragujevaci. V pondelok sa budeme vracať späť na Slovensko. Druhý víkend v piatok 16.9.2016 sa pôjde tentoraz cez Chorvátsko do Bosny a Hercegoviny do mesta Pale, v sobotu do Jablanice (pôvodný plán Sarajevo) a v nedeľu zakončime turné v Tuzle. Všetko to budú klubové akcie.
Obdŕžali ste prostredníctvom fb aj nejaké ohlasy od ľudí z tých krajín na vašu tvorbu?
Brado: Áno. Väčšinou pozitívne. Niektorí z nich aj zdieľajú naše live videá 🙂
Na fotke zľava : Roman Hercegh – bicie, Jozef Malina – dopovodná gitara , Peťa Siažiková – spev, Martin Bradáč – sólová gitara, Lukáš Glos – basgitara
Budeš s kapelou pokračovať v podobných aktivitách smerom do zahraničia?
Brado: Rád by som. Ale všetko je to vec financií a priorít.
Vedel by si si osobne prestaviť aj hranie niekde ďalej – Nemecko, Francúzsko?
Brado: Mali sme rôzne ponuky ako napríklad hrať na Malte, v Rusku a inde, ale odmietli sme to. Dôvod bol väčšinou vždy ten istý. Nepokrytie základných nákladov a nevýhodné podmienky.
V osobnom rozhovore si mi pár krát spomínal nový album. Kedy asi uzrie svetlo sveta?
Brado: Nikde sa nenáhlime a to najmä preto, že nechceme vydať priemerný album. Väčšinou sám robím na jednej skladbe niekoľko týždňov, či aj mesiacov. Stále počúvam, prerábam, znovu počúvam a zase prerábam. A to až dovtedy ,kým nie som úplne spokojný. Demonahrávku s naprogramovanými bicími potom pošlem ostatným členom, ktorí sa ku skladbe vyjadria. Na skúškach kapely sa následne dolaďujú detaily, kde si obyčajne ešte gitarista Jojo Malina upraví gitarové doprovodné riffy, basgitarista Lukáš Glos basové linky a náš najnovší člen Roman Hercegh upraví bicie tak, aby to vyznelo naživo čo najlepšie. Ak niečo nesedí, znovu sa skladba prerába. Nápady tiež posielam jednému klávesakovi, ktorému sa naša nová tvorba páči a len čas ukáže, či sa k nám pripojí a posunie tak kapelu a nahrávku ešte ďalej. Petrine texty a spev prídu na rad až na záver. Jej growl a scream bude stále dominovať ako na predošlej nahrávke .
Suma sumárum, ak by sa teda malo jednať o 8 skladbový album, tak v nahrávacom štúdiu by sme sa mali objaviť až koncom budúceho roka 2017 aj to len v prípade, ak bude všetko tak, ako sme si predstavovali.
Bude to niečo na spôsob posledného – Hell of Pain, alebo môžeme čakať nejaké zmeny?
Brado: Chceme sa hlavne vyhnúť chybám, ktoré je počuť na nahrávke "Hell of Pain". Nový album by mal byť tvrdý, energický, melodický, s rozmanitou a nápaditou kompozíciou a celkovo lepším zvukom. Bude na ňom určite cítiť výrazný progres oproti predošlému albumu aj vďaka kvalitám nášho nového bubeníka Romana Hercegha, ktorý s nami hrá už vyše roka a ľudia ho určite postrehli a mali možnosť vidieť a počuť naživo na našich koncertoch. Viď videá:
Spomínaný Hell of Pain ste si vydali sami. Bude tomu tak aj pri novom?
Brado: Samovydanie nám prinieslo určitú slobodu. Posledné CD "Hell of Pain " sa šírilo po celom svete prostredníctvom výmen. Prevažnú väčšinu z nich vymenil bývalý  člen Mysterious Eclipse Michal Hrabovský na koncertoch v Belgicku. Výmeny prebiehali aj na našich koncertoch, alebo prostredníctvom pôšt. Každú takúto výmenu ešte stále propagujeme na FB profile, na Instagrame a cez Reverbnation, čím robíme support ostatným kapelám.
Celkovo sme doteraz vymenili už  vyše 100 CD – viď  album https://www.facebook.com/83966983609/photos/?tab=album&album_id=10152464980013610
Samozrejmosťou bolo a je, že si fanúšikovia kupovali a kupujú CDčka a tričká priamo od nás alebo cez eShop na Bandcampe. Každopádne, ak budeme mať niečo nové, oslovíme vydavateľstvá opäť.
Ok, tak to už je záver. Prajem aby sa to turné podarilo a ako je u mňa zvykom poprosím ťa o nejaký ten odkaz pre čitateľov.
Brado: Ďakujem ti Tomáš za rozhovor. Ak bude možnosť ,  budeme fanúšikov o našich zážitkoch a dianí počas turné informovať na našom MYSTERIOUS ECLIPSE Facebook profile  https://www.facebook.com/mysteriouseclipse.sk
Na záver tohto rozhovoru by som sa chcel  hlavne poďakovať všetkým ľudom, ktorí nám fandia a chodia na naše koncerty ,kupujú naše CDčka, tričká , odznaky…. ale aj všetkým mojim členom kapely , kamarátom ,celej rodine , rodičom, bratom a hlavne manželke , ktorá ma v hudbe podporuje .Bez nich by Mysterious Eclipse nebol tým, čím práve je.
Yotube ukážka:

Linky:
http://mysteriouseclipse.com/
https://www.facebook.com/mysteriouseclipse.sk
http://bandzone.cz/mysteriouseclipse
https://mysteriouseclipse.bandcamp.com/